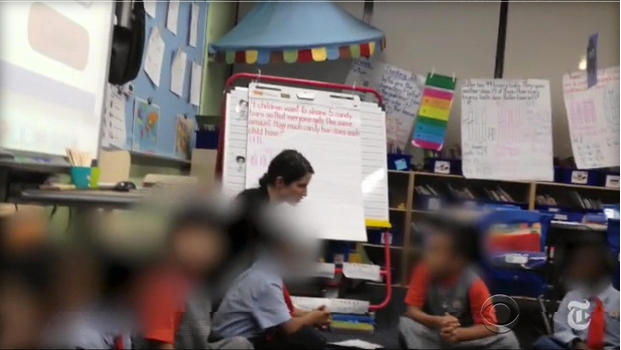 Charter school advocates claim to support higher standards and provide better education than traditional public schools. But Carol Burris, executive director of the Network for Public Education, has repeatedly documented in the Washington Post's Answer Sheet that their claims are "fake news" unsupported by data.
Despite the questionable performance of charter schools, New York State is in the process of authorizing them to hire less qualified teachers. The SUNY Charter Committee, a sub-committee of the governing body of the State University of New York (SUNY), that is supposed to regulate charter schools, proposes granting them exemptions so they can put uncertified people in classrooms and supposedly train them themselves. The SUNY Charter Committee has four members appointed by the Governor. All four are lawyers without experience in K-12 public education or teacher training.
The action is also a direct assault on the state's Schools of Education and K-12 public schools. At the same time as the SUNY Trustees want to make it easier to become a charter school teacher, the State Board of Regents, the governing body for public schools, is making it more difficult to become a teacher through the regular certification process, channeling potential teaching candidates away from the traditional public schools.
Only public outcry and action by the overall SUNY Board of Trustees over the next month can stop this train wreck, a precedent that has the potential to undermine teacher preparation in the state and the education of a generation of children. New York State United Teachers (NYSUT), an umbrella organization that includes unions representing K-12 teachers and faculty in the State University system, launched an email campaign hoping to convince SUNY Trustees to block the proposal.
The problem charter schools have recruiting and retaining teachers is not because of teacher certification requirements, but the inhospitable working conditions and inappropriate educational practices at many charter schools. In 2015, the New York Times documented that Success Academy Charter School Network staff were not unionized, usually hired right out of college, worked 11-hour days, were constantly monitored, and had unusually high turnover rates. In 2013-14 three Success charter schools had teacher turnover rates over 50%.
In an open letter sent to SUNY Board Chairman Carl McCall and John Belluck, chair of the Charter School sub-committee, Zakiyah Ansari, Advocacy Director for the Alliance for Quality Education, charged the proposed changes had nothing to do with improving education in New York State. That privately run charter schools cannot attract and retain certified teachers "is hardly a justification for lowering the quality standards for teachers."
In a letter brimming with barely contained anger, Ansari demanded that SUNY Trustees review the video of a "so called 'master teacher' at Success Academy literally berating and humiliating a young child in front of the class for not knowing the answer to a Math question." According to Ansari, "this troubling video is evidence that self-regulation is a failed approach and emphasizes why statewide standards for teachers should remain the sole authority of the State Education Department and that private entities such as charter schools should not be allowed to self-certify and self-regulate."
Success Academy, which has a reputation for harsh discipline and driving out "difficult" children and families, already has a teacher preparation program similar to to one being floated by the SUNY Charter sub-committee. Since 2012, Success has partnered with Touro College in New York City which allows the network to essentially "train" its own staff. Under the partnership agreement, which is funded by Success Academy, Success staff, without any apparent university oversight, teach certification courses as Touro adjuncts.
A public school parent and African American woman, Ansari believes that children of color in the state will be the primary victims of a teacher certification waiver. She accused the SUNY Trustees of administrative negligence, demanding increased regulation of charter schools, rather than less. She noted that "48 of the top 50 schools with the highest suspension rates in New York City are charter schools. A fact that has gone ignored for far too long by the SUNY Board. These high suspension rates are what fuel the school to prison pipeline."
There are numerous other problems with allowing charter schools to certify their own staff. These are just a few more.
1) Unpaid Work. Charter school companies can claim extra unpaid work is part of the classroom certification process and force employees to work over-time without remuneration generating bitterness toward the children in their classes.
2) Phantom Classes. Without oversight, charter schools can run phantom certification classes counting normal staff activities as teacher preparation, while paying their administrators bonuses for running the certification programs.
3) Company Stores. Charter school companies can require, as a condition of employment, that staff register and pay tuition for their certification programs, eliminating options and providing the companies with an additional profit stream.
4) Debt peonage. To pay for the certification programs, vulnerable new staff may end up owing money to their employers, stifling all questioning and effectively blocking union organizing.
5) Deprofessionalization. In my experience it takes three-to-five years of experience after certification to learn how to become an effective teacher. This plan is a recipe for changing teaching from a professional where teachers develop expertise in their content area and their ability to support, instruct, and motivate students into a temporary job held by low paid transients who leave the field before they develop any expertise.
This entire operation is designed to ensure compliance, not innovation, allegiance to the company, not the kids and their education, and is part of the overall attack on public education in the United States.
Schools of Education that currently prepare new teachers for certification are hardly perfect institutions, but they perform very valuable functions. At their best they challenge teacher candidates to think critically about educational practice rather than to just accept what they are told to do, to be curriculum creators rather than to simply follow scripts, and to respect the cultures and abilities of children and communities. These are not qualities desired by the test prep charter school industry. Unfortunately, they also may not be qualities desired by the SUNY Trustees empowered to regulate charter schools.
I have a question for SUNY Trustees. How will charter schools prepare young people to be the critical and creative thinkers our society needs in the 21st century when their teachers are not permitted to be either critical or creative?
Related
Popular in the Community