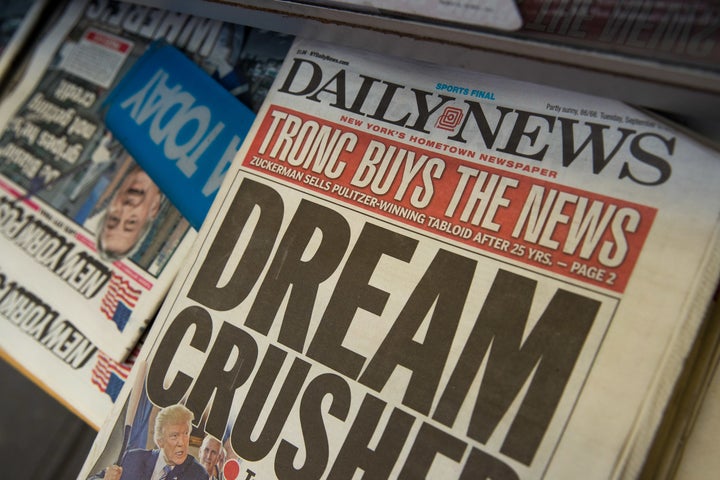 At the New York Daily News, they came to be known as "Doc assignments," and employees who had been there long enough could spot them from a mile away.
The pitches followed a familiar pattern: Longtime Daily News editor Alexander "Doc" Jones would call upon a young female staffer, often outside his remit as a manager, to write a first-person story about an event he wanted her to attend. How could a young journalist resist? Here was an established personality in New York media offering up the possibility of a prominent byline.
He'd use that power to his advantage. Employees at the paper said he would approach young female reporters and assign them first-person stories about events in the New York area ― specifically events that obligated them to wear skimpy clothing to be shown in images in the newspaper or on the website.
One former employee said she initially felt proud when Jones asked her to write a first-person article.
"I was trying really hard to make an in for myself and was thinking this editor is picking me out of all my other co-workers, he must hear good things about my work ethic and wants to see what I can do," said the reporter, who spoke to HuffPost on the condition that we not reveal any details about the article to avoid being identified.
But when she returned to the newsroom from her assignment, something felt off. The woman quickly realized that she would not get the editorial feedback from Jones that she was hoping for. She told HuffPost that she was left with the feeling that the assignment had been "self-serving" on Jones' part, as if the real reason for the story wasn't entirely editorial.
It was a "Doc assignment," in other words.
I felt like it was my responsibility to warn the young females on the staff about Doc.

Former New York Daily News editor
"I felt like it was my responsibility to warn the young females on the staff about Doc," said a former Daily News editor. "When it was that time of year when cheerleading or dance tryouts were happening, I would always warn them to be prepared for Doc to approach with this offer that sounds fun and exciting but is really just a scam to get them in a bikini or crop top and booty shorts." 
Tronc, the Daily News' parent company, decided this week to fire Jones, along with Rob Moore, the newspaper's managing editor, after investigating both of them for sexual harassment. The company also brought back Daily News alumnus Jim Rich in his previous role as editor-in-chief. (Rich worked at HuffPost in the interim.)
Employees had filed "various complaints" against Jones, who had previously received a "warning" about his inappropriate behavior, according to an internal email obtained by HuffPost. Upon investigating, and partially because of Jones' "own admissions," Tronc determined that he had made "unwanted physical contact with female employees such as kissing them, hugging them and/or grabbing their hands," the email said. "As such, we are terminating your employment today."
Jones had worked at the Daily News for more than two decades, his behavior long ago having become a concern for employees at various levels inside the Daily News' office. People in the newsroom developed ad hoc techniques for dealing with Jones, finding ways to distract him, for instance, if he seemed to be talking for too long with a young woman.
Look, bikinis and hypersexualized crime are part of tabloid culture. These are our roots. Doc turned that around on us.

Former top Daily News editor
But his effect on the Daily News wasn't confined to its internal culture. As the women who received "Doc assignments" over the years can attest, his personal predilections seeped into the pages of the newspaper.
Tabloids have always been frankly prurient, and the Daily News is no exception. Pick up an edition of the paper on any given day, and Page 3 will often feature lighter fare, including photos of voluptuous women, eccentric celebrity features and salacious crimes. But current and former Daily News staffers, who asked to not be named for fear of retaliation, told HuffPost that Jones exploited the hypersexualized culture of tabloids for his own ends. "It became such a regular occurrence in the newsroom," an editor said, "that the staffers would just roll their eyes and shrug it off as 'a Doc assignment,' as if that made it OK."
"Look, bikinis and hypersexualized crime are part of tabloid culture. These are our roots," one former top editor at the paper told HuffPost. "Doc turned that around on us."
The "Doc assignments" left many female reporters feeling degraded and embarrassed. Multiple staffers said the women appeared uncomfortable as Jones looked through the photos with them. One female staffer approach by Jones said she saw her assignment as "an opportunity for someone looking to make a 'name' for herself in New York media." For Jones, she said, "it was an exploitative plan to get me to put on skimpy clothes." 
Beyond the assignments, Jones displayed a "pattern" of inappropriate behavior that disturbed his fellow employees, staffers told us. He had a penchant for summoning young women over just to ogle them, sources said. On multiple occasions, they added, he forcibly kissed women at the office.
The issue became well-known around the newsroom. "As a woman starting a job at the Daily News, you're given a card key and a warning about Doc," one current staffer said.
Jones was enough of a problem that staffers complained to human resources, to leadership, even to Jones himself.
"A couple of us would call him on the bullshit and try to stop it," said a former male senior staffer, "but the people up top never got rid of him."
Staffers had to try another route.
"They took matters into their own hands," said a former editor.
"If I saw him standing too close or lingering too long [near a woman], I would always walk over to act as a buffer because you can see on it their faces that they were incredibly uncomfortable but didn't have a way out," one editor said.
Another former senior staff member said she would also try to distract Jones when he was talking to young women. "As I became a manager of young women, I'd just keep my eye on him," she said.
There were other tactics the newsroom employed as a way to run interference. One of the former editors told employees they could say she had assigned them something else as a polite way out of one of Jones' assignments. In at least one instance, a story in which a female reporter would have had to dress in a bikini was reassigned to a man so the young woman wouldn't need to do it, another senior staffer said. "This is how they dealt with him internally, all the women knowing full well that HR wouldn't be their saviors," a top editor said.
But the system, created in response to a lack of structural support for complaints, was imperfect. And often Jones got his way. "Unfortunately, not all the young women on the staff had an editor looking out for them, and Doc seemed to know exactly which ones to target," one of the editors said.
Jones is out now, but his behavior has had a lasting effect on some of the women who've worked at the newspaper. One of the women who completed a Doc assignment winces whenever she sees it popping up in a Google search. For her, it's an example of the "mistreatment of a young woman at the Daily News."
Doc and the whole environment at the News of being a boys' club almost made me leave journalism entirely. I barely made it.

Former female staffer
"What he did was play on my eagerness to write and be published in the paper in my early career," she said, adding that the story "makes me look less like the serious journalist and writer I've aspired to be."
"Doc and the whole environment at the News of being a boys' club almost made me leave journalism entirely. I barely made it," said another female employee who completed one of Jones' assignments.
"I was like, 'Holy shit. This is how it is in news, and it is not for me.'"
Calling all HuffPost superfans!
Sign up for membership to become a founding member and help shape HuffPost's next chapter