The tabloid's Friday cover features a photograph of a hooded Klansman and the words "TRUMP FOR PREZ."
"Former KKK Grand Wizard David Duke told [his] radio audience Thursday to vote for and volunteer for fellow hatemonger Donald Trump, adding they'll meet people on campaign with 'same kind of mindset,'" the front page reads.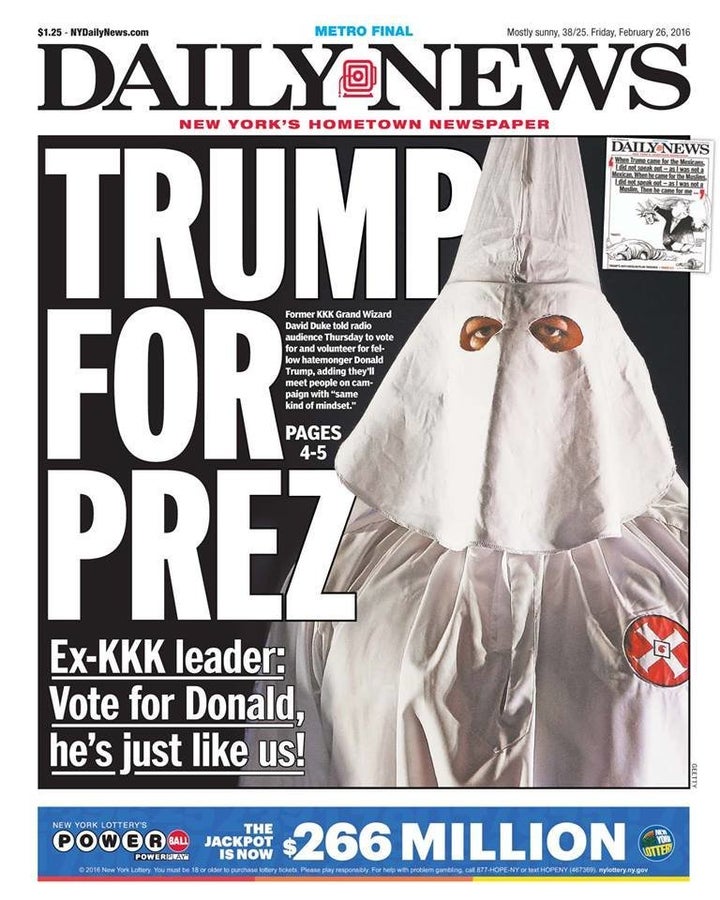 White supremacist groups across the country have been working hard to mobilize racists to vote for Trump. Other than Duke's radio announcement this week, a white supremacist organization called the American National Super PAC began circulating a robocall in support of the GOP frontrunner, urging voters: "Don't vote for a Cuban. Vote for Donald Trump."
"The white race is dying out in America and Europe because we are afraid to be called 'racist,'" said William Johnson, the leader of the white nationalist American Freedom Party, in the robocall recording.
Mark Potok, a senior fellow at the Southern Poverty Law Center, a nonprofit specializing in civil rights, told The Huffington Post this week that while Trump has attempted to distance himself from his white supremacist supporters, he's done it "in the most milquetoast way imaginable."
"The fact is that white nationalists are mobilizing for Trump whether he likes it or not," said Potok. "With Trump, white supremacists understand that he's not exactly a white nationalist, like them, but they applaud his hard-right positions on matters that are important to them. From their point of view, it's almost better that he's not a full-on white nationalist because now he has a better chance at winning a major office."
Related
Popular in the Community