It's inching closer. Only two weeks and then the nation's premier showcase for independent films, Sundance. One hundred and eighty-nine features and documentaries and shorts and animations, the cream of the film crop, America's and the world's cream, for ten days to vibrate the brain and jolt the emotions. Forget Hollywood, and Bollywood, soon it will be quality time!
Sundance, hotbed for film acquisitions and distribution deals, mecca for celebrity-gazing, monstrous press extravaganza with a thousand journalists, ripped party scene extraordinaire, whacked street scene extraordinaire. Sundance is one this nation's grand, great events. And the pilgrims are preparing, preparing for the yearly flock to that small mountain town in the heart of Utah, Park City.
This year, however, there are a few gray clouds in the clear blue Utah sky. With the national economy stuck in dismal, the independent film industry is being squeezed hard. So this year's Sundance Film Festival will be a little slimmed down. The Queer Lounge and the Hollywood Life House are gone, so the media reports. The mini-festival TromaDance is gone, for this year anyway. Private parties have been axed by some 40 percent -- a staggering amount of free Jack Daniel's is gone!
But the pilgrims don't care. They're preparing. They're drooling.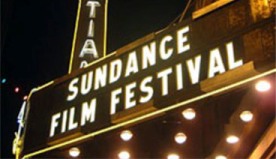 The core of the annual Sundance Film Festival is utterly passionate filmgoers and premier independent films. And they are not being slimmed down. At least as many fervent filmgoers, probably more, will attend the festival this year as last year, which was a humongous 40,000-plus. And with feature film submissions at 3,726 and with only 116 selected for screening, getting into Sundance still makes getting into Yale University seem like a piece of cake. Yes, the best film and the film filmgoers will be there.
And the New York independent film community is not slimming down -- 48 of the 189 total films screening at Sundance have strong ties -- directors, screenwriters, producers, actors -- to New York. That's more than one-quarter of all the Sundance films! New York will be there.

"The economic downturn has meant that it's harder in general to make films," says Scott Macaulay, editor of the Brooklyn based Filmmaker Magazine, "which means for those films that did get made in 2009 it's not surprising that many of them are from New York. There's an entrenched community here that knows how to confront filmmaking adversity and, most importantly, knows that to build the support to make one's own film that you have to help others make theirs too."
Comments from five notables of the Gotham indie community on some New York films that excite them and why:
Mike Maggiore, Co-Programmer, Film Forum:
I always try to see as many of the documentaries at Sundance as possible, since for me, this is consistently the strongest section of the festival. This year I'm particularly excited to see two new docs by New York filmmakers: 12th & Delaware, by Heidi Ewing & Rachel Grady, the excellent documentary team who made Jesus Camp and The Boys of Baraka (which we opened in 2005). It's about an abortion battle unfolding in Fort Pierce, Florida.

I'm also looking forward to seeing CASINO JACK and the United States of Money on the disgraced lobbyist/con artist Jack Abramoff by prolific nonfiction filmmaker Alex Gibney (Taxi To The Dark Side, Enron: The Smartest Guys In The Room). I'd like to see how Gibney tells this sure-to-be-enraging story, given how critical a role money has to play in our particularly venal form of democracy.
Karina Longworth, Contributor to Time Out New York, and soon-to-be film editor of LA Weekly:
It's hard to imagine that there will be a New York movie at Sundance this year that's more satisfying than Whit Stillman's Metropolitan, which is having a special screening in Park City, although I would definitely throw my weight behind Daddy Long Legs, which I saw at Cannes when it was called Go Get Some Rosemary.

As for films I haven't seen, I'm curious about Catfish, a documentary about a New Yorker investigating a MySpace mystery.
Meira Blaustein, Co-Founder and Executive Director of the Woodstock Film Festival:
Films I look forward to seeing include the documentary 12th & Delaware by Heidi Ewing and Rachel Grady. I've followed the progress of their new film for quite some time now and am very excited to see the final result, as it promises to be a film that will challenge and confront the anti-abortion issue head on with an in-depth look and an unflinching eye that is typical to all of Rachel and Heidi's work.

Another film I can't wait to see is Leon Gast's Smash His Camera. The film, the first look ever at the original paparazzo, Ron Galella, is Leon's first major work since his Academy Award winning film When We Were Kings. From everything I have seen and heard so far, it promises to be another amazing work by one of the best documentary filmmakers of our time.

One last film I'd like to mention is The Dry Land, a dramatic narrative in competition at Sundance. A post Iraq story, starring America Ferrera (Ugly Betty) and Melissa Leo (Frozen River), the film was written and director by new comer Ryan Piers Williams and edited by friend and Woodstock Film Festival advisory board member Sabine Hoffman. Judging from everything I have heard so far the film promises to be raw, moving and beautiful, I can't wait to see it."
Scott Macaulay, Editor of Filmmaker Magazine:
"One New York film I'm especially keen on is Josh and Benny Safdie's Daddy Long Legs, which stars Frownland director Ronald Bronstein as a hopeless, hapless, but entirely loving divorced father who, despite money woes and girlfriend issues, retains a childlike enthusiasm for life in New York City. The film is both hilariously and painfully set during the annual summertime two weeks he has custody of his two young sons. The Safdies, who are part of a filmmaking collective called Red Bucket Films, are the real deal, and all of their films are joyfully loose-limbed in their capturing of the people, places and energies of this town."

Thelma Adams, film critic, US Weekly:
I'm looking forward to 3 Backyards, the return of writer-director Eric Mendelsohn, the lyrical Long Island filmmaker who hasn't made a movie since Judy Berlin in 1999. I loved that movie! Edie Falco, Embeth Davidtz and Kathryn Erbe play suburban women whose lives unfold on one crisp autumn day.

Also, the directorial debut of actor Josh Radnor (TV's How I Met Your Mother) with HappyThankYouMorePlease about six New Yorkers in a state of arrested development with Brooklynite Zoe Kazan.

And the movie that Ulster County's own Leon Gast was talking about last October at the Woodstock Film Festival, his documentary Smashed Camera, about the paparazzi photographer Ron Galella.

And, of course, any thing upstater Oscar nom Melissa Leo is in, even if they're not set in NY, like The Dry Land and Welcome to the Rileys.
As for me, I'm especially intrigued by Armless. It's a comedy about a guy who wants someone to chop his arms off. Now that sounds like New York!

And I must see Bass Ackwards, about a strange and insightful road trip across the country. And it just so happens that in one week I will begin a road trip -- from New York to Utah! See you in Park City!
Stewart will be blogging from the Sundance Film Festival, which begins on January 21st and ends on January 31st. If you are at Sundance, or not, Stewart wants to hear from you about the films and the festival, either in the comment sections that are below his blogs or by email SNusbaumer@gmail.com
Calling all HuffPost superfans!
Sign up for membership to become a founding member and help shape HuffPost's next chapter