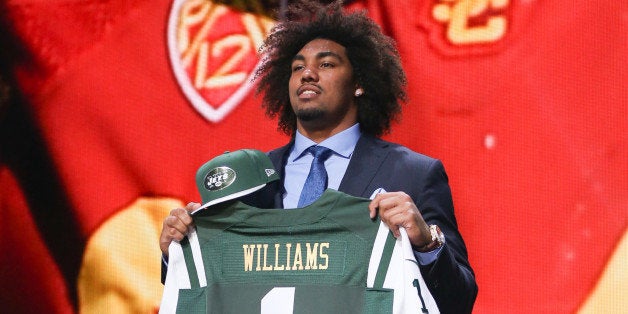 While attending NFL Draft festivities in Chicago in full Jets regalia, a New England Patriots fan approached me and dismissively asked: "Have you really come all this way for this team?" Well, moments later, "this team" selected Leonard Williams, widely considered to be the single best player in the entire draft. Sure, some luck was involved in that he was not taken in the top five. But give credit to Jets general manager Mike Maccagnan, who actually did what he had promised to do (politicians please take note): He went for the best player on the board. Period. In choosing value over need, Maccagnan did not hesitate to do the right thing. And that was not all of it. The NY Jets might have also gotten the steal of the draft, in selecting quarterback Bryce Petty in the fourth round. That Maccagnan traded up a single spot to ensure that he gets him, shows that he knew exactly what he was doing. In addition, wide receiver Devin Smith could finally give the Jets a much needed deep threat option.
The overall impression is that the franchise is now in the hands of football savvy, mature, grownups. There are no signs of former GM John Idzik's catastrophic draft cluelessness. By all accounts, the NY Jets had a great draft this year that was universally praised. The expectation is that a dominant defense will now emerge, a new NY Sack Exchange, only better. To quote original member Joe Klecko: "Every great defense you look at, basically, has great cornerbacks ... I mean, listen -- how good were we as a defensive line? We were great, we really were. And we'd get after the passer. Our cornerbacks were mediocre in best of times. You have cornerbacks like [Darrelle Revis, Antonio Cromartie and Buster Skrine] they have? Let me tell you something -- that is the world of difference. It's almost like a crime to have those kind of guys on the field ... I think the defense, without a doubt, could be the best."
But is it enough to generate so much excitement by winning the NFL Draft and the preseason? Caution and a certain dampening of expectations are required for three reasons:
First, the NFL Draft is something of a crapshoot. It is generally accepted that three years are required to fully judge any rookie class. Injuries and off-the-field issues often take their toll and change initial perceptions. Keep in mind that Tom Brady was almost an afterthought, selected as the 199th overall pick. Russell Wilson was the 75th overall pick. And then there are the Ryan Leafs of this world, possibly the biggest draft bust of all time, selected 2nd overall after only Peyton Manning. The point is that as good as expectations are, we need to wait a bit and see what this draft class looks like on the field and not just on paper.
Secondly, there is the problem of the Jets offense. A few days ago, I asked a widely respected former member of the Jets coaching staff if he had any hope or trust in Geno Smith: He simply replied: "No."; and this is a serious problem in today's NFL. Ryan Fitzpatrick might give Geno some real competition, but he is coming off a leg injury and is not elite; Petty is not NFL ready and will need time to develop; the defense might shorten the field but the offensive line looks somewhat shaky and Geno still has to learn to make more than one read without panicking. True, he has better weapons this year, throwing to a respectable corps of receivers. But how far can a team go with a mediocre QB? We are about to find out.
Third, the AFC East is becoming much more competitive. At the NFL Draft, I saw Buffalo Bills fans who were swearing that their team could do no worse than 11-5 (good luck with that). But Rex Ryan is again capturing the nation's imagination (he just made the cover of Sports Illustrated). He is again inspiring deep loyalty (I was shown pictures of his new truck painted in the colors of the Bills) and will again preside over a dominant defense. Meanwhile, the Miami Dolphins have a pretty decent QB in Ryan Tannehill and have added Ndamukong Suh to their roster, a beast of a defensive tackle. And, of course, the New England Patriots are the defending Super Bowl champions and easily the favorites to win the division one more time. Hence, although the NY Jets have clearly improved, in a sense they absolutely had to, given divisional developments.
At this point only one thing is certain: The NY Jets home opener against the Cleveland Browns on September 13 is unmissable. Can't wait for the season to begin!