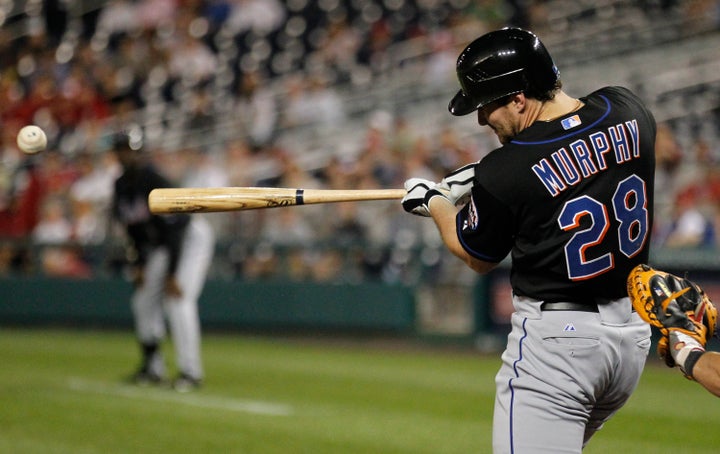 Yes, I know, I just stole one of the most famous calls in Major League history, but I think that is about the only phrase to accurately describe Monday night's (and early Tuesday morning's) game between the New York Mets and the Florida Marlins. Now, maybe I'm more upset than I should be. After all, this was a game that even I was originally prepared to concede, considering the opposition was Josh Johnson, a pitcher who has been more dominant than any pitcher in the Major Leagues thus far in 2011 with a 1.63 ERA. The reality is, though, the Mets wasted several opportunities to take the lead in this bizarre game, and it cost them in the end.
Coming off of two straight victories, Mike Pelfrey was actually terrific, pitching seven innings, letting up only one earned run, a solo home run to Mike Stanton in the seventh inning. He seemed calm and relaxed, and he was clearly in a better state of mind than the last time he faced Josh Johnson on Opening Day. Mets' announcers Gary Cohen and Keith Hernandez seemed to suggest that having a more experienced catcher like Ronny Paulino behind the plate as opposed to Josh Thole is a key factor in Pelfrey's recent success, as Paulino knows more of the tendencies of more of the hitters in the National League. However, I think that after reading about all of Pelfrey's psychological problems at the beginning of the season, it's more that the burden of being the ace of the staff has finally started to diminish. Instead of seeing himself as one of one, I believe he finally sees himself as one of five. Unfortunately for Pelfrey, though, he could not walk away with the win.
So, let's break down exactly what happened tonight that caused the Mets to go 2-for-12 (.167) with runners in scoring position, in addition to leaving 12 men on base. While they certainly had opportunities earlier in the game, we are going to fast-forward to the bottom of the ninth, when second baseman Justin Turner led off the inning with an infield single that left him at second base after a throwing error by Marlins shortstop Hanley Ramirez. After an intentional walk to Josh Thole, Turner advanced to third base on a groundball from Fernando Martinez. But Chin-lung Hu, who was sent down early Tuesday morning to Buffalo, ultimately grounded out to Ramirez to end the inning.
In the bottom of the 10th, Carlos Beltran led the inning off with a walk. Jason Bay successfully got down a sacrifice bunt to move Beltran over, but after an intentional walk to Daniel Murphy, Justin Turner grounded into a double play. This wasn't just any double play, though. Presumably because of the wet infield the grounds crew worked on tirelessly to get tonight's game in, the ball took an extremely odd bounce, causing Ramirez to boot it -- directly to the second baseman, almost making the double play easier to complete.
Finally, in the bottom of the 11th, after Jon Niese strangely hit a two-out triple to give Jose Reyes an opportunity to tie the game, Reyes struck out in a truly ugly at-bat where he simply just did not look prepared. He was flailing at the ball and did not look like the typical Jose we are used to seeing. There is no doubt that Marlins closer Abraham Nunez was throwing tough pitches to hit, but if Jose wants to be one of the best players in the game, those are the times where he has to come through.
I don't even want to mention Burke Badenhop, the reliever who somehow managed to get his second career hit off of Ryota Igarashi to drive in the eventual winning run, but I guess I have to. In a way, it was one of those things that you just saw coming. No disrespect to Gary Cohen, who happens to be my favorite commentator in baseball, but whenever a broadcaster, particularly a Mets broadcaster, laughs at a move or a strategy the opposing team has, it seems to always backfire. Based on everything we've seen over the past couple years from dropped pop ups to missed bases, I'm not going to honestly sit here and say that I was surprised when Badenhop came through for the Marlins, I really wasn't.
As manager Terry Collins said in his post-game press conference, this was a very "uncomfortable" game to sit through. Josh Johnson was not at his best, and the Mets had several chances to take advantage, yet they could not capitalize. Yes, it is only 1 game out of 162, and it is only May, but the Mets missed the playoffs twice in the past four years because they failed to win one more game. If the Mets are fortunate enough to be in a position that they are fighting for a playoff spot in September, I can guarantee people will be looking back on this game trying to figure out exactly what went wrong.

REAL LIFE. REAL NEWS. REAL VOICES.
Help us tell more of the stories that matter from voices that too often remain unheard.