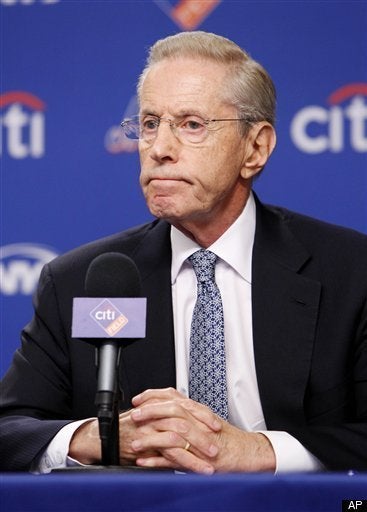 NEW YORK/DETROIT (By Jonathan Stempel and Ben Klayman) - The owners of the New York Mets turned a blind eye to Bernard Madoff's Ponzi scheme and should give up roughly $300 million of fictitious profits tied to the now imprisoned swindler, a lawsuit charges.
Irving Picard, the court-appointed trustee recovering money for Madoff's victims, claims the partners at Sterling Equities, including the Mets' Fred Wilpon, "were simply in too deep -- having substantially supported their businesses with Madoff money -- to do anything but ignore the gathering clouds.
"Despite being on notice and having every resource at their disposal to investigate the litany of legitimate questions surrounding Madoff," Picard said, "the Sterling partners chose to do nothing."
In his sweeping 365-page complaint unsealed on Friday, Picard also said the baseball team itself had 16 Madoff accounts from which it withdrew more than $90 million of bogus profits to fund day-to-day operations.
The litigation has cast its own cloud over the immediate future of the Mets, which has had two straight losing seasons despite having one of the highest payrolls in Major League Baseball. Attendance at its two-year-old ballpark Citi Field fell 19 percent last year.
Wilpon, a co-founder at Sterling, repeated that he may sell part of the Mets as a result of Picard's litigation. The Mets also own a majority of SportsNet New York, better known as SNY, which broadcasts their games, with Time Warner Cable Inc and Comcast Corp also owning stakes.
"OUTRAGEOUS STRONG-ARM EFFORT," WILPON SAYS
In a joint statement, he and Sterling co-founder Saul Katz, who is Wilpon's brother-in-law, called Picard's lawsuit "an outrageous strong-arm effort" to coerce a settlement and ruin their reputations and businesses.
"Not one of the Sterling partners ever knew or suspected that Madoff ran a Ponzi scheme," they said. "We thought that Madoff was a friend for 25 years. That is why his betrayal was so painful. We should not be made victims twice over -- the first time by Madoff, and again by the trustee's actions."
A Major League Baseball spokesman declined to comment.
Madoff's estimated $65 billion Ponzi scheme was uncovered on December 11, 2008. Now 72, Madoff later pleaded guilty and is now serving a 150-year prison sentence in North Carolina.
Picard filed the lawsuit under seal in December. Wilpon had opposed making it public while settlement talks with the trustee were ongoing, but agreed to an unsealing after the talks broke down.
According to the complaint, Picard is seeking $295.5 million of fictitious profits from Sterling partners, family members and affiliates; $14.2 million of principal withdrawn in the 90 days prior to the collapse of Madoff's firm; and $12 million of other "fraudulent" transfers.
The lawsuit came one day after Picard unveiled embarrassing accusations in his $6.4 billion lawsuit accusing JPMorgan Chase & Co, once Madoff's main banker, of turning a blind eye to and being "thoroughly complicit" in Madoff's fraud so it could do more business with him and protect its investments.
Picard has recovered roughly $10 billion from various parties to repay former Madoff clients.
Wilpon has said he might sell 20 percent to 25 percent of the Mets, while retaining a majority stake [ID:nN28107090], but a big settlement could force a change in ownership.
"Any time you have this kind of noise around a sale, you start at 25 percent, then you sell 50 percent with an option to buy the rest; it seems to be heading in that direction," said a sports banker who asked not to be identified, citing a lack of authority to discuss specific teams.
"At the end of the day, anyone coming in is going to want some kind of voice, is going to want a piece of the whole pie," the banker added.
The case is Picard v. Katz et al, U.S. Bankruptcy Court, Southern District of New York, No. 10-ap-05287.
(Reporting by Jonathan Stempel in New York and Ben Klayman in Detroit; Editing by Lisa Von Ahn, Phil Berlowitz)
Calling all HuffPost superfans!
Sign up for membership to become a founding member and help shape HuffPost's next chapter