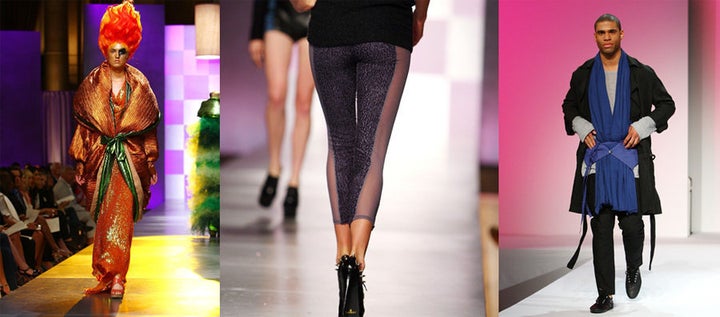 NO! NY has lost its spot as the Fashion Capital Of The World according to the trend-tracking group Global Language Monitor.
WNBC NY has some more information explaining city's demise:

What forced the shift? It's the recession, stupid!

"The parties were not as big," says Global Language Monitor president Paul Payak. "That was enough to knock New York off just a bit." Payak also noted that the financial downturn forced designers to stage presentations on the cheap, as opposed to the all-out glitzy fashion weeks that the city has seen in the past.
The Top Thirty Fashion Capitals, change from 2008 ranking, and commentary follow.

1. Milano (+3) - Not only overtakes New York but also Rome and Paris.

2. New York (-1) - Knocked out of Top Spot by Milano after a five-year run.

3. Paris (0) - No 1. in our hearts but No. 3 in the media.

4. Rome (-2) -- The Eternal City still reigns strong.

5. London (0) - London remains the laggard of the Fashion Elite.

6. Los Angeles (0) - Holding its own at No. 6.

7. Hong Kong (+4) - Leaps over Sydney and Tokyo to seize the lead in Asia/Pacific.

8. Sao Paulo (+25) - A remarkable rise, now dominating the Latin-American scene.

9. Sydney (-2) - Solidly in the Top 10 while Melbourne sinks.

10. Las Vegas (-2) - Intense media spotlight ensures a top ranking.

11. Dubai (+1) - An unlimited budget continually exceeded.

12. Tokyo (-2) - Loses a bit of luster as it slips out of the Top 10.

13. Miami (+13) - Driven by its dominance in swimwear.

14. Barcelona (+11) - Takes the Iberian spotlight.

15. Shanghai (-2) -- Now third in the China/Japan rivalry.

16. Mumbai (+6) - In neck-and-neck race for primacy on the Subcontinent.

17. New Delhi (+7) - Both Delhi and Mumbai break into Top 20.

18. Rio de Janeiro (+12) - Comes on strong but Sao Paulo is stronger.

19. Berlin (-10) - Hurt by weak showing in the 'haute' category.

20. Singapore (-6) - Fashion infrastructure strong, but hurt by the economy.

21. Madrid (-6) - Barcelona takes the Iberian crown.

22. Moscow (-6) - Remains strong as it drops out of the Top 20.

23. Santiago (-6) - Now third behind Sao Paulo and Rio in Latin America.

24. Buenos Aires (-4) - Strong in new interpretations of classic fashion.

25. Melbourne (-7) -- Slips out of Top 20 as Sydney strives ahead.

26. Stockholm (-7) - Tops in Scandinavia with Copenhagen No. 2.

27. Bangkok (+7) - Breaks into the top tier of Asian Fashion.

28. Krakow (-1) - Hold an increasingly intriguing niche in Middle Europe.

29. Prague (-1) - Strengthening its position as a fashion capitol.

30. Mexico City (Not Listed) - First time on the list.

Others in the ranking in order: Dallas, Toronto, Montreal, Copenhagen, Amsterdam, Frankfurt

Johannesburg, Cape Town, Atlanta

REAL LIFE. REAL NEWS. REAL VOICES.
Help us tell more of the stories that matter from voices that too often remain unheard.