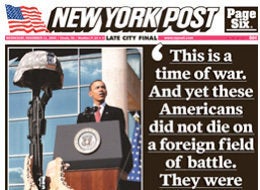 The same day a former editor sued the New York Post for racial discrimination, the paper fired one of its more prominent minority reporters.
Austin Fenner, who had been poached by the Post from the rival New York Daily News back in 2007, was let go from the paper on Monday, sources at the paper and outside of it tell the Huffington Post.
The reason for his departure isn't clear. Reached by phone, Fenner, an African-American, confirmed his firing but declined to expand further. A spokesperson for the New York Post said that the paper had "no comment on Mr. Fenner's employment status."
"The Post, and its parent company, News Corporation, maintain, condone, tolerate, directly participate in and contribute to a hostile work environment against its female employees and employees of color," Guzman's complaint read. Guzman had been, until her departure from the paper, the only woman of color on the paper's management staff.
The Post has maintained that Guzman was dropped because the section she headed -- Tempo -- had experienced a drop in readership and was discontinued. It could very well be that Fenner's departure was driven by business considerations.
That said, Fenner's initial hiring did not occur all that long ago and was considered something of a minor coup for the paper. He was reportedly lured away from the rival Daily News with a bigger paycheck.
An earlier version of this story stated that Guzman's suit was filed on Tuesday; it was filed on Monday.
Calling all HuffPost superfans!
Sign up for membership to become a founding member and help shape HuffPost's next chapter