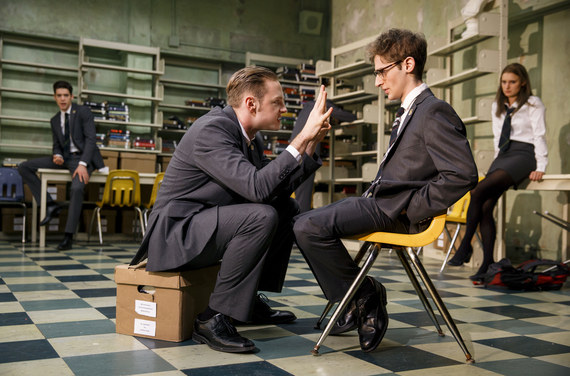 Will Pullen and Noah Robbins in a scene from Simon Stephens's Punk Rock, an MCC Theater Production. (Photo Credit: Joan Marcus)
Student on student shootings in England are rare if they happen at all, which makes the play Punk Rock, set in a Manchester prep school, a bit disconcerting.
On the other hand, gun violence is sadly common news across the Atlantic, and British playwright Simon Stephens, a former teacher, says he was "inspired" to write it by the 1999 Columbine (Colorado) high school massacre, according to the press release.
There's no punk rock in the show, which opened at Manhattan's Lucille Lortel Theatre Monday night with a West Village run through 7 December, other than blistering riffs reminiscent of the Sex Pistols, Iggy Pop and the Dead Boys between scenes.
What we get is a contemporary slice of life of a half-dozen Sixth Form students on the cusp of uni at Oxford or Cambridge, assuming they pass their A-level exams. The 17-year-olds fall into cliched archetypes (in order of appearance): the new girl; the bright curly head nerd seeking a girlfriend; the prissy girl; the bully who usually makes most around him very uncomfortable; the good-looking jock; the quick-witted overweight girl; and the physically slight genius.
Featuring a talented American cast (with believable accents) directed by Trip Cullman, the story's main protagonist is William (Douglas Smith) the chatty nerd, who's infatuated with newcomer Lilly (Colby Minifie). She reminds this reviewer of a younger Carey Mulligan, and Smith of John Gordon Sinclair in Bill Forsyth's Gregory's Girl. Although intrigued by William, as soon as Lilly catches a glimpse of Nicholas (Pico Alexander) the jock making his entrance in cool aviator shades and a well-fitting suit, it's clear to everyone but William that she has made her choice.
Set entirely in an isolated, unused library in the school, the lack of adult supervision is appalling, although a staple of the teen angst genre. The students' occasional donning of masks symbolizes a lawless Lord of the Flies-like institution, whose inhabitants are mad at the world but not really sure why. Meanwhile, when William's brain snaps, the audience isn't that surprised by the ensuing tragedy.
Nicholas is the most disturbing character because he allows his best friend Bennett (Will Pullen) torture the weak. Bennett's girlfriend Cissy (Lilly Englert) also ignores that he's a homophobic misogynistic thug who spits on her best friend Tanya (Annie Funke). Cissy and Nicholas's silence is unforgivable, both from Williams's and the audience's perspectives.
The best performance comes from Noah Robbins, who gives a sense of dignity to Chadwick the brain. Chadwick senses rightfully that it is Bennett who is sexually confused, not him, and a scene between Nicholas and Bennett confirms his suspicion.
Chadwick's several minute-long monologue about the meaningless of Bennett's bullying because civilization is ultimately doomed makes mincemeat of his stunned tormentor. It comprises the best writing in the 90-minute show.
Punk Rock, which premiered in 2009 at the Royal Exchange in Manchester and then transferred to London's Lyric Hammersmith, sort of adds up to a co-ed History Boys meets The Breakfast Club meets Mean Girls meets Revenge of the Nerds meets Heathers, or a staged version of the early Pearl Jam song "Jeremy." If that sounds appealing and you need a fix of some British theatre in New York, you know where to go.