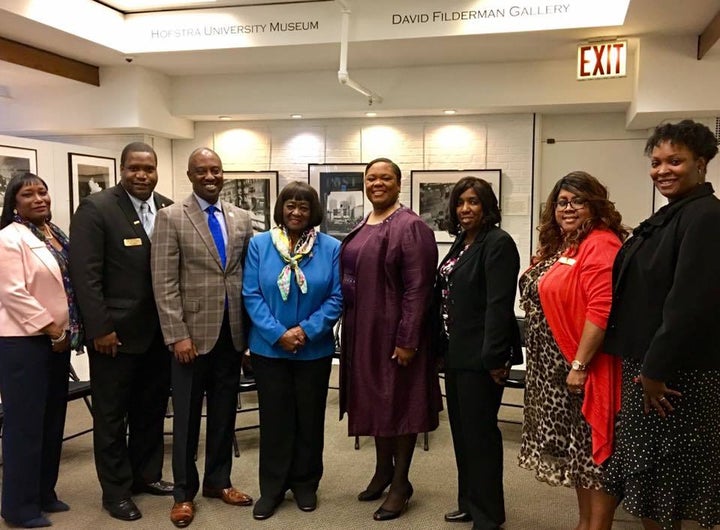 Photo: Left to Right - LIAACC Regional Chamber Leadership Conference VIP Reception: Sharon Davis-Edwards, Vice President Phil Andrews, President Ron Busby, President US Black Chambers, Inc., Councilwoman Goosby, Charlene Jackson Thompson, MWBE Chair, Deidre Helberg, Membership Chair, Kimberly Grant-Bynoe, Suffolk County, and Director & Charmise P. Woodside- Communications Director Hofstra University Museum.
On May 16, 2017 the Long Island African American Chamber of Commerce successfully launched its 1st Regional Chamber Leadership Conference. The conference was spearheaded by LIAACC'S MWBE Chair Charlene J. Thompson, Esq. of the Baldwin; New York based Thompson Economic Development Services Company. The Conference goal was geared towards strengthening Chamber Leadership and increasing the capacity of Chambers of Commerce on Long island. The conference was held at the Hofstra University Club in Hempstead on Tuesday, May 16, 2017.
"Regional partnerships are becoming essential to growing and sustaining local communities across America. The voice of the business community can be amplified when chambers form collaborative partnership across a particular geographical area around specific goals. Local chambers can no longer work in a vacuum. A cross sector of chambers working together around a thorough plan will have greater impact on sustaining a healthy economy and increase the ratio of trade amongst its network." Phil Andrews, President – Long Island African American Chamber of Commerce, Inc.
Ron Busby, Sr. served as the keynote for the conference and shared how small business owners and chamber leaders could capitalize on "Seizing Opportunities In Changing Times". Dignitaries who attended included Deputy Comptroller, Diversity Management Nancy R. Hernandez, Nassau County Comptroller George Maragos, Co-President Suffolk County Alliance of Chambers Gina Coletti, President Nassau Council Chambers of Commerce, President Francesca Carlow
Co-Host for the event included the Long Island Hispanic Chamber of Commerce, Inc., Suffolk County Alliance of Chambers, and the Nassau Council Chamber of Commerce, Inc.
The conference coordinating committee was comprised of John L. Scott, Board Chair, Phil Andrews, President, Sharon Davis, Vice President, Germaine Auguste, Esq., Secretary, Charlene Thompson, Esq., MWDBE, Committee Chair, and Danielle Donaphin, MWDBE Regional Coordinator, Suffolk County.
The sponsors for the event were US Black Chambers, Inc. Morgan Stanley, PSEG Long Island, Fidelis Care, Armand Corporation, Bank of America, Bethpage Federal Credit Union, Prudential and LISBAC.
LIAACC'S MWBE Chair Charlene Jackson Thompson, Esq. work was recently honored by NY State Senator John E. Brooks. See video below for highlights.!
The Conference Agenda Program Included: Workshop 1: Blueprint for Chamber Success Raquel Hickey, President NYS Colombian American Chambers of Commerce Networking Break Workshop 2: I'm Certified: Now What Moderator: Charlene J. Thompson, Esq. Chair of LIAACC MWBE Committee, Shelley Brazley, Interim Executive Director Nassau County Office of Minority Affairs Panel Discussion and Neha Chatterjee, Project Associate Division of Minority and Women's Business Development Empire State Development: Workshop 3: Building Sustainable Wealth Through Our Religious Institutions Moderator: Reverend Malcolm J. Byrd, Senior Pastor Jackson Memorial Dr. Isma Chaudhry, President Islamic Center of Long Island Chaplain Humberto Chavez Race Track Chaplaincy of America Metropolitan New York Division Keynote Speaker: Ron Busby President, U.S. Black Chambers of Commerce Networking/Business Exchange
"Conferences of this nature help to strengthen the economic fibers in the region and help to build sustainable chambers of commerce via elevating the capacity of chambers to operate at a higher level in their daily operations. Small Business Owners need strong chambers to help them navigate unchartered territories as they work to increase both the size and profitability of their perspectives businesses". Phil Andrews, President, Long Island African American Chamber of Commerce, Inc.
LIAACC'S Regional Chamber Leadership Conference serves as a model of what local organizations can achieve through collaboration, planning, and execution. Collaboration of this nature helps to bring down barriers and raise the level of success that local chambers of commerce are able to achieve through unique partnerships.
For more information on the programs and activities of the chamber log on to LIAACC.
Popular in the Community