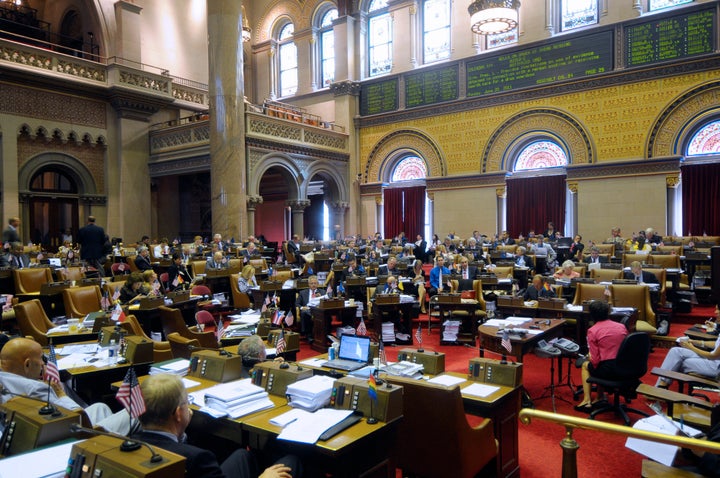 Four of the seats had become vacant after long-time incumbents took positions in Gov. Andrew Cuomo's administration, and Democrats largely sailed to victory in those seats' Democratic leaning districts. Only one district had a competitive Republican challenger, showcasing the Empire State's long time practice of drawing state legislative districts in favor of one party. All candidates were hand picked by party leaders.
The most drama occurred in a Brooklyn-based district, where divisions within the party caused a three-way race between Democrats.
In the Brooklyn district to fill a seat vacated when Daryl Towns resigned to become Cuomo's housing commissioner, Democrat Rafael Espinal won over Working Families Party nominee Jesus Gonzalez and independent Deidra Towns, the sister of Daryl and daughter of Rep. Ed Towns (D-N.Y.). Espinal was the handpicked candidate of Brooklyn Democratic boss Vito Lopez, who has been facing opposition from reform factions in the borough, who supported Gonzalez.
The Towns family was hoping to continue its dominance in the district -- which includes the neighborhoods of Bushwick, Cypress Hills and East New York -- with Deidra's candidacy. Espinal is aligned with the Dilan family -- which includes a state senator and city councilman -- who have been at odds with the Towns family. Councilman Erik Martin Dilan defeated Ed Towns for a Democratic district leader post vacated by Daryl Towns in the spring. Espinal has been Erik Dilan's chief of staff.
Espinal also carried the Republican and Conservative Party lines in the race.
While the Queens Democratic Party saw the defeat of longtime stalwart Assemblyman David Weprin in the race to succeed Weiner, the party saw two handpicked candidates capture Assembly seats in little noticed contests in Democratic strongholds.
Local attorney Philip Goldfeder defeated Republican Jane Deacy to retain the seat vacated by Democrat Audrey Pfeffer , who resigned to become county clerk. Republicans had made a play to capture the seat, based in the Rockaways, a Republican leaning area of Queens home to Rep.-Elect Bob Turner (R-N.Y.), who beat out Weprin for Weiner's seat.
Also in Queens, Democrat Michael Simanowitz, defeated Republican Marco Desena, to succeed his boss, Nellie Mayersohn, who retired earlier this year.
In the Utica area, Democrat Anthony Brindisi, an attorney and Utica school board member, defeated Republican Gregory Johnson, a councilman in the rural town of Marcy. Brindisi succeeds Democrat Roann Destito, who is now Cuomo's general services commissioner. The district, which is within the Republican-leaning Mohawk Valley, was the least-secure district for Democrats in the special election.
In a district straddling Buffalo and Grand Island, Democrat Sean Ryan, a former chief of staff of the Erie County legislature, defeated Republican Sean Kipp and Green Party nominee Gregory Horn. Ryan succeeds Sam Hoyt, who resigned to accept an economic development post from Cuomo. While suburban Grand Island leans Republican, the district's Buffalo portions, which includes North Buffalo, the Delaware district and the Elmwood Strip, are among the most liberal enclaves in Upstate New York.
The wins maintain the Democrats 99-seat majority in the 150-member Assembly.
Calling all HuffPost superfans!
Sign up for membership to become a founding member and help shape HuffPost's next chapter