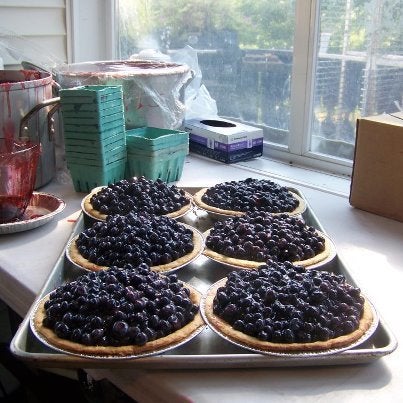 Monica's Pies in Bristol Hills, NY
My recent reports on travel in New York State's Finger Lakes—eleven glacial lakes and one Great Lake spread over 9,000 square miles—focused on winter and springtime, but now summer is in full flourish, and the hills and farms are bursting with fruit and wine grapes, and herbs and vegetables are fanning out in profusion. Wildflowers carpet the valleys—bee balm, red colombine, ragged robin, black knapweed, sweet William, fireweed and sand surrey.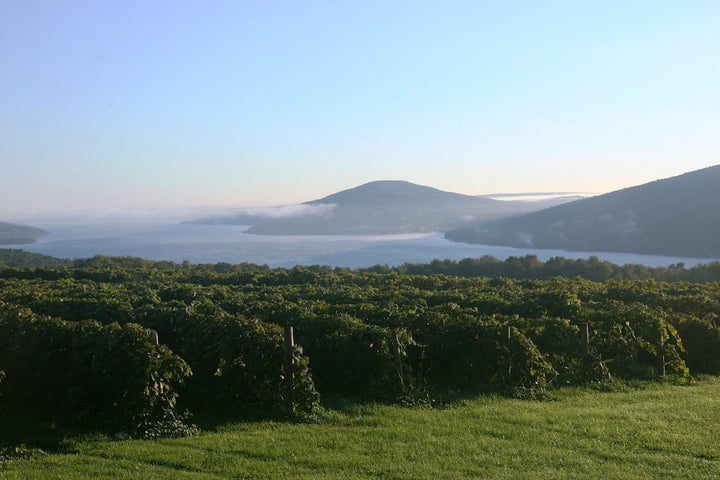 Wooden farm stands pop up along every route, and, with more than 100 wineries in the region, this is a great season to visit so many open to the public and taste their bottlings; indeed there are four established wine trails—Cayuga Lake Wine Trail, Seneca Lake Wine Trail, Keuka Lake Wine Trail and Canandaigua Wine Trail.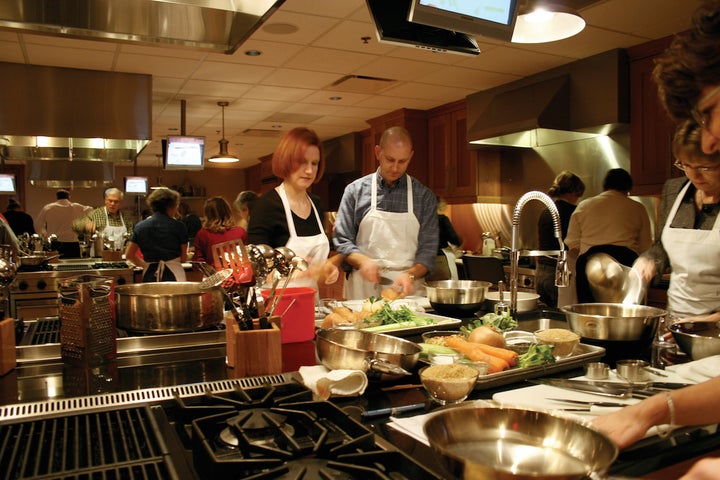 Central to such activity is the New York Wine and Culinary Center in Canandaigua, which holds classes, catered affairs, and cooking demos in its state-of-the-art kitchen (above). At its Upstairs Bistro at least 90% of the ingredients featured are from New York, so I thoroughly enjoyed a lunch that began with a pizza made with Speck bacon, snow peas, mint pesto and an egg fresh from the local farm ($12). The artisan cheeses and meats are the best produced in the area, from Black Mule Blue and McCadam Cheddar to salami, pork rillettes, and capicola. The producers are proudly listed on the menu—Bedient Farms beef, Bostrom Farms pork, Maplestone Farms chicken, and the glistening milk white scallops come straight from the waters off Montauk. Don't miss the blue cheese potato croquettes with pickled onions and curried yogurt ($7).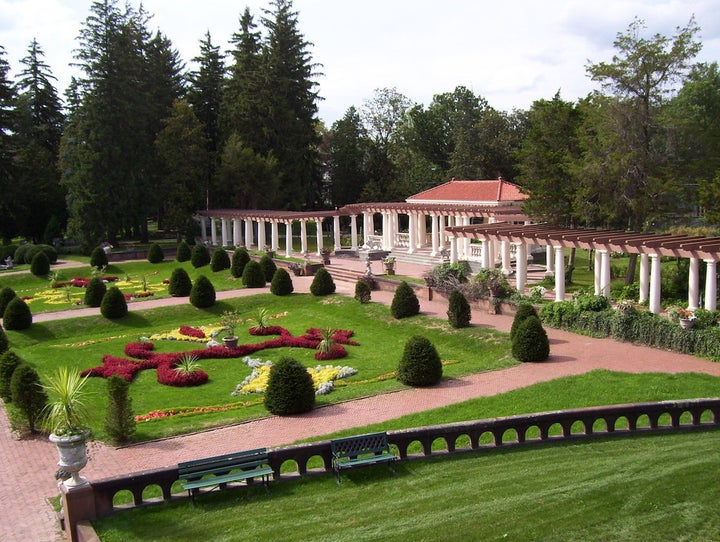 Also in Canandaigua is Sonnenberg Gardens and Mansion State Historic Park , once the summer home of financier Frederick Ferris Thompson (above). Set on 52 acres, the 40-room Queen Anne Mansion was built in 1887 and now encompasses a rose garden, rock garden, Japanese garden and a greenhouse designed by Lord and Burnham, all now teeming with carefully cultivated flowers, trees and shrubs. There is also a Finger Lakes Wine Center where you can sample bottlings from 40 wineries.
Along Route 21 in the Bristol Hills near Naples is the beloved local shop Monica's Pies, just as small as it should be, still a family operation. Originally an honor system sign outside read, "Try before you buy," and enough people obviously loved them to make the Concord grape pies famous, now with 25 other varieties available, along with jams, jellies and conserves, all made with local fruit.
Take the wares at Monica's Pies and expand them exponentially to include all manner of fresh food from local sources and you have the Rochester-based, Wegmans Food Markets, now with more than 70 stores across the mid-Atlantic region. But the gargantuan flagship is a tourist attraction all on its own, with aisles and aisles of baked goods, cheeses, seafood, sushi and anything else you could crave. Name it and Wegmans sells it—and it is always of guaranteed top quality and sold at good prices. It also has one of the best restaurants in the area, Next Door, which is always packed at lunch and dinner. Many people come for the amazingly diverse sushi bar offerings, along with sandwiches at lunch and Wegmans organic lamb and chicken at dinner.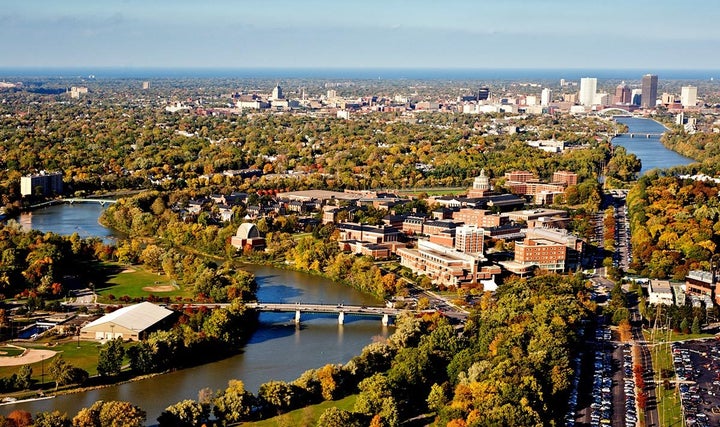 The last time I had been to Rochester (above) was decades ago, when it was pretty much owned and ruled over by Eastman Kodak, whose fortunes soured with the arrival of digital cameras. Still, the corporation has a large footprint in town. You'll get a good idea of how well the company's top officers lived by driving slowly down East Avenue, one of the loveliest leafy streets in America, lined on each side with impressive but unostentatious mansions in an array of architectural styles.
Elsewhere, Rochester is a city of neighborhoods and the economy has started to come back via high tech entities like Kodak, Xerox and Bausch and Lomb along with the University of Rochester and the Rochester Institute of Technology. Still, incomes and property values stay low while property taxes stay high. There is a Rochester Philharmonic and a Xerox Rochester International Jazz Festival, while the annual Lilac Festival commemorates the town's early history as the Flower City.
In Geneva, on Seneca Lake, the main attraction is Belhurst Castle, where you may stay in any of the eleven period rooms and two cottages of the Chambers Hotel, itself adjacent to the Vinifera Inn, which is more contemporary in style and décor; its Turret Rooms are the most desirable. Two miles west, White Springs Manor is done in more of a Georgian Revival mansion pillared style.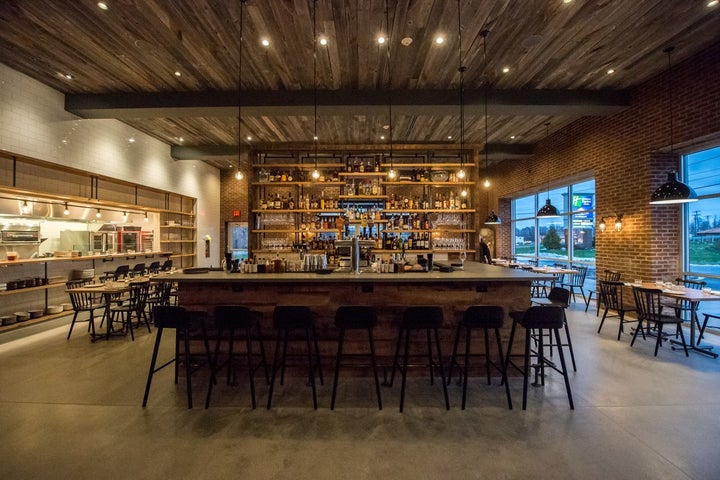 One of the best restaurants in the area is Kindred Fare, "a spirited cookery," (above), which stocks a very good selection of the best Finger Lakes wines to go with the artisanal provender that makes up a menu of hearty dishes like grilled zucchini and summer squash with ricotta, duck, corn, broccoli and herb butter ($14), grilled flatbreads ($14), a very good Moroccan spiced meatball stew with chickpeas and yogurt served with warm pita bread ($24), and an Asian-style braised duck with stir-fried vegetables and soy sauce ginger glaze ($28). The summer's fruit crumble for dessert shouldn't be missed. I have barely scratched the surface of a region so varied in its enchantments, from the broad blue lakes themselves with their evocative Indian names to the waterfalls that gush at full force in summer. History riddles the region, from the Harriet Tubman Home and Willard Memorial Chapel designed by Louis C. Tiffany in Auburn to the Rural Life Museum in King Ferry and the New Hope gristmill, built in 1823. Along the numbered routes farmers' markets offer a bounty of local foods straight through to October. Soon the apples will be picked—baskets of them by tourists—and pressed into cider. The grape harvest will begin to produce Rieslings that are among the finest in the world. In summer the aromas of rich soil and grasses and wildflowers are always there—wild basil and bergamot—intensified during the warm rain showers and rising mists at morning. And at breakfast there will be fresh bread, cured bacon, eggs plucked from the nest just hours earlier, and preserves of grapes and berries of every color. And if you're just a little lucky, a rainbow may appear above the lake like a sweeping greeting, seeming to beckon you to the next place you'll go to that day.
Related
Popular in the Community