A look at the NY Tech Scene from the NYCEDC Entrepreneur at Large:
This week marks the first full week of the fall tech season in New York - and there was no shortage of news and events to report. After a few weeks of relative quite - New York Tech is back in full swing!
The NY Tech Meetup rocked the startup world - as always - with a sold out event of more than 800 at NYU's Skirball Auditorium. As Forbes Pete Himler reported, each of them worthy of the attention of the NY Tech community.
First up was Jeanne Pinder, who spent 10 years covering health care for the New York Times. Her site, clearhealthcosts.com uses uses crowd-sourced information to provide a clear look at the world of health care costs. As it turns out - there are stunning discrepancies in price, an MRI can cost either $400 or $2300. Pinder is using the web to give medical consumers power.
Next up was a site with a timely intention - to encourage voting - and use the power of the web to provide timely and accurate information about what you need to know to cast your vote. Called TurboVote.com, founder Katy Peters presented.
Next up was www.brewster.com, presented by Steve Greenwood, brings your many address books and social contacts into a consolidated and searechable visual database. As the NY Time's Jenna Wortham recently noted, Steve is betting "that the average person is juggling at least a thousand contacts and could use a little help."
As the web continues to democratize information and create shared resources, Doc-Racy (docracy.com) is building an open-sourced collection of legal documents.

The FTC requires web sites document all material connections in promotions, sweepstakes, or other public presentations and disclose them with a documented process. NY Based start-up cmp.ly presented solution for web sites to standardize and simplify their Social Media Disclosures.
Movable Ink demo'd an app that lets you grab rich media content from anywhere on the web, convert it to HTML and insert it into the body of an email.
In the tools category - the often frustrating effort to find and cast voice talent for documenatries, training films, and commercials became a whole lot easier with the crowdsourcing platform VoiceBunny.com.
And finally - a presentation that I'd had on stage at the NY Video meetup a few months ago - Condition One. Condition One has a video solution that turns DSLR camera's into 3d recording devices - creating amazing high def videos that can be explored in all dimensions. It's kind of hard to explain... but Peter Himler shared a video that is pretty awesome.
As always - the NY Tech Meetup gives the city scene a energy boost - showing awesome tech and allowing the community to flex it's communal muscle. Bravo - great way to start the fall.

Technology, Advertising and Start-up Council
Three of New York's smartest ad agency leaders put their heads together (along with a West Coast partner) has launched the Technology, Advertising and Startup Council (TASC). David Berkowitz, VP of emerging media at 360i -- along with Deep Focus CEO Ian Schafer, kbs+p Ventures founder Darren Herman, and Anthem Worldwide vice president of emerging platforms Mark Silva -- held TASC's first meeting last Monday at SoHo House, reported NY Business Journal.
The idea is smart, simple, and overdue. Agencies need startup tech and innovation. Startups need to be plugged in to the clients and revenues of agency clients. But far too often there's a disconnect or failed attempt to work together. TASC aims to bridge the gap.
Berkowitz told NY Biz Journal that startups working with agencies for the first are often unsure of the nuances within agency positions, making it difficult for them to target the right person to meet their needs. "A strategist or planner may mean very different things, even at agencies that seem similar on the surface," Berkowitz said. "Sometimes all it takes for a startup to break through is having enough self-awareness to ask questions and try to learn more."

Tech Real Estate Boom in NYC continues
If you had any doubt that NY was growing it's stature in the Tech community - this chart should settle it for sure.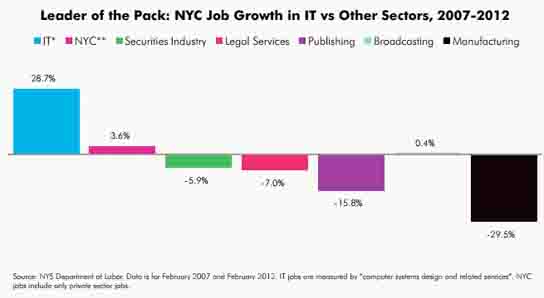 We've seen lots of great companies setup shop. Twitter, Zynga, Groupon have landed, and Microsft, and Google , Tumblr, Etsy have grown their presence here. And the establishment of Cornell University-Technion Applied Sciences Campus on Roosevelt Island will drive the growth of engineering talent and startup growth further.
This Week - NY Video is presenting great video startups.

For a look at the cutting edge of NY Video - next Wednesday night at AOL, come by and check out four great startups and great networking. You can register HERE
Bjarke Mythu, CEO & Founder of Storyplanet.com, which is currently in private beta (but will be going public shortly), will demo his new product which can be described as a Wordpress for visual content. With Storyplanet's online toolbox, you can easily turn video content into beautifully designed interactive experiences that can be used for things like presentations, portfolios, e-learning, marketing and presentations. www.storyplanet.com
Jeff Rubin, Editor in Chief and Paul Briganti, Director, will be showing off the latest updates to Jest.com. Jest is run by Internet comedy experts, and features a real-time feed of the funniest content on the Internet as it starts to pop. Their staff of award-winning writers and producers also creates original videos that react to what the Internet is talking about right now. www.jest.com

Pieter Mees, Founder and CEO of the interactive video platform Zentrick, will demo how their product maximizes the video call-to-action. Zentrick offers an integrated set of services centered around maximizing the effect of online video and through their advanced streaming services and interactive video solutions, they give customers and viewers a great video experience. To learn more about what Zentrick has to offer, come see them demo their product. www.zentrick.com
Robert Hunt, Co-Founder of Spreecast, a live group video company, will demo his product and show us how thousands of people are chatting, watching and engaging in live group conversations. With Spreecast, you can interact live with your favorite writers, celebrities, bands, etc., discover conversations about topics you are interested in, and even create your own videos. Come find out more about Spreecast at the NY Video Meetup. www.spreecast.com
Overall, great start to the new season. Bonus event, check out this week's Startup Weekend at The Alley
500 7th Ave. Non-techie tickets are sold out - but still some room for Designers and Developers...
Have a great week in NY Tech!
(tips, events, or NY Tech news? Email me at Srosenbaum (at) nycedc (dot) com)
Related
Popular in the Community