For the past 10 years -- New York has been on a remarkable journey. Even as the world has become more wired, and the need for physical proximity has been replaced by long-distance video conferencing and off-shore resources, New York has bucked that trend.
Shockingly, New York has grown as the world has shifted from physical to digital. There are lots of reasons for this. Trends in workplace sociology, the need for digital businesses to be near their physical partners, and in no small part, a Mayor who is very much himself a digital entrepreneur. It's easy to forget, but Mayor Mike, as he's affectionately known by some, is perhaps the single most successful data wrangler in the world today. Bloomberg LLC is a data aggregator, publisher, media enterprise, and information warehouse. The company he began in 1981 has now made him one of the wealthiest people on earth, landing him at the 11th spot on the Forbes 400 list.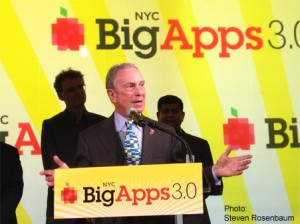 Along the way, Bloomberg has brought his entrepreneurial drive and data-driven world view to the office of the Mayor of the City of New York. He made a decision to provide both physical and financial resources to the burgeoning startup community. He's set free government data, inviting inventors and innovators to build brand new apps and businesses on city information spanning from MTA real-time data to information about parks, restaurants, even highly geeky trends in city demographics and education statistics. History may write that the growth of the information economy and the three terms of the information mayor couldn't have come at a better time for New York and it's reshaped startup ecosystem.
The problem is, the party may be over. With the mayoral election now just seven months away -- the field of candidates who have raised their hand and said they are running for Mayor hardly bodes well for the technology sector in New York. Some of them have paid lip service to the city's Tech future, while others have actively rejected it. But none of them, as best as I can tell, have the native understanding of technology and its importance in re-shaping New York as a hotbed of innovation and growth for information technology and software. That should concern anyone in tech, and more broadly, anyone with a stake in the city's long-term success and vibrancy.
It's still early days, and the field is crowded, but both the Democratic and Republican declared candidates have failed to come out with any vision of technology that makes those of us in the tech community feel like the future is part of their vision. On the Republican side, the candidates are Adolfo Carrion, Jr, John Catsimatidis, Joe Lhota, and George McDonald. On the Democratic site of the ballot, Sal Albanese, Randy Credico, Bill de Blasio, John Liu, Christine Quinn, Erick Salgado, and Bill Thompson are all part of the crowded field.
At a recent breakfast sponsored by the New York Venture Capital Association (NYVCA) -- Republican Joe Lhota was walking a thin line, trying to embrace and support the Tech community while at the same time acknowledging that winning an election in New York required broad blue-collar appeal. Said Lhota "When the Homeland Security People came to visit me at the MTA -- they were concerned that foreign governments would try and hack the New York Subways. I laughed at this fear, explaining there was no chance of that happening -- because there's nothing digital about how the subways run." It got a laugh, but it was a nervous laugh. Telling VC's that the agency you ran isn't digital, and using that as the punch line of a joke is hardly confidence instilling.
On the Democratic side, things aren't much better. Christine Quinn, the acknowledged front-runner, seems to want to embrace Bloomberg's vision -- but only up to a point. When asked if she would keep the 'bullpen' setup at City Hall that feels more like a startup than a bureaucracy --- she said: "I'm not going to spend any city money re-decorating."
While the various candidates continue to ignore tech -- or look for issues that can distinguish them in the boroughs -- the New York Tech Meetup, with its 31,317 members, is leading the charge to get candidates to acknowledge and endorse core issues of concern to NY Tech:
Make New York City the most wired city on earth by providing every New Yorker and every New York business regardless of location access to the fastest broadband networks at the lowest cost.
Reinvent the education system to allow every child, young adult, and all New Yorkers to develop the skills necessary to thrive in a 21st century economy.
Make New York City the clear choice for entrepreneurs, software engineers, and other technically skilled professionals to start a business and build a career by making it easy to find partners, financing, office space and housing, employees, and access to markets.
Support the appointment of a Deputy Mayor for Technology Innovation with an appropriate budget charged with the responsibility of reinventing New York City government with a 21st century framework.
Make New York City's system for civic participation the most open, transparent, accountable, participatory, and innovative in the world.
Make New York City the most citizen-connected community on earth, where its people connect with each other to unleash a powerful 21st century economy: selling to each other, renting to each other, funding each other, sharing with each other, coworking with each other, meeting up with each other, and hiring each other.
Support public policies that would ensure that technology and the opportunities available to the tech community can reach all New York's citizens, and help solve issues related to healthcare, human rights and justice, gender equality, transportation, the environment, and other issues of fundamental importance to all New Yorkers.
And while those goals may seem lofty -- even 'geeky' by some standards, Jonathan Bowles -- who runs the Center for An Urban Future and co-authored the report: New Tech City has some more pedestrian concerns.
"Technology is coming to New York for a lot of reasons, but certainly quality of life is a critical one", says Bowles when asked about mayoral candidates who are running with an eye toward removing some of Bloomberg's expansive bike lane initiates. "Bike lanes are important to engineers and tech companies", Bowles says without hesitation. "Anything that diminishes quality of life puts our tech growth at risk."
Do bike lanes foster tech startup growth? Certainly transportation, community, vibrancy, and a sense that New York welcomes and supports innovation does. And bike lanes may well be part of it.
Steven Rosenbaum is an Author, Entrepreneur, and CEO. He was named New York's first "Entrepreneur At Large" for New York City's Economic Development Corporation. You can reach him at Srosenbaum (at) nycedc (dot) com.
Calling all HuffPost superfans!
Sign up for membership to become a founding member and help shape HuffPost's next chapter