On Friday, the New York Times blasted out a seemingly explosive story about New Jersey governor Chris Christie and the ongoing "Bridgegate" scandal. The story said that David Wildstein, a Port Authority official, "said on Friday that the governor knew about the lane closings when they were happening, and that he had the evidence to prove it."
But then the Times changed the lede of the story:
There were many more reactions like that.
Here, preserved for posterity, is our extremely crude Photoshopped-together comparison of the two ledes side by side. The one on the top is the original one. The one on the bottom is the changed one.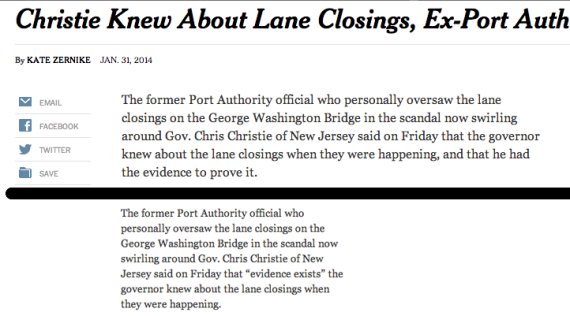 UPDATE: : Times metro editor Wendell Jamieson addressed the change in an email to HuffPost's Michael Calderone: "We've made probably dozens of changes to the story to make it more precise. That was one of them. I bet there will be dozens more."
Related
Popular in the Community