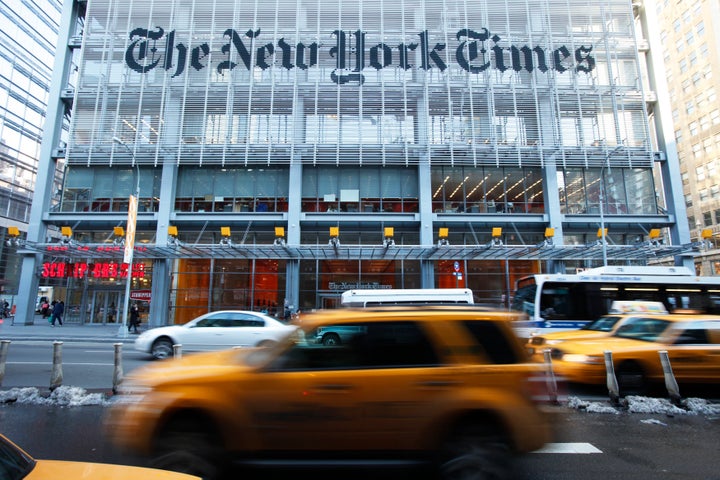 "It was a bad idea from the get-go," said Wendell Jamieson, the editor who oversees the Times' Metro section, where the story appeared on Sunday. "It was conceived with the best intentions, but it fell flat. And I regret it."
Filip Bondy, the freelancer who wrote the story, said, "Sorry, sorry, sorry."
"Routines were radically altered," Bondy noted in the story, explaining that fathers had to bring kids to play dates and sports events. They also apparently had to feed the children: "Growling stomachs required filling on a regular basis."
Breaking news: Fathers care for their kids!
The piece seemed to reinforce three old-fashioned tropes about gender and parenting: Men can't handle parenting tasks; men who manage to handle the basics of parenting are exceptional and worthy of a news story; and parenting is fundamentally the work of women.
By treating "men perform parental duties" as headline news, the Times' story came across as an artifact from some earlier era ― maybe 1983, when the Michael Keaton comedy "Mr. Mom" presented a dad taking care of his own children as a wacky, topsy-turvy scenario.
Bondy, a 65-year-old freelancer and former sportswriter for the Daily News, read the critical tweets on Sunday while he was babysitting for his 5-year-old granddaughter at home. His daughter-in-law was traveling back from the Washington march.
"I deserved it," he said of the response to his story.
Bondy ― who, like many journalists, including a number of New York Times staffers, lives in Montclair ― said he should have known better. He did a lot of parenting work when he was raising his children along with his wife ― both of them working full-time, he said.
"It was a piece about the women go off to war and what happens back home," he said. "You know, more conventionally the men go off to war and the women stay home." It was pointed out to Bondy that these days women go to war, too.
The piece was meant to be lighthearted, he said. "But these are not light times."
Bondy said he chose Montclair as the setting for his piece because its residents voted overwhelmingly for Hillary Clinton.
That made the article's misfire seem all the more poignant. "We all voted for Hillary, but don't get it twisted. The division of labor in our homes is straight-up 19th century," tweeted Heather Havrilesky of New York magazine. (Havrilesky lives in California.)
Jamieson told HuffPost that the story was conceived by men at the Times who thought it would be a "fun look" at what happens in a town when all the women are away. Jamieson noted that female editors on the Metro desk did look at the piece.
Nevertheless, "we blew it," he told HuffPost.
While some critics on Twitter suggested the article is an example of what happens when newsrooms skew male, Jamieson disagreed. "Metro is a very gender-diverse department," he said.
The deputy editor of the Times' Metro section, Dean Chang, also tweeted a mea culpa.
Support HuffPost
The Stakes Have Never Been Higher
Related
Popular in the Community