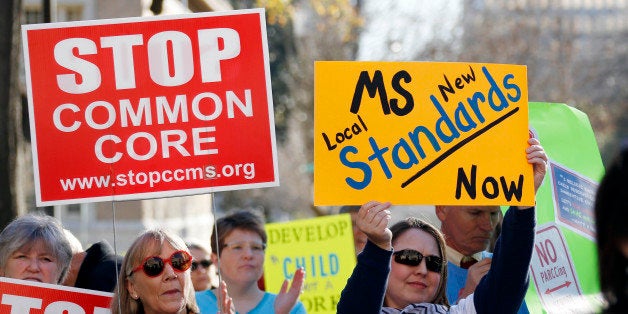 Readers of my Huffington Post blog know I am very critical of the skills focus of the national Common Core standards for turning reading into a discombobulated and often meaningless chore for young people and a strong supporter of the high-stakes testing opt-out movement. But in this case, in this particular case, the Common Core reading standards provide a useful dissecting tool for understanding the motives behind charter school propaganda. And remember, I already know how to read pretty "good," and I learned to read without Common Core. So let's turn Common Core on its head.
According to the national Common Core reading standards, endorsed by the New York Times in a 2014 editorial, middle school students should be able to "[i]dentify aspects of a text that reveal an author's point of view or purpose (e.g., loaded language, inclusion or avoidance of particular facts)" (CCSS.ELA-LITERACY.RH.6-8.6) and "[d]istinguish among fact, opinion, and reasoned judgment in a text" (CCSS.ELA-LITERACY.RH.6-8.8). Despite its support for Common Core, a recent New York Times editorial championing so-called educational reform shows that the paper and its staff definitely need remediation and probably should go back to middle school until they can master the new standards.
On May 10, 2016 another New York Times editorial, "Guess Who's Taking Remedial Classes," mocked middle-class suburban parents who oppose the Common Core high-stakes testing regime and support the opt-out movement. They cited a "a striking new study showing that nearly half of the students who begin their college careers taking remedial courses come from middle- and upper-income families." Apparently, about one-fourth of the students who entered college in 2011 were required to take remedial courses in math, English or writing, and forty-five percent of the students in the remedial classes were from those "middle-, upper-middle- and high-income families." According to the Times, the study was conducted by "a nonprofit think tank" called Education Reform Now. The study did not "indicate the specific places where these higher-income students grew up," but the Times believes the "data suggest that many come from suburban communities whose schools did not prepare them for college-level work." And these "wealthier districts" with failing students are, lo and behold, the very "strongholds of the movement against standardized testing and the Common Core learning standards."
Maybe the New York Times should have checked the data itself before trusting the nonprofit Education Reform Now think tank. Education Reform Now (ERN) may technically be nonprofit, but it certainly is not anti-profit and its promoters and funders are neither educators nor education researchers. ERN has a five member Board of Directors. According to their website, "John Petry, Co-Chair, is the founder and managing principal at Sessa Capital. Previously he was a partner at Gotham Capital and Gotham Asset Management. John has been active in a variety of education reform causes. He was a co-founder of Democrats for Education Reform, served as a past Chairman of Education Reform Now, and currently serves as a co-chair at the Success Academies network of charter schools."
The other Board members, Sidney Hawkins Gargiulo, Brian Zied, Michael Sabat, and John Sabat are also hedge fund vultures. In addition, John Sabat is a "founding board member of Harlem Success Academy 4," part of the Moskowitz network.
ERN's activities include lobbying state and federal public officials to support charter schools and tougher teacher evaluations and tenure requirements. In Washington State ERN supported a successful effort to lift the state ban on charter schools. In New Jersey it was allied with Governor Chris Christie in efforts to weaken the teachers union, increase the number of years before teachers are eligible for tenure, and to evaluate teacher based on student performance on high-stakes standardized assessments.
How is that for disinterested impartiality? Did the Times effectively "[i]dentify aspects of a text that reveal an author's point of view or purpose"? Let's take a look at the report.
The report, "Out of Pocket: The High Cost of Inadequate High Schools and High School Student Achievement on College Affordability," was written by Mary Nguyen Barry and Michael Dannenberg. Nguyen Barry is a senior policy analyst with Education Reform Now previously worked for the Education Trust, another anti-opt out group. In school Nguyen Barry studied "policy" and she never was a teacher. Michael Dannenberg is the Director of Strategic Initiatives for Policy. On his Linkedin page he claims to have "initiated, drafted, and shepherded toward enactment major elements of the [now replaced and discredited - added for emphasis] No Child Left Behind Act," which started the national march to high-stakes testing.
According to the report, "the promise of Common Core standards and aligned assessments is still not fulfilled thanks to a series of foreseeable as well as unexpected implementation and communication challenges, including "teacher and teacher union resistance, and the opt-out actions of frustrated, anti-testing parents."
But at the same time, the report does acknowledge some holes in its overall analysis and conclusion that public high schools are failing students from middle-class and upper income families. For example, the authors write "It's true that of those half million students, low-income students are over-represented" and "Again, it's true that the vast majority of remedial students - 57 percent - are enrolled at community colleges."
I found some even bigger analytic holes in the report that the New York Times should have checked before printing the editorial. According to a Pew Research Center report, in 2012, only about fifty percent of low-income high school completers were enrolled in a 2- or 4-year college compared to 65 per cent of students from middle-income families and 80 per cent from high-income families. This means that there are a lot more students attending college from lower middle, middle, and higher income brackets. Even if the number of students from these income groups that need remediation is significant, the percentage of students is actually small.
The ERN report cited by the Times uses a national measure for classifying families as lower, middle and higher income and does not appear to take into account region income differences. For example, because of higher costs of living, a "low-income" family living in Northeast or on the West Coast would count as middle income in an unadjusted report making it look like a lot more "middle income" students need remediation.
In addition, I saw no evidence in the report that it accounts for students with learning disabilities. Students from low-income families with learning disabilities are much less likely to complete high school and attend college than students with disabilities from higher income families who receive greater support from schools in their more affluent communities.
I don't know if the New York Times considered any of these issues before it endorsed the propaganda report by charter school and testing advocates promoting their political agenda. Apparently the Times editorial team has difficulty when it has to "[d]istinguish among fact, opinion, and reasoned judgment in a text, " another area where they failed middle school Common Core. Instead of praising colleges for raising standards and providing support so students can reach these standards, the Times and the testing and charter school people take pot shots at public schools.
I await a New York Times retraction, apology to parents, or maybe just a response.