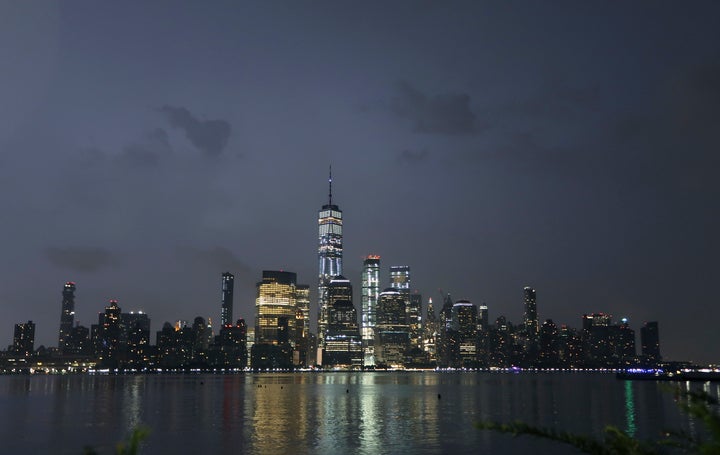 A top New York City lawmaker unveiled landmark legislation Tuesday to dramatically decrease emissions from big buildings, the city's largest source of climate pollution.
If passed, the bill would set a new standard for cities around the world and mark the most aggressive climate action yet taken by the nation's largest and most financially and culturally influential city. 
"We know New York City has to act and has to act quickly," City Councilman Costa Constantinides, a Queens legislator who leads the council's Committee on Environmental Protection, said on the steps of City Hall Tuesday afternoon. "What happens in New York City is emulated everywhere else."
He said the bill, expected to be introduced Wednesday, Nov. 28, could "start a revolution" in cities around the world. Council Speaker Corey Johnson already co-sponsored the legislation, and Councilman Peter Koo, a lawmaker from the Flushing area of eastern Queens, said he would be the bill's next co-sponsor.
The bill takes a more ambitious approach than what was set out in August under a first-of-its-kind agreement between the city's real estate lobby and affordable housing advocates to support legislation that would mandate 80 percent cuts to big building's pollution by 2050. If the same coalition backs the legislation, it's expected to pass sometime in the coming months.
The Real Estate Board of New York, the city's powerful and deep-pocketed landlord lobby, declined to comment on the specifics outlined by Constantinides' office and said it had yet to receive a copy of the bill. But in a boilerplate statement to HuffPost, REBNY President John H. Banks said the group remains "committed to working with the city to address our shared sustainability goals, and look forward to reviewing the legislation." 
"We're going to have a lively hearing in December," Constantinides said, referring to debate on the bill next month. But on its hopes of passing, he said, "I feel very confident right now."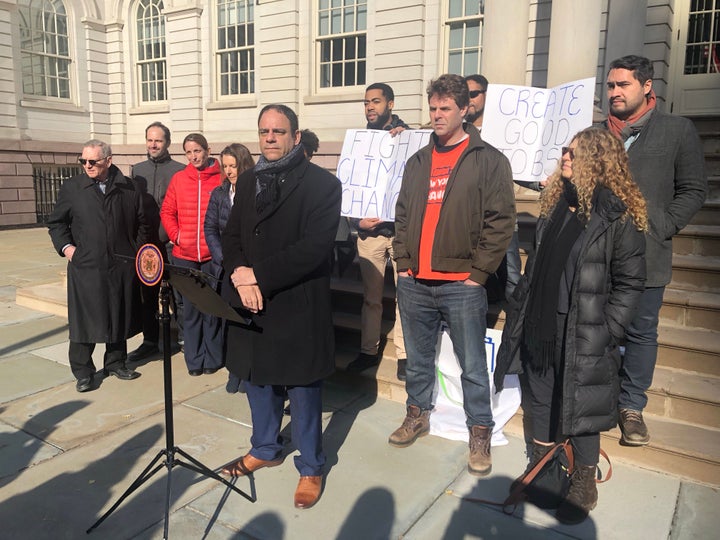 Starting in 2022, the new legislation proposes cutting pollution 40 percent by 2030, a timeline roughly twice as fast as the original agreement brokered by the Urban Green Council, a nonprofit linked to the U.S. Green Building Council that published the framework as a report three months ago. It'll establish a new Office of Building Energy Performance under the Department of Buildings and set up a 27-member advisory board to guide future emissions cuts through 2050. 
"We can be stricter in requirements, but at this point, we can't be any looser," Constantinides said. 
The bill offers protections for the city's dwindling stock of roughly 990,000 rent-regulated apartments, sparing landlords who own those buildings from expensive retrofit requirements that could be legally passed onto tenants in the form of rent increases of up to 6 percent a year. Instead, the legislation proposes requiring the same auditing for to all buildings over 25,000 square feet that buildings over 50,000 square feet already undergo, a step that avoids rent hikes but increases pressure to decrease energy use in the structures.
The legislation could change next year if the new Democratic majority in both houses of the state legislature passes stronger tenant protections by the time the state's rent regulations expire in June. 
"We can retrofit the bill to reflect that," Constantinides said. But said the city won't wait for Albany to enact the legislation. 
The bill's ambition matches that of universal health care proposals like Medicare for all, whereas the original agreement was closer to the Affordable Care Act, better known as Obamacare, said Pete Sikora, a senior adviser to the grassroots nonprofit New York Communities for Change.
"I gotta hand it to him: It's awesome," Sikora said of Constantinides, noting that the legislation matches the urgency set out by last month's United Nations report warning that world governments must halve emissions in the next 12 years to avoid catastrophic global warming.
This rises to the challenge of the U.N.'s report. It's truly amazing and desperately needed.

Pete Sikora, senior adviser to New York Communities for Change
"This rises to the challenge of the U.N.'s report," he added. "It's truly amazing and desperately needed."
The bill follows two attempts by Mayor Bill de Blasio (D) to mandate emissions cuts from privately owned buildings, first in 2016 and then again in 2017. The plans went nowhere. In September 2017, the mayor released his second, more-detailed plan without coordinating with his usual environmental allies on the City Council, alienating legislators who were drafting their own bills to cut emissions. They refused to back de Blasio's proposal.
Yet de Blasio has indicated support for Constantinides' bill.
The only policy similar to the proposal is a cap-and-trade regulation in Tokyo that allows big commercial landlords in the Japanese capital to buy and sell a limited and shrinking number of CO2 pollution permits.
The New York City legislation, like other climate policies the city has adopted, is likely to ripple far beyond the five boroughs, which combined have a gross domestic product big enough to rank among the world's top 20 economies. 
In January, Mayor Bill de Blasio (D) announced a city lawsuit against five major oil companies over infrastructure damage from climate change. A federal judge tossed the suit in July, but California and seven other big states signed onto the city's appeal last Friday.
The mayor also started the process of divesting roughly $5 billion in fossil fuel investments from the city's five pension funds earlier this year, a move other cities quickly followed.
Asked whether the bill will have any bearing on the controversial deal to lure Amazon to open a new headquarters in Long Island City with $3 billion in state and city tax breaks, Constantinides said, "Every building in the city of New York will have to comply with this standard." 
"There will be no carve-out," he said. 
This article has been updated with comments from Constantinides and the Real Estate Board of New York. 
Calling all HuffPost superfans!
Sign up for membership to become a founding member and help shape HuffPost's next chapter
BEFORE YOU GO
PHOTO GALLERY
What Climate Change Just Might Ruin