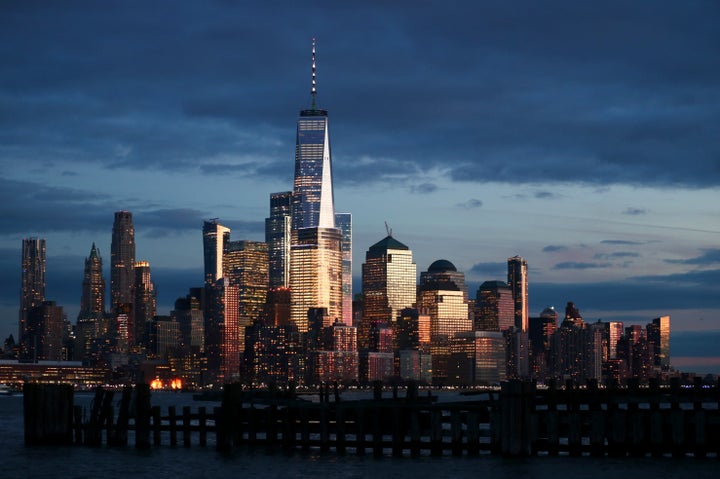 NEW YORK ― The fight over New York City's landmark bill to slash climate-changing pollution from big buildings began Tuesday at a marathon hearing where the real estate industry and its allies picked apart the legislation, criticizing its strict deadlines and protections for affordable housing.
The bill, called Intro. 1253 and introduced last Wednesday, sets an ambitious timeline for cutting emissions from buildings of more than 25,000 square feet ― the city's biggest source of carbon pollution ― starting in 2022 and increasing steadily until meeting a 40 percent reduction by 2030. From there, the legislation gives landlords until 2050 to double those cuts.
"We can't wait anymore," City Councilman Costa Constantinides, a Queens legislator who leads the council's Committee on Environmental Protection, said at the hearing. "The time to act is now."
Waiting, he said, risks leaving "our grandkids the world of 'Mad Max' or the world of 'Hunger Games.'" The bill has nearly two dozen co-sponsors, including Council Speaker Corey Johnson.
It's a formidable goal from a first-of-its-kind bill that, if passed, would set a new standard for cities around the world and mark the most aggressive climate action yet taken by any municipality, let alone the largest and most economically influential in the nation. But meeting it will be costly, particularly for the real estate industry that dominates New York politics and gave rise to such figures as President Donald Trump.
Challenging the bill outright was never an option. The legislation came from an agreement in August, brokered by the nonprofit Urban Green Council, between the city's real estate lobby and grassroots activists that set out a framework for cutting emissions 80 percent by the middle of the century. To do so, the agreement outlined a roadmap for requiring landlords to retrofit old buildings with energy-efficient technologies.
An early draft of the legislation nixed proposals to give extra leeway to New York's dwindling stock of roughly 990,000 rent-regulated apartments. But the final version unveiled last week surprised activists by not only preserving the protections for rent-regulated units but also going beyond the original Urban Green Council framework to call for cuts to be made roughly twice as fast.
The timeline for emissions reductions nearly matches the ambition back-to-back reports from federal and United Nations scientists who said urgent action is needed to wean the global economy off fossil fuels and avert catastrophic global warming in the coming decades.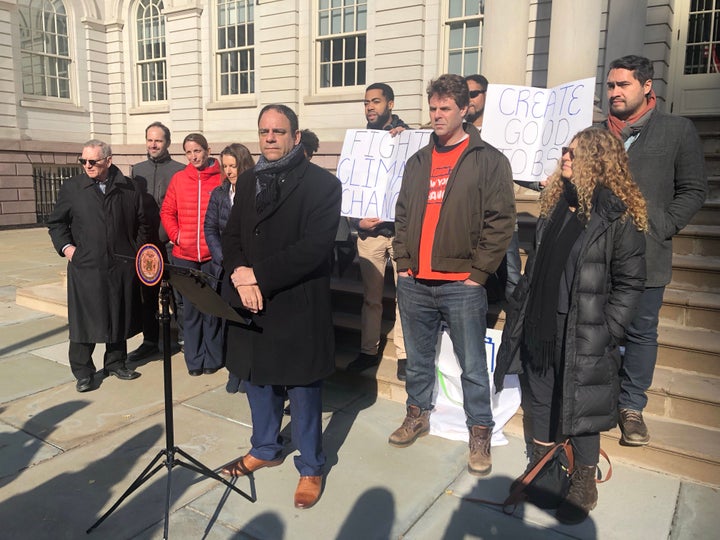 But the loophole for buildings housing even one rent-regulated apartment ― seen as critical to avoid rent hikes in a so-called Gilded City already facing record homelessness ― could exempt up to a third of the city's big residential emitters. Instead of requiring expensive retrofits that, even with rent protections, could be legally passed on to tenants in the form of rent increases of up to 6 percent a year, the legislation proposes requiring the same auditing for all buildings over 25,000 square feet that buildings over 50,000 square feet already undergo.
That appeared to anger industry groups, who demanded their own exemptions, and a handful of their environmentalist allies who said the rent-regulated buildings cannot be left behind as the city reins in the environmental footprint of its skyline.
The Real Estate Board of New York, the city's powerful and deep-pocketed landlord lobby, "supports the bills intention to act quickly and with ambition," said Carl Hum, a senior vice president of the group.
"But we also want to proceed wisely," he said, urging a focus on "long-term goals while being cognizant of short-term realities."
He said he supports the bill's call for a study of a carbon-trading market based on Tokyo's cap-and-trade scheme that allows big commercial landlords in the Japanese capital to buy and sell a limited and shrinking number of CO₂ pollution permits. The cap-and-trade market is the only major policy in the world akin to what Constantinides' bill is trying to do.
For the Greater New York Hospital Association, the 2022 start date represents an "extremely problematic" and "arbitrary timeline" for facilities that stay open 24/7 and require constant lighting and power, according to Andrew Title, the association's senior government affairs director.
Adriana Espinoza, the New York City program director at the New York League of Conservation Voters, which, with the Natural Resources Defense Council, made up the only major environmental groups opposing the current version of the bill, said, "We share the concern of others over exemptions for buildings with at least one rent-regulated unit. It is likely these buildings and the New Yorkers who live in them are those who would benefit the most" from retrofits. (Both environmental groups subsequently told HuffPost they fundamentally support the bill but want to "improve" it with various tweaks.)
"We can't let deniers and those with deep pockets whose profits are at risk deter us."
Looming over the debate is the possibility that the new Democratic majority in both houses of the New York State Legislature next year will pass stronger protections or eliminate Major Capital Improvements ― the program that allows landlords to charge rent-regulated tenants for expensive overhauls ― when rent regulations expire next June. Constantinides said he'd amend the legislation to close the loophole for rent-regulated units if such policy changes occur in Albany in the months to come.
"We need all sectors to participate in the reduction of greenhouse gases in the city of New York ― no sector can be left behind," he said. "We do not want to create a list of exemptions. We want to make sure every sector participates in a meaningful way."
He asked the five panelists testifying how many have worked with the NYC Retrofit Accelerator, a free program that advises landlords on making energy-efficiency improvements.
"Just one?" he said with a curt chuckle when a lone hand rose. "OK."
The accelerator isn't the only program that could help make the mandated emissions cuts more affordable for landlords. Constantinides sponsored a sister bill to opt New York City into the months-old statewide Property Assessed Clean Energy financial program, which allows building owners to apply for long-term, fixed-rate loans to make energy-efficiency improvements or install solar panels through a voluntary line item on their property taxes.
"We know that many will need help, real help," Constantinides said.
"No one here is pretending this is going to be easy. We know it's going to be hard," he added. "But we also know, as hard as it's going to be, it's nothing compared to how hard it's going to be adjusting to when it's too late."
Despite laser-targeted opposition, the bills enjoy strong support from a mobilized coalition of organizations. Nearly 100 demonstrators rallied on the steps of City Hall an hour before the hearing began. They came from groups ranging from working-class stalwarts, such as Democratic Socialists of America and New York Communities for Change; to climate justice advocates such as 350.org, Uprose and the Sunrise Movement. Their signs and chants localized the messaging Rep.-elect Alexandria Ocasio-Cortez helped popularize on federal climate policy, declaring the bills the backbone of a "Green New Deal 4 NYC."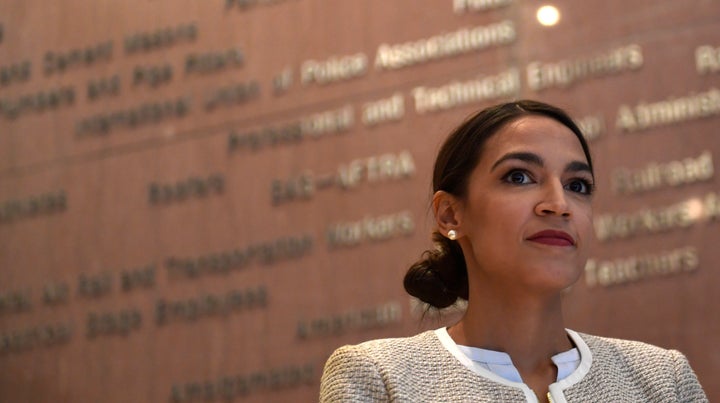 The stakes for the bill's passage are high.
Former Mayor Michael Bloomberg attempted to mandate a building retrofit program in 2009, but the effort fizzled. Current Mayor Bill de Blasio twice attempted to mandate emission cuts from buildings, first in 2016 and then again in 2017. But the efforts went nowhere. In September 2017, the mayor released his most detailed plan yet without coordinating with his usual environmental allies on the City Council, alienating lawmakers who were drafting their own bills to cut emissions. They refused to back de Blasio's proposal.
But de Blasio appears to fully back the bill. When Constantinides asked if the bill represented "the largest emissions reduction policy in the history of this city," Mark Chambers, the mayor's sustainability director, cut him off and said, "The history of any city."
"We can't let deniers and those with deep pockets whose profits are at risk deter us," Chambers said. "The science is clear, and we have to cut carbon now, and cutting it from the largest source simply makes sense."
That could have a huge ripple from a city with a gross domestic product big enough to rank among the world's 20 largest economies.
In January, the de Blasio administration sued five major oil companies over infrastructure damage from sea level rise. A federal judge tossed the suit in July, but California and seven other big states signed on to the city's appeal last month.
When the mayor started the process of divesting roughly $5 billion in fossil fuel investments from the city's pension funds earlier this year, other cities quickly followed.
Over the past month, Ocasio-Cortez took Washington by storm, forcefully rallying current and incoming members of Congress to support her plan to start working on a Green New Deal, a sweeping federal stimulus plan to drastically cut emissions over the next decade and drive up wages by funding renewable energy projects with union wages. But increasing support of that plan beyond the nearly two-dozen lawmakers ― including Sens. Ed Markey (D-Mass.) and Jeff Merkley (D-Ore.) ― will need to be buttressed by local policies like the Constantinides bill, said Randy Abreu, Ocasio-Cortez's policy director.
"Local policies like this need to happen in every city to give that signal to the federal government that we are ready for this," Abreu told HuffPost outside City Hall. "We all know the federal government has the resources to make this happen. We just need to show D.C. that this is going to happen."
This article has been updated to reflect clarifications made by the New York League of Conservation Voters and the Natural Resources Defense Council about their positions on the bill.
Before You Go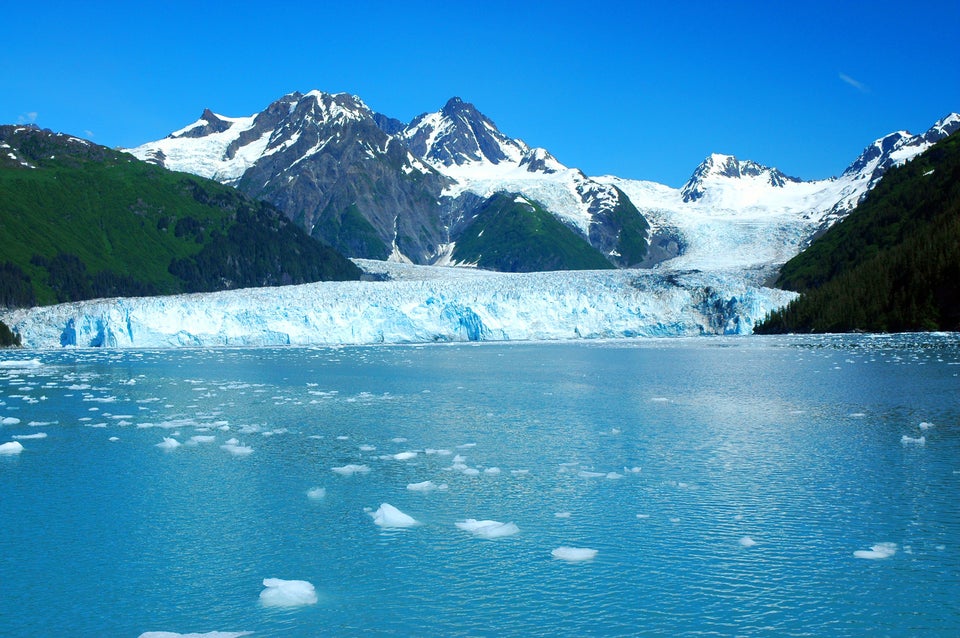 Climate Change: Ten Beautiful Places Under Threat
Popular in the Community