I had the great pleasure of joining a "meetup" with the New York City Dads Group last week, a "support group" of dads from across the city, all of whom are actively involved in their children's lives.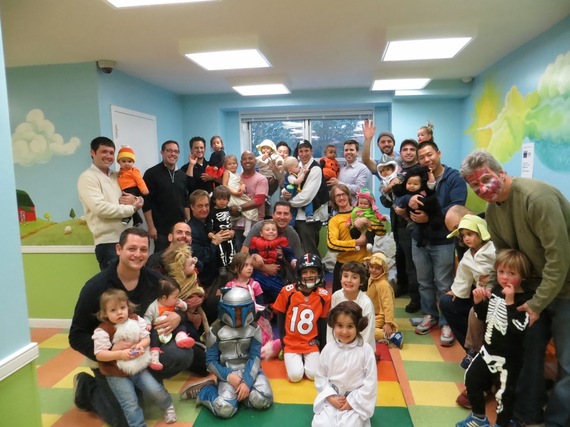 The NYC Dads Group was founded by Lance Somerfeld and Matt Schneider, two friends who recently had children, looking to provide a venue for Dads to get together. They were beginning the journey of raising their kids, and realized that they wanted to surround themselves with other guys going through the same thing.
They smartly recognized that moms have multiple areas of support while dads have virtually none. The Group has since spread to a number of cities around the country... almost a phenomenon of sorts. The Groups in various cities hold meetups, publish podcasts, and do social outings on a continual basis, all connected with a hashtag and a Twitter handle.
I can relate, but from a very different perspective. I didn't have a hashtag when I was raising my kids.
While my kids are fully grown now, there was a time when I was all alone raising those two little munchkins. Not only did I NOT have a support group to join, I had virtually no role models or public acceptance to help me along. I was a single gay dad back when it wasn't cool to be either, let alone both.
So you can imagine my amazement to see a group of all different kinds of dads so actively engaged in raising their kids. Every dad of every size, shape, and flavor was in active participation.
The topic for the evening was car seats, including a representative from the brand Britax who served up a fascinating stream of educational information. I've never seen a more engaged group.
Now as an empty nester I couldn't really engage in the discussion per se, but I did feel pangs of guilt as the rep was talking about the rules of the road as it relates to car seat safety. I cringed a few times, looking back on some obvious mistakes I now know I made with my kids.
The best part is that there was no sales of car seat going on, quite the contrary ... it was just a friendly exchange of information and sharing of experiences. It was eye opening, as the dads were soaking up the information like their lives depended on it. Actually, like their children's lives depended on it. Indeed.
All I could think about is how my life would have been different had I that kind of support when I was going through it 20 years ago... and how different my children's lives would have been too. They also had no role models to look to as they were in a household with a divorced dad, a gay dad, and then a coupled dad. I imagine they could have used the support too.
I know it would have done a world of good for me.
I walked out of the meet-up with my head held high. Not only because I've raised now two healthy and happy adult kids (sigh of relief), but because no one else has to go through it alone anymore.
Let no dad stand by himself.
With NYC Dads Group and the other groups in cities around the country, no dad has to anymore.
That, my friends, is amazing.
Related