 "We are bound to fall short if we raise the standards without investing in the support that educators need to meet this challenge," he told Gov. Andrew Cuomo's education reform commission on Tuesday, GothamSchools reports.
Polakow-Suransky said the funding would go toward buying new books, software and other learning tools aligned to the Core, the set of educational standards most states have agreed to adopt, as well as train teachers how to properly implement the standards. According to the Wall Street Journal, city officials said that in a spring survey of over 62,000 teachers, 92 percent said they understood the new standards and 80 percent said they received feedback on teaching that helped them integrate the standards.
Polakow-Suransky added that funding is also needed to develop more rigorous standardized assessments for each grade level aligned to the Common Core. For the first time, student results on said tests are expected to factor into teachers' evaluations, along with additional criteria.
According to GothamSchools, the city has already spent $125 million in private and federal funds to create materials and train teachers and principals in the standards, but that money is expected to be exhausted soon.
On Tuesday, United Federation of Teachers President Michael Mulgrew told the commission that teachers have not been provided with the curriculum materials necessary to adequately prepare their students for the new state tests.
"It is my grave concern that there will be thousands, millions of students across this state who will be tested on a curriculum that was never supplied to their teachers," Mulgrew said, according to the Journal. "We better be clear that this is a storm that is headed right at us, and we're going to see a significant drop in test scores."
The state has posted a detailed set of standards and sample lessons available to all districts on its teacher website, EngageNY.org, but Mulgrew says that standards do note equate to curriculum.
Schools chancellor Dennis Walcott countered that teachers have indeed received the necessary support to prepare their students, and the city is working "very closely" with state officials to provide additional assistance. State Education Commissioner John King adds that designing new curriculum materials is the role of localities.
Related
Before You Go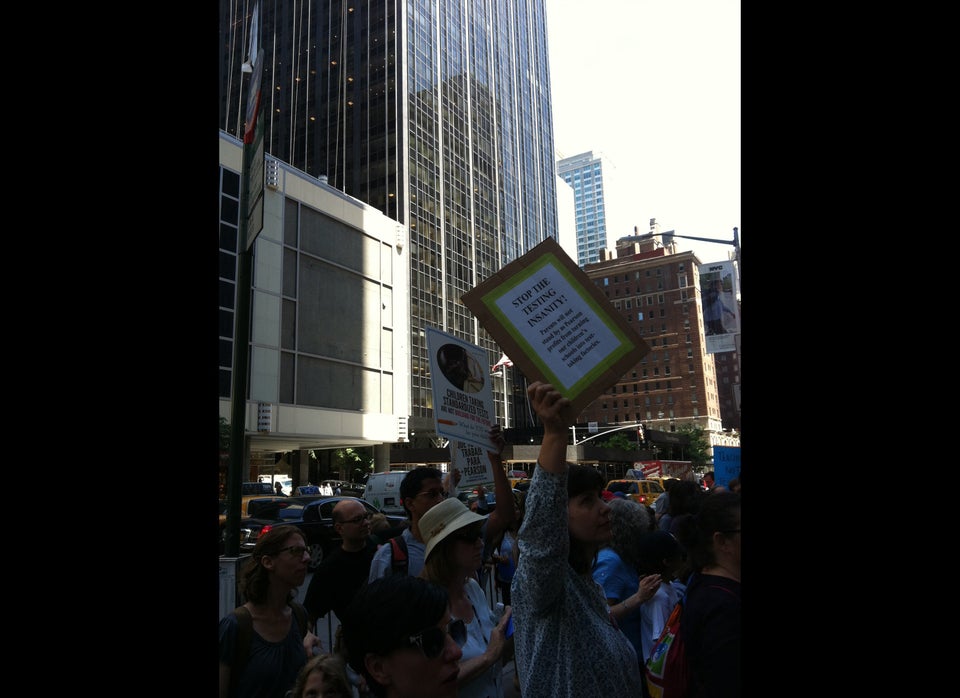 New York Standardized Testing Protest
Popular in the Community