New York City has always been home to an infinite number of creative and talented people: artists, singers, writers, theater folk, and assorted multi-hyphenates of many varieties. In a city as large and diverse as New York, it takes a lot to stand out as a performer, much less to develop a legion of dedicated fans. Drag star Candy Samples (not to be confused with the adult film star of the same name!) is originally from Atlanta, Georgia-- and still has both the accent and that famous "slow, Southern style" to prove it. In 2016, Ms. Samples has found herself to be of the hardest-working gals in her adopted city of New York. The flame-haired chanteuse writes all her own songs, which include such titillating titles as Boy Crazy, If I Had Only Left (Two Shots Early), and Sweet Scandal. Two of her audience favorites, Bear Season and Queen of the Bears, pay tribute to the ever-growing Bear community: unapologetic big and hairy gay men. As a singer and pianist, Candy Samples' live performances always become the hottest ticket in town, and usually sell out. Lately, however, Ms. Samples has been just as busy with her philanthropic activities as with her music. For the last five years, Candy has organized her team The CandyWrappers to participate in New York City's Annual AIDS Walk every May. From its humble beginnings in 2011 with six walkers, the CandyWrappers have grown to over 50 walkers and have already raised $12,970 of its 2016 goal of $30,000.
Underneath the red wig and the makeup, Candy Samples is Will Harrell, a boyish and rather shy native of Astoria, Queens. For Harrell, HIV/AIDS awareness is personal. He openly shares the story about his father contracting HIV after receiving a contaminated blood transfusion in the 1980's, and ultimately succumbing to the disease in 1991. It would take Harrell a long period of soul-searching and life experience before he himself found his true calling as both a performer and an HIV/AIDS activist in New York City, largely thanks to his alter ego, the self-described "good Presbyterian woman" named Candy Samples!
With AIDS Walk New York just around the corner, Candy Samples took the time to speak to me about why she walks every year-- and why you should too!

Hello, Candy. Thank you for speaking with me tonight!
Anytime!
So, it's that time of the year again. AIDS Walk New York is coming soon!
Yes. Sunday, May 15th! This is the fifth year of The CandyWrappers. We started with a small group. I believe there were five or six of us... It was a small team. We raised about $2000 the first year. The next year, we raised just under $26,000!
Wow! So, I've always believed that everyone has to have a cause that they really believe in and that they really take a stand for. Yours is HIV/AIDS awareness. I know that it's very personal for you...
I think that for everybody, it is personal when it comes to HIV/AIDS. What makes it personal for me is this: When I was 12, my father, who was a hemophiliac, was diagnosed with HIV. He had taken blood products regularly to control his hemophilia and to keep him alive. The same treatments that kept him alive also infected him with the virus in the '80's. He was diagnosed in 1988, and he died in 1991. I was 12 when he was diagnosed, and at this time, I was dealing with coming into my gay identity. I was dealing with both that and with our family situation: growing up in a world where we are watching the news coverage about what it is was like to be a person with AIDS, and what it was like to be a gay man at that time. That was tough. I think that I held in a lot of anger, resentment, and fear about what could be my destiny. I went on to go away to school and to study theater, and to try to make a life for myself here in New York City. It wasn't until some friends had become diagnosed, into my New York City experience, that it really hit hard. I needed to do something. I had always lived in fear of becoming HIV positive, or having someone else in my life become HIV positive. It was always that same anxiety and that same sadness.
Once I learned to get over that fear and to try and put it into better use, then that's when I started putting together the AIDS Walk team. I had done other fundraising things for the cause, but they were always very much on the periphery. I was "born" as Candy Samples in 1995 when I did an AIDS benefit pageant in Atlanta. That's what you did at the time. You did an AIDS fundraiser. But I had not really become outspoken about it until I started doing the AIDS Walk. I started talking to people about it, and post on social media daily about testing: "Know your status." "Know about PeP (post-exposure prophylaxis)." We didn't have PreP (pre-exposure prophylaxis) at the time. There was a period of time in my life where we didn't talk about HIV/AIDS because we had "the cocktail." People who had the diagnosis didn't have "the look." It wasn't a "death sentence" anymore, but we still didn't talk about it. It was something you didn't want to get, and something you didn't want to know anyone with. From my time moving here in 2000, it was a taboo thing. And, it shouldn't have been. I think that the years finally caught up with me, and I couldn't do that anymore. I knew that my chances of ever becoming sexually active and finding love in New York meant that I would have to confront HIV. It didn't need to be a "block" in my life, but it needed to be something that I could be prepared to know how to deal with. I think that by doing AIDS Walk, by learning about what services that GMHC provided, by talking to my doctor in better detail about my health concerns, by "stepping into my power" as they say, helped. Doing these fundraisers, and spreading the word about testing, prevention, love , and acceptance has sustained me. That's why I do so much. I do a lot of fundraising. But there are a lot of other people who do a lot of great things too!
Definitely! But the way you do for HIV/AIDS awareness will always be your own. Other activists have there own way of fighting the fight, but only Candy Samples can do what you do.
Everyone can do their part-- to advocate for HIV/AIDS. I had someone contact me and tell me, "I signed up for the Walk, but my boyfriend hasn't. He's busy with school. Can he still walk?" I said, "Yes! He can walk. If he can sign up that would be great, because it takes only a couple of seconds and it is free." But think about this: You are going to update your Facebook status and take a selfie every day anyway, and it only takes seconds to sign up for AIDS Walk and say, "I'm doing AIDS Walk and here's a link to my page. I am walking to support my community!" I think that it took more time for me to tell my friend that his boyfriend should do it than it would take to sign up and raise $100! We are fine as a society to go out to the bar or the club, but we are afraid to ask our friends for $25. I think that's silly. It's hard to ask people for money. I get it. But I see people's political posts, or I see pictures of people's puppy, or I see another gym selfie, and-- well, that's how people express themselves. I am expressing myself through AIDS Walk! And I will talk about it until the cows comes home! Or, until we don't have something to talk about! (Laughs) And then I will take up knitting, and all my posts will be about knitting! But we have to have a cure for AIDS. AIDS has to not be a thing!

Now, you said that Candy Samples was born in 1995. How has she changed as we enter 2016?
Candy was born at an AIDS benefit, and she's gone back to doing them. So, maybe she's come full circle! I think Candy has become more ingrained in her community. I think that at the moment, I'm known more for my fundraising than I am for my music! People ask, "What do you do?" I say, "I'm a drag queen singer/songwriter. And I do a lot of fundraising." Last year I said I was going some time off to work on my album. I'm still working on it. I've had some setbacks. But I am back and better than ever... and that album will come out! My supporters know the material that's going to be on it, because I've been performing it for the last few years. But, I think that as of late people know me more for fundraising. And that's fine! Isn't that great to be known for something good?
Yes, it is!
I don't want people to have the feelings that I had from ages 12 through 27! I kind of look at those years as all very fearful. I got my first "grown up" HIV test at age 27. I waited a long time. I was having sex... but I was afraid to go and get tested. I was afraid of what the results would be. I moved to New York at age 24 knowing that this would be the best city for me to live in if I had become HIV positive. Insurance laws at the time wouldn't deny anyone due to a pre-existing condition, and the health care in New York is better. I wanted to be in the city that would give me the best. But I was scared... and I was afraid to test. At that time, you didn't talk to your friends about it. I know that I didn't talk with MY circle about it. I think that a lot of people had that issue. I was tested as a teenager when my father was diagnosed, but age 27 was my first adult HIV test.
Well, you have to get tested when you're ready... and only you can know just when you're ready!
True. I had to wait until I was ready. And I tell people this: Test when you are ready to receive a positive result. I know too many people who have gone in and thought, "This will be nothing!" and then have been devastated. I went in expecting to be positive. I'm not saying that that's the best way to go into it, but expect that there are two results. You will get one of them. So, think about what you are going to do. I did not know what I'd do if I would have been positive. At that time, I did not have enough self-confidence, self-love, or self-respect. I would have made a horrible boyfriend to anyone, and I wasn't the best person to myself. Then, finally, it came to the time when I was able to accept the results as whatever they would be. By that time I had a lot of support from the people in my life. They were like, "Do it!" and "We're gonna make this happen!" I had a lot of people holding my hand. I also have to add that today, we know more. We know that it is best to start treatment as soon as you have that diagnosis. When I first moved to New York, that was up in the air. People were taking "breaks" from their meds. That was a thing... or, not taking the meds right away: You followed the T cell count. Now, common practice is to take those medications on the onset.
Yes, it is. So, back to AIDS Walk! This year will be the 31st year of the Walk. Now, I know what it is like to do it. You are surrounded by people of all ages, religions, ethnicities, lifestyles... People bring their children and even their pets. It is a very life-affirming experience. What would you say to encourage someone to do the Walk for the first time if they have never done it before?
Just do it! It's not what you would expect. It is amazing to see all of those people together. It is amazing to be with our team The CandyWrappers. It is a very special time where I am able to talk with each and every member of the team. We have a little moment, we get to talk, I get to hold their hand, and we walk. We get to talk about what we are doing and why we are here. Last year, there was a man who wanted to walk with us. As soon as we started to get to the lineup, he told me that his brother died in 1992. I told him about how my dad died in 1991. And I just held his hand and we walked to the lineup area together. We talked for a little bit. This was a straight man in his mid-40's who wanted to talk about his brother. And I was happy to listen. Those are the moments we have. I've talked with teammates about PreP, in detail. I've had some nice conversations. It's a very intimate day for me. I feel all the "feels"; it's very cerebral. We get to do something: We literally put one foot in front of the other, and we walk it out. We make a statement, and we show the city that HIV/AIDS is still an issue that needs to be addressed. There's still a discussion. Does everyone needs to do the AIDS Walk? No. But you know what? If you're in New York City, I think that you should be a part of it somehow. Support a walker, or raise funds online, or be a "virtual walker..." Raise awareness. Get the discussion going! HIV is not over!

Thank you, Candy!
You are welcome!
You can catch Candy Samples and her Special Guests at The Duplex, 61 Christopher St, NYC, with "I Walk," a night of original music, on Saturday, April 16th. It is a benefit for The CandyWrappers AIDS Walk New York Team. Visit Purple Pass (PurplePass.com/IWalk) for tickets.
AIDS Walk New York is Sunday, May 15th, 2016. The event benefits Gay Men's Health Crisis (GMHC) primarily as well as more than 40 tri-state AIDS service organizations through the Community Partnership Program (CPP). Visit ny.AIDSWalk.net for more info.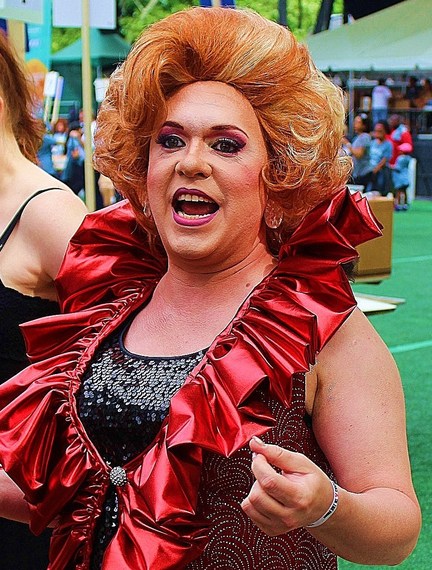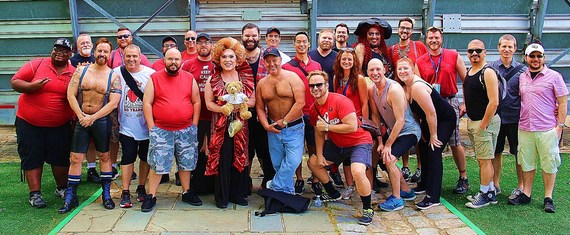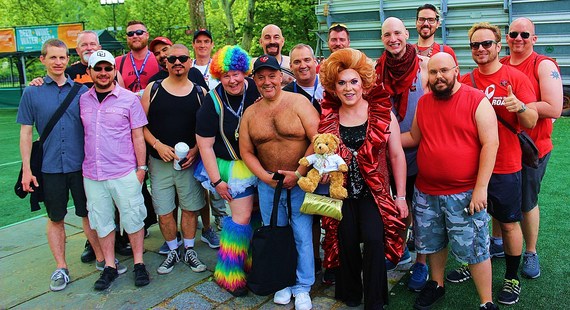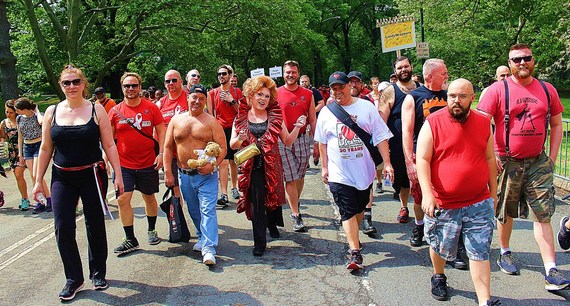 REAL LIFE. REAL NEWS. REAL VOICES.
Help us tell more of the stories that matter from voices that too often remain unheard.