NEW YORK — Bonnets both elegant and zany took center stage at this year's Easter Parade on Fifth Avenue – along with spirited talk about Christ's resurrection and gay marriage.
It was "a real New York spectacle," said John Leone, a Long Island electrician who came Sunday with his native Ecuadorean wife and two young daughters – and their over-the-top hats.
Victoria Leone, 7, and her 8-year-old sister, Valentina, wore huge white domes, fashioned from pastel Froot Loops and marshmallow Peeps attached to white plaster that had been shaped around a balloon.
The family joined thousands of people from around the world who had gathered for the midtown Manhattan celebration.
Some showed off their Easter finery; others wore costumes that might have appeared in a circus sideshow.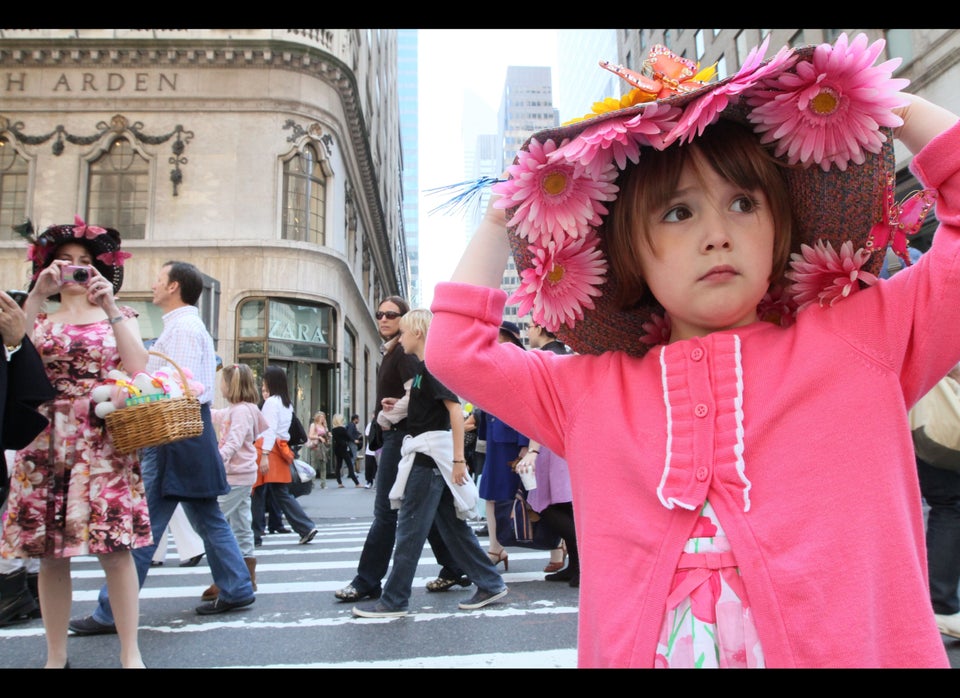 Gallery
Sitting atop Mike Revenaugh's thrift-shop straw hat was a miniature Ferris wheel filled with Lego figures, on a lawn of fake grass graced by plastic eggs.
In his multicolored striped jacket, the 28-year-old graduate student had no plans to attend a religious service. "It's a little difficult, with this equipment," he said.
Starting Sunday morning, the parade stretched a dozen city blocks up and down Fifth from St. Patrick's Cathedral, the seat of New York's Roman Catholic Archdiocese. The church was packed for a late morning Mass celebrated by Archbishop Timothy Dolan.
Many of the faithful wore beautiful traditional bonnets.
But the joyous revelry was mixed with some dissent – and sorrow.
Gay activists stood in front of the cathedral protesting ecclesiastical opposition to same-sex marriage, while honoring those who had lost their lives because of prejudice.
Among the victims was 18-year-old Tyler Clementi, a student at Rutgers University in New Jersey who jumped to his death from the George Washington Bridge in September. Prosecutors say he committed suicide after his sexual encounter with a man in his dorm room was captured on a webcam allegedly by a roommate who tried to broadcast it online.
"We're here to memorialize our dead, and to pay tribute to Clementi and other hate crime victims," said Scott Wooledge, 44, a member of the activist group Queer Rising who hoisted a banner depicting a raised fist.
He said activists are challenging the Roman Catholic Church "to live up to its doctrine of social justice" – by accepting marriage between gay partners.
New York's archbishop has repeatedly voiced his opposition, saying same-sex couples are no more entitled to wed than he would be to marry his own mother.
The subject did not come up during Dolan's homily Sunday. He offered a message of rebirth reflecting the Biblical account of Christ's crucifixion and resurrection.
"The word this morning is one of light and hope and life and faith and newness and mercy and decency and goodness," the archbishop told worshippers.
The parade tradition began as a 19th century gathering of New York's social elite in their Easter best after church services – along with similar parades around the nation that took off after the Civil War. New York's version has become a semi-secular feast.
"This was once for rich New Yorkers, but it's morphed into all kinds of people having a good time," said Barry Brown, 39, who works for a New York nonprofit organization.
He started building his Easter hat at home in Jersey City, N.J., with friends who get together each year for what he calls a "craft brunch with mimosas" a few weeks before Easter.
Perched on Brown's head was the whole "Little Mermaid" story: a sea witch encircled by a sea snake, with the Little Mermaid's sisters hanging from the brim of the hat – "I bought them on eBay for 99 cents!"
Easter Sunday was no joke for Emma Giudicelli, 9, visiting with her parents from Antibes, France.
"It's a religious feast," she said seriously in her native tongue. But "I don't know why," she added.
A Jewish schoolteacher from Israel said she and her husband attended two Christian services in New York over the Easter weekend.
"It was more interesting than going to a synagogue, which we know," said Eliron Bazarsky-Jarosch of Rehovot, Israel.
Related
Popular in the Community