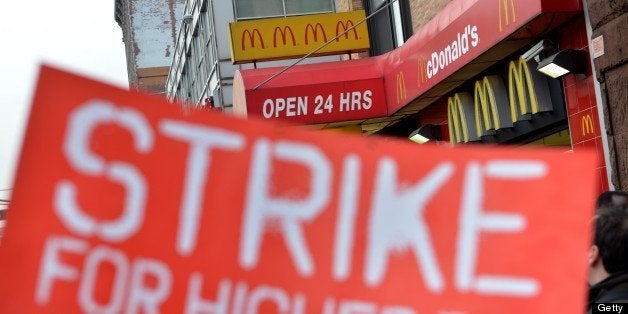 By Trevor Kapp and Aidan Gardiner
MIDTOWN — Workers planned to rally at several major fast-food chains throughout the city Monday to demand higher wages and the right to unionize, organizers said.
Protesters in New York were set to join others in cities including Chicago, Detroit and St. Louis in a national effort by fast food workers to raise wages to $15 an hour and gain more respect in their workplace, organizers said.
Demonstrators kicked off the rallies — which they called a one-day strike — about 6 a.m. outside a Midtown McDonald's, 1651 Broadway, where about 30 people including fast food workers and elected officials filled the sidewalk.
"No more burgers. No more fries. Make our wages super-sized," they chanted.
Workers bemoaned the state's minimum wage — $7.25 — which they said is hard to live on in a city like New York.
"It's impossible when rent is $700, gas is $50 and a MetroCard is $112. I make $109 a week. Where am I at?" said Tamara Green, 26, who works at a Downtown Burger King.
"Working conditions clearly are not being respected," City Council Speaker Christine Quinn said. "They need a union to make sure this type of mistreatment comes to an end."
Organizers planned to hold three simultaneous rallies at noon in Brooklyn, The Bronx and Manhattan.
State lawmakers voted to raise the minimum wage to $9 by 2016, but Monday's protesters said even that increase would be a far cry from what they felt was a decent living.
"It's hard work. I'm absolutely exhausted at the end of the day," said Ricky Padin, 24, who works at McDonald's.
"We're tired of being mistreated. We're tired of being paid $7.25," he added. "We're not going to stop till we get what we asked for."
REAL LIFE. REAL NEWS. REAL VOICES.
Help us tell more of the stories that matter from voices that too often remain unheard.