Fine dining is not unique to New York City where on any given evening one may trip over hundreds of restaurants uptown or downtown, eastside or west that present some of the finest meals in the world. Whether ambitiously set in grand locations or romantically hidden amidst the cement and stone of quiet streets, the opportunities from tantalizing tid bits to orgiastic organic oeuvres are too many to list. To find a truly unique fine dining experience is a challenge in a city that specializes in thousands of five star meals.
Asiate, atop the Mandarin Oriental Hotel in New York City, provides such a unique fine dining experience. The restaurant sits along Manhattan's skyline on the restaurant's 35th floor just off Central Park West and creates a peaceful and luxurious setting in a modern design with an oriental flair. Glass walls surround you that look out across the city uptown and across central park.
The glass walled wine 'cellar' of 3000 bottles are lined floor to ceiling as you walk past them to your table. The Sommelier told me they taste as many as 20,000 wines to better advise their clients. Asiate bills itself as "Asian/New-American", but the label is unfair as the cuisine transcends any one label. Carefully inspired by Executive Chef, Christian Pratsch who oversees Mandarin Oriental New York's culinary program, the restaurant offers a refined menu for breakfast and lunch and a dinner prix fixe which comes at a premium for its excellence.
The prix fixe is a choice of three selections, but the menu has the crowning Chef tastes selection, of four or five courses ' called the 'Chef's Tasting Menu'. This is the specialty of Asiate, the artistic pinnacle of the menu, as each course is carefully designed and prepared to enhance the ones on either side of it. There is also an optional wine pairing for each course and that is the meal I recently had the opportunity to experience.
If you're going to take the plunge and spend large for an exceptional meal of wonderful tastes in a lavish setting, this is the way to go.
Sitting in an elegant booth next to a floor to ceiling glass panel looking down 35 stories, we started the first course of big eye tuna sashimi, with a slightly smokey flavor and a spicy mayo balanced by cucumber and kiwi. The dollop of caviar on top completes the sense array on the tongue and was an exquisite start. The German Pinot Blanc that's paired with it is crisp and sweet, refreshing and light.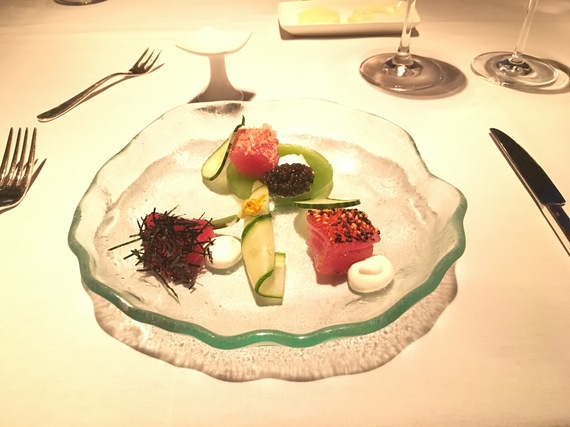 Big eye tuna sashimi

A velvety Foie Gras Terrine followed, creamy and salty with a black sesame financier which balanced the soaring flavor with an earthy tone. The French Bordeaux paired with it, was more like a port, thick and sweet, to stand out against the richness of the foi gras, as a lighter wine would be out matched by rich and complex flavor coming off the fork.
Risotto with winter black truffle follows for the third course, with a mascarpone cream and artichoke. The risotto, light and creamy, the truffle woodsy and setting a bottom note for the tangy artichoke which was crisp and flavorful. The California Chardonnay accompanying it was bright and unoaked, fruity and acidic, which made a nice balance to the risotto's flavorings.
The fourth course was the smoked sea scallop, extremely tender and smooth, with a crunchy watermelon radish accompaniment, that bordered almost on sour. Braised fennel finished the arrangement, creating an astounding taste and texture combination. The French Pinot Noir in this pairing I found a little heavy, but the blackberry and earth driven notes of herb against the tang of the raddish and delicate smokiness of the scallop was the right combination.
The fifth course was the 7% Wagyu Beef Tenderloin, a perfectly prepared medium rare. When beef tastes buttery you know its quality. The au jus had a savory chanterelle mushroom companion that unlocked and perpetuated the flavor of the beef. This was married with a French St-Emilion, which I couldn't do more than sip to appreciate at this point, as four glasses of wine into the meal I was forced to realize my limit. If you want to know how it feels to be the guests of Lord and Lady Grantham in Downton Abbey, it feels like this, many fine courses and a new wine served with each one.
The meal was finished with a Dacquoise dessert, a hazelnut cake with chocolate ice cream, rich and delicious, but not over powering and mercifully proportioned so that it wasn't too large a serving. That was married with a Seppeltsfield Muscat No. 9, similar to a sherry, sweet, textured, and a perfect end to an exquisite meal.
The designing of new tastes is overseen by Executive Chef Christian Pratsch who changes the menu about six times a year, to keep it fresh and innovative. He invents with a mind to source locally as well as provide unusually great opportunities in dining. For example, the Wagyu Beef. The entire herd is owned by a single supplier who sources the beef directly to the Mandarin Hotel, which keeps their product quality high and very controlled. I have to mention that the portions for each course were very well considered, not too small to feel ungenerous, not too large to risk a full stomach before the meal came to an end. I was very pleased to note the artistic care that went into the preparation of each dish as well. Service at our table was excellent, as we were attended to by both the waiter and sommelier for each course.
As I watched the city lights twinkle below me I realized a walk through mid town back to my hotel was going to be the perfect end to a perfect meal. Walking in New York City is one of my favorite pastimes and an unhurried stroll back to our hotel allowed me to revisit the meal laid out before us and the excellence with which it was prepared.
Popular in the Community