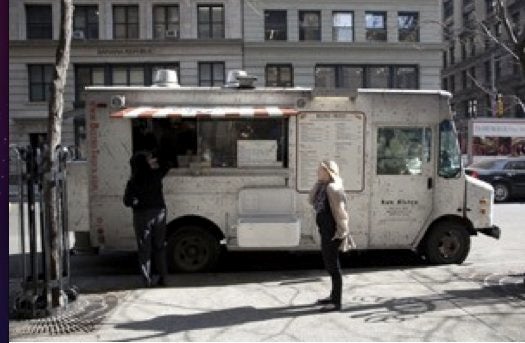 One of the more original food trucks to hit Manhattan, Bistro Truck is a Moroccan-owned and inspired truck serving a mix of North African and Mediterranean grub. The result is something of a combination of a kebab cart and a classy French bistro with a list of everyday items and daily specials based on what's fresh.
The Menu: What's great about the Bistro Truck is they use sometimes exotic and generally high quality ingredients (the beef is grass-fed, for example), yet no dish tops $7. Hors d'oeuvres include a decent size Salad Nicoise and Lamb cigars (phylo dough stuffed with ground lamb and mixed greens). There are seven sandwiches to choose from, including an incredible one with Merguez sausage, topped with fries, on a baguette. Awesome. The entrees (Marrakech Lamb, Dijon Chicken and Vegetable Tajine) come with cous-cous or rice. You can get a side order of fries, which are called Belgian frites, yet like every other food truck claiming to sell Belgian fries, they aren't thick cut or very crispy. (They came out kind of soggy, actually). Daily specials range from lentil soup to steak tacos.
To Drink: Moroccan Mint Tea, Water, 12oz sodas, Perrier, Espresso, Juice.
3.) Request a date and time
4.) Pay at truck on pickup (the credit card option isn't operational yet)
Coverage: Stays put near Union Square, on 5th avenue between 17th and 18th.
To Call Your Order Ahead: 800-290-4924.
REAL LIFE. REAL NEWS. REAL VOICES.
Help us tell more of the stories that matter from voices that too often remain unheard.