After a meeting in the Williamsburg section of Brooklyn the other day, I stopped by Pierogi 2000, one of the pioneer galleries in this once humble, now rather chic neighborhood. Pierogi, begun in 1994 by artist Joe Amrhein, is especially well-known for its huge flatfile, containing affordable work on paper by over 500 artists. It also has generous gallery spaces, which currently feature impressive painting exhibitions by Sarah Walker and Ken Weathersby.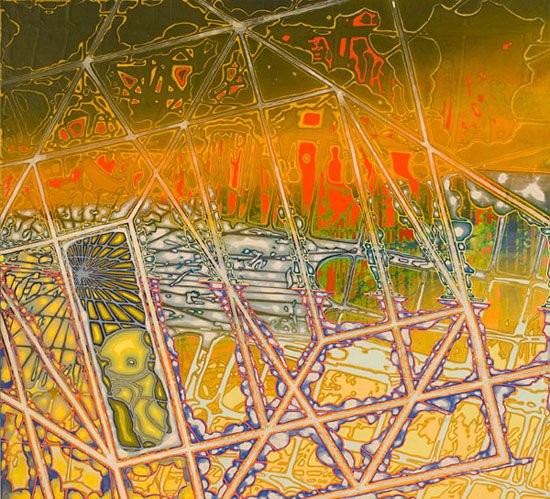 Sarah Walker, "Supraportas," 2010, acrylic on panel, 20 x 22"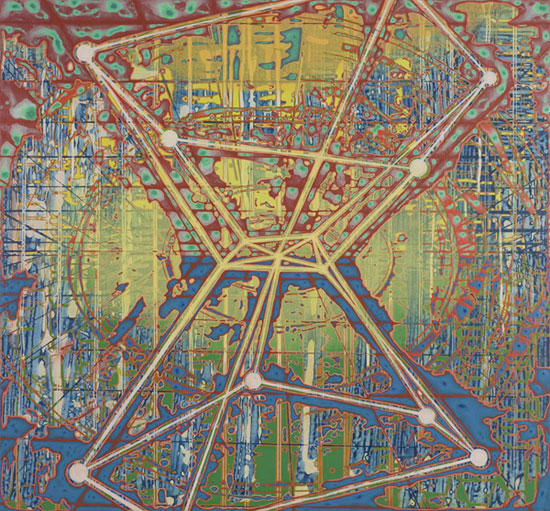 Sarah Walker, "Extrapolator," 2010, acrylic on panel, 26 x 28"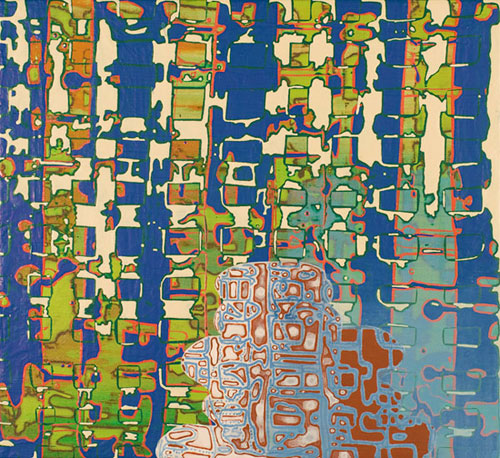 Sarah Walker, "Compound, Blue Stripe," 2010, acrylic on panel, 10 x 11"
In the front gallery, Walker's sensationally kinetic abstract paintings (the color is more lurid and acidic than it appears in these images) seem to depict the exhausting onslaught of information, where the real and virtual are no longer easily distinguishable. Paradoxically, Walker's process is not frenetic and slapdash like that of earlier action painters, but slow and deliberate. After applying very liquid acrylic paint, she either partially wipes it away or allows to it to dry crusted and cracked, leaving traces of underlying layers. She paints into each layer, bringing forward some of the earlier details, while pushing back others. Walker sees the process as a kind of archaeology. "Every layer is both obliterated and preserved multiple times merging foregound, middle ground, and background and with it past, present, and the forecast of a future." The bright, wildly energetic paintings got my blood pumping. I emerged from the show energized but a little unsettled, thinking to myself, I've got to run! There's so much to do! And it was true. It's a real accomplishment for a painter to spur a viewer to action--and at the same time make her despair that she's in such a hurry.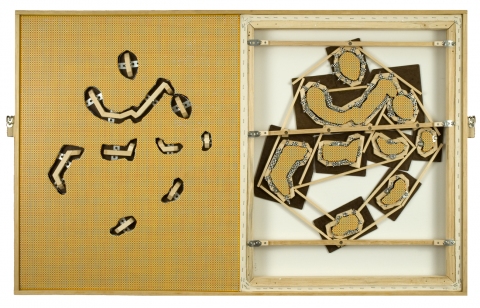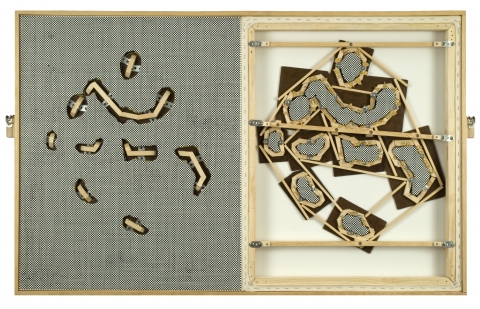 Ken Weathersby, "153 (c & a)," 2007, acrylic on canvas with relocated inset panels, 30 x 50." Two-sided painting. It can hang with either side visible. Images courtesy Pierogi 2000.
In the back gallery, Ken Weathersby's smart, quirky constructions employ a diptych format and checkerboard patterning so as to explore the nature of symbiotic relationships. He cuts out sections of canvas and reconstitutes the shapes on the other panel, or sometimes on the back of the initial one. Several of the pieces are double-sided, and will be flipped and re-hung over the course of the show. "Paintings are visual objects," Weathersby says. "Usually we think of the 'object' part as supporting the 'visual,' of the wooden stretcher and canvas as just being there to hold up the image that we are meant to see. But those two different aspects can play with or against each...." If Walker's work is a screaming declaration that there is just too much information, Weathersby's work makes a compelling case that we can simply choose to ignore it and opt instead to quietly observe the reciprocal nature of the relationships that surround us.
Support HuffPost
The Stakes Have Never Been Higher
Related
Popular in the Community