At the end of June when the Antiques Garage Flea Market (commonly referred to as simply "The Garage") closed, it was a sad day for those of us who had been going there religiously for decades. It was the last of five Chelsea flea markets founded by Alan Boss, who started this vintage empire in 1976.
Each of those five markets closed due to real estate development. But long before Chelsea became a sea of high-rise apartment buildings, it was the epicenter of flea marketing in the city. In fact, in the mid-80s and early-90s, there were 600-700 vendors per weekend. At that time, the best of the five markets was at 25th and 6th Avenues, and it was known simply as "The Dollar Market."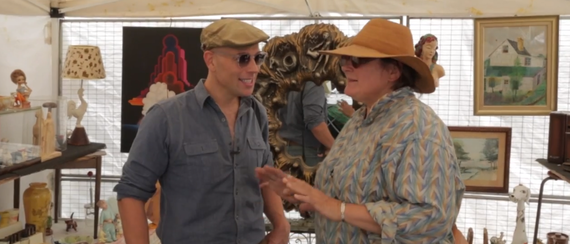 Old friend and veteran dealer Tanya Aubry has some of my favorite merchandise at the new 25th Street Flea.
Flea folklore has it that The Dollar Market was the stuff that vintage dreams were made of. In fact, just about everyone who remembers all the great Chelsea flea markets agree this one was the very best.
It was at that market, where I found an Art Deco glass block mantle that is still the heart of my living room today. I also found my sofa and countless other treasures there.
The Return of The Dollar Market
Well, The Dollar Market has now returned. It's still on 25th, but is now situated between 5th and 6th Avenues, directly across from The Showplace Antiques and Design Center. In fact, Boss had it up and running the weekend after The Garage closed.
While the site had been a flea market under different management, it was not of the best caliber. Boss came in and changed all that. He re-paved the lot, put up fences and provided dealers with large white tents.
Happily, since July the new market has been gaining momentum. It has also given those of us who mourn the loss of The Garage a place to shop and gather.
Familiar Faces and New Friends
I'm happy to report that there are lots of familiar faces at the new market, many of whom were regularly selling at The Garage. In addition, new vendors have joined in, adding more selection and variety.
The dealers I spoke with told me they are largely happy with the new space and the breath of fresh air it provides. I've also been told (and noticed myself) that the clientele is changing as well. Since the new location is closer to Madison Square Park and the Eataly Megaplex, many more tourists and passersby are wandering in and spending money.
The selection at the new market includes the familiar mix of art, ephemera, jewelry, vintage clothing, pottery and furniture. I've already uncovered a number of treasures and there's a familiar spring in my step each weekend when I head there. What's more, the atmosphere is friendly and easily navigable.
The one downside to the new market is the weather. On a few rainy days there have only been a handful of vendors (on these days the admission has been waived). As the seasons change, time will tell how many vendors will brave a Manhattan Winter to sell their wares.
Boss tells me he's open to another indoor space, should one present itself to him. He also let me know that he has a few more tricks up his sleeve. So I'll wait patiently to see how it all unfolds.
In the meantime, I'm just grateful to have a place for NYC vintage enthusiasts and tourists to get their fix. And here's hoping we have a mild and treasure-filled Winter.
WATCH THE VIDEO: Tag Along As I Visit Old Friends At NYC's New Flea Market.
Video and Photos by Blake Drummond
REAL LIFE. REAL NEWS. REAL VOICES.
Help us tell more of the stories that matter from voices that too often remain unheard.