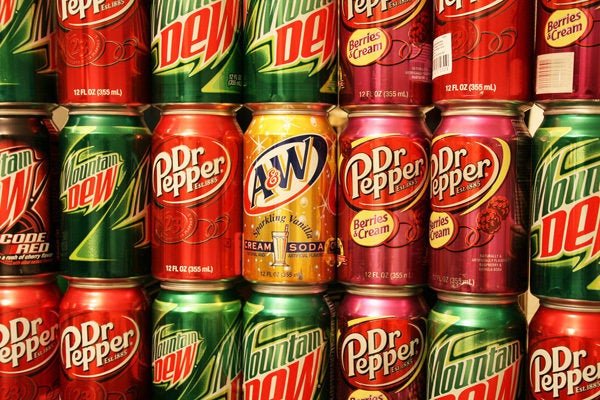 It takes both chutzpah and cojones (both indigenous to NYC) to roll out a campaign that takes on the beverage industry. And that's just what the New York City Department of Health has done with its "Pouring on the Pounds campaign," that effectively highlights the anti-health impact of sugary, sweetened drinks.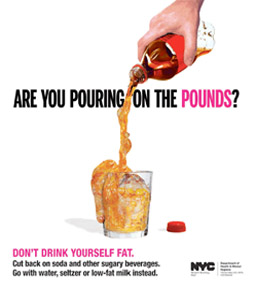 The cost of the multi-lingual ad campaign is about $277,000. It will run in 1,500 subway cars for three months.
Its signature image is a bottle of soda (or sugary substance of your choice) that is pouring into a glass. As it reaches the glass, the liquid turns to fatty globules. A stunning reminder of how these high-calorie products are empty calories that lead to obesity and other related health problems and diseases, particularly diabetes and heart disease, stroke, arthritis and cancer.
The ad queries, "Are you pouring on the pounds?" And it warns, "Don't drink yourself fat." Needless to say, one can quench their thirst with water.
According to the American Heart Association, Americans now consume on average 22 teaspoons of sugar per day, or 355 calories. The NYC Department of Health found that more than 2 million New Yorkers drink at least one sugar-sweetened beverage each day, averaging 250 calories per 'pop.'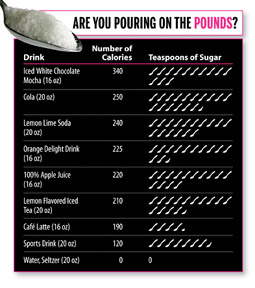 Sweetened beverage consumption is highest among 18-44 year old and among adult blacks and Hispanics.
If you consider the research conducted by Child Development Theorist Linda Kreger Silverman, which indicates that approximately 75% of the population learns from visual cues and 65% from words (25% exclusively), then utilizing visual campaigns that are heavy in images and words, makes perfect sense.
My only question is this: $277,000 seems a small amount of money to pay to deliver such an important message. Why only 3 months? Why only in New York City?
To the rest of the nation, I say, "Hey, ramp up the chutzpah and get some cojones." And to the NYC Health Department, I say, "Super-size this campaign and count me in!"
Spread the word ... not the icing!
____________________________________
Calling all HuffPost superfans!
Sign up for membership to become a founding member and help shape HuffPost's next chapter