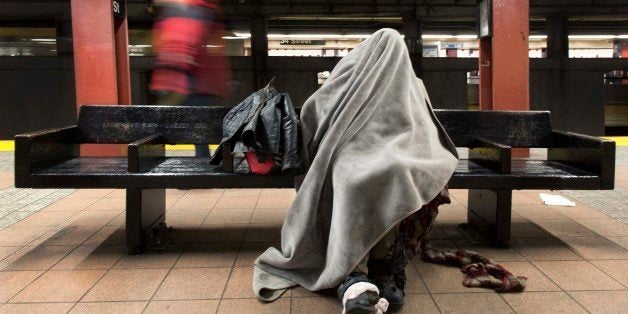 The city that never sleeps is upping efforts to reach those without beds to call their own.
New York City, currently experiencing record-high rates of homelessness, has increased funds aimed at helping the unsheltered portion of its homeless population -- those who don't access the traditional shelter system and stay in public spaces instead.
In 2014, the city's Department of Homeless Services (DHS) provided $35.5 million in funds for helping such residents -- this year, it will provide $45 million, The New York Times reported.
Of the additional $9.5 million, $6 million has been allocated toward homeless outreach on New York's subways -- a new initiative launched last July to reach homeless people who seek refuge underground on the city's transit system.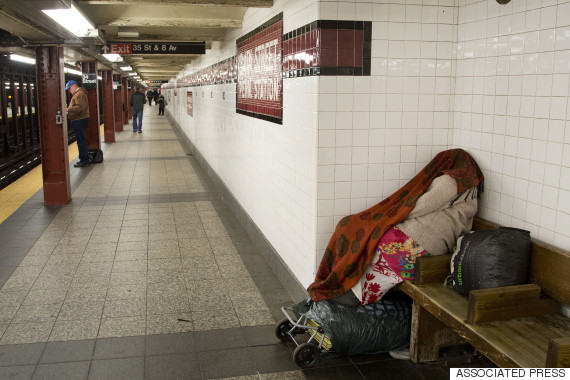 Previously, the Metropolitan Transportation Authority (MTA) handled matters dealing with homelessness within the subway system, DHS Press Secretary Christopher Miller told The Huffington Post. According to him, the change will allow DHS to better engage those who need services most.
"Now that we're overseeing the efforts we can coordinate care better, as our clients often move above and below ground, depending on the weather," he told HuffPost in an email.
The subway outreach initiative allows workers to engage homeless people at all 468 subway stations throughout the city, as well as within the individual subway cars.
The $9.5 million allocated to help the unsheltered homeless will also expand hours at drop-in centers -- facilities that provide services like hot meals, clothing and medical care to those in need -- as well as benefit the city's safe haven program, Miller said.
According to DHS, safe havens provide "barrier-free housing" for "homeless individuals who otherwise would not come off the streets," by offering a place to stay with fewer restrictions imposed on clients than traditional shelters. For example, safe haven residents -- who can access showers, free meals and counseling services -- don't have to abide by a certain curfew.
Another reason some homeless people avoid conventional shelters is the lack of storage space or lockers in such facilities; they may fear their belongings will be stolen.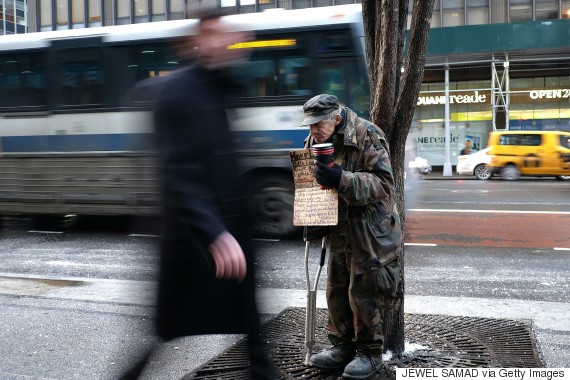 As The New York Times reported, a 125-bed safe haven facility opened in the Bronx last month, one of 10 such places scattered throughout the city and the first to open since 2010.
According to DHS, 52 clients were helped through the safe haven program when it was launched in 2006. Now, with the additional safe haven opening last month, there are 667 beds in facilities in Manhattan, Brooklyn, the Bronx and Staten Island.
"This is a very specific segment of the homeless population," Lilliam Barrios-Paoli, the deputy mayor for health and human services, told The New York Times. "They're in great need for services, and we need particular strategies to help them and get them out of the streets. Normally, they will not accept service unless it's on their own terms."
Calling all HuffPost superfans!
Sign up for membership to become a founding member and help shape HuffPost's next chapter
BEFORE YOU GO
PHOTO GALLERY
Artist Builds Charming Mobile Homeless Shelters Out Of Garbage