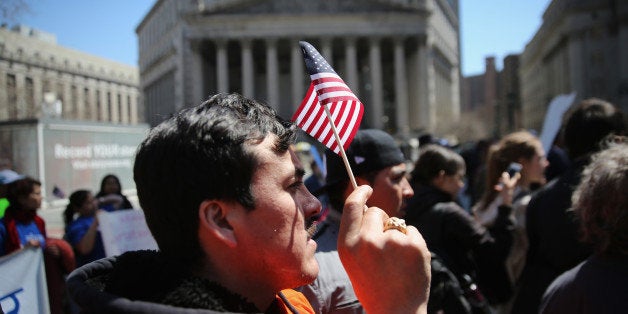 New York City lawmakers are expected to approve legislation Thursday creating a program to allow undocumented immigrants to obtain municipal identification cards.
The ID cards measure has reportedly garnered enough support to secure passage; the legal help project has been in a pilot phase since last year and its expansion is included in the city's budget proposal.
A spokesperson for City Council Speaker Melissa Mark-Viverito emphasized that the cards would be made available to all New Yorkers, not just immigrants, and would also include broad incentives such as museum and restaurant discounts. Advocates had previously raised concerns that immigrant-specific cards could backfire, becoming a "scarlet letter" for those in the country without documentation.
"The city is sending a strong message to its residents that we have your back," City Councilman Carlos Menchaca told The New York Times. "These are clear messages, indicators, commitments that we mean we're serious about how we take care of our immigrants and, really, all New Yorkers."
The cards, however, would not substitute for driver's licenses, nor would they be able to be used for federal programs.
"Even if it's just a temporary solution for undocumented immigrants, it would great to have this," resident Cesar Vargas told CNN. "So if I ever get pulled over by cops again, we would be discussing why I was being pulled over instead of being questioned if my ID was valid or not."
The cards will cost around $10. A waiver for those unable to afford the cards will be offered.
Judge Robert Katzmann, Chief Judge of the U.S. Court of Appeals for the Second Circuit, was behind a multi-year study group from which the pilot program was born.
"Justice shouldn't depend on the income level of anyone," he told NBC. "I think that the project will create momentum for greater support for providing counsel for people facing deportation."
Popular in the Community