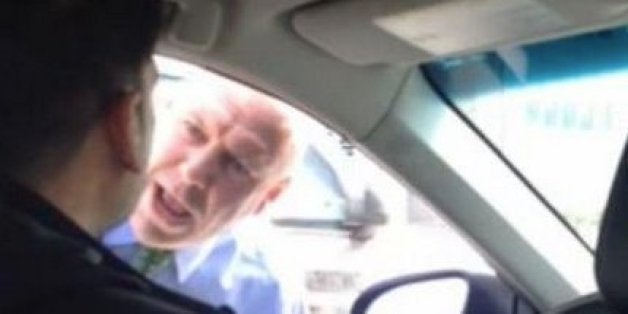 NEW YORK -- A few summers ago, Victor Salazar says he was driving west in midtown Manhattan on 46th Street when suddenly he saw a red light.
"Sometimes in New York you're behind big trucks or big buses, so when the truck [passes through the intersection], you realize it's a red light so you stop fast," he said. "Unfortunately I had invaded one or two feet of the crossing, but pedestrians were crossing fine."
That's when Salazar says a police officer on the corner started kicking his bumper, screaming at him to back up.
"I was panicking," he says. "My heart was beating hard."
Salazar says he backed up, and then the officer told him, "This is New York, and if you don't know how to drive in New York, you better get the hell out of here."
By this time, Salazar -- who speaks with an accent and is originally from Ecuador -- had been driving taxis in New York for over 20 years.
Javaid Tariq says he's had many such "humiliating" encounters with police officers during his 20 years as a New York cab driver. Most memorably, Tariq -- who speaks with an accent and is originally from Pakistan -- says an officer once pulled him over and asked him, "Why don't you go home and drive a camel?"
Tariq and Salazar were among a dozen or so taxi drivers who gathered outside Penn Station Friday to call for systemic changes to how the police department treats the over 100,000 licensed taxi drivers in New York City -- about 94 percent of whom are immigrants.
NYPD Detective Patrick Cherry was stripped of his gun and badge Wednesday after a video posted to YouTube showed him cursing at an Uber driver, mocking the driver's accent, asking him how long he's lived in the United States and ultimately threatening to arrest him for an unknown violation.
The incident is under investigation by the Civilian Complaint Review Board and NYPD Internal Affairs. An Uber spokesperson told The Huffington Post that the driver in the video did not receive a ticket.
Bhairavi Desai, director of the New York Taxi Workers Alliance, said Friday that these types of encounters are common and can have dire consequences for drivers.
"The day to day story for drivers is the economic impact that follows racist, humiliating incidents like this," she said in a statement.
Desai said that when a driver gets "unjustly issued" a moving violation -- which can include being over a foot away from the curb when picking up or dropping off a fare, among other minor violations -- a driver is "vulnerable to over $1,000 in fines and points on the license."
"With just six points, the [Taxi and Limousine Commission] license is suspended up to 30 days and with 10 or more, the license is revoked and drivers are banned from re-entry for three years," she continued. "Hundreds of drivers lose their livelihood every single year because of unfair ticketing for non-safety violations."
Syed Armughan of United We Stand -- an organization for black livery cab drivers in New York -- said these kind of stops happen all the time.
"Unjustified summonses and tickets are constantly being imposed on us," he said in a statement. "This has to stop."
Asim Akhtar, a cab driver, added that he has seen the NYPD set up ticket traps for taxi drivers across the city, especially at transit hubs like Penn Station.
"I know drivers who got tickets every time they were here to drop off a fare and some [of their licenses] were even revoked because of those tickets," he said in a statement. "When the police pull us over all the time, it puts in the public's mind that drivers are dangerous. But we are the safest drivers on the street and we are hard-working people. We look to the police for protection, no one should have to work in fear from them."
The NYTWA said Friday that the NYPD needs new training on how to deal with taxi drivers.
Meanwhile last week, Fernando Mateo of the New York State Federation of Taxi Drivers met with NYPD Chief of Department James O'Neill to discuss the department's treatment of cab drivers, CBS reported.
Mateo also met with NYPD Commissioner William Bratton. The pair discussed the possibility of new training for NYPD officers on how to treat taxi drivers, Mateo told NBC.
Bratton said earlier last week that the number of complaints from taxi drivers against police is down.
Popular in the Community