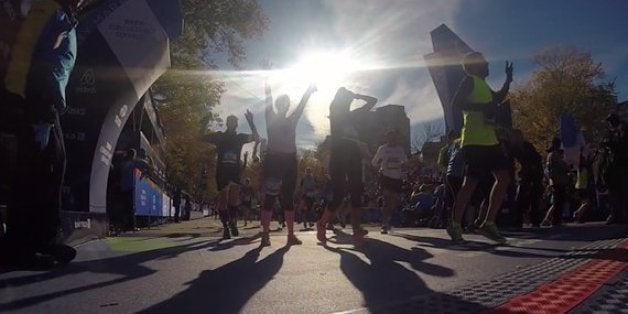 This is the second of two posts that I've written to help you navigate the NYC Marathon, the first covers pre-race activities, this one is all about the course.
Here's what you need to know:
Staten Island
You're in Staten Island for all of two miles. Make sure you don't trip on any of the clothing discarded by runners.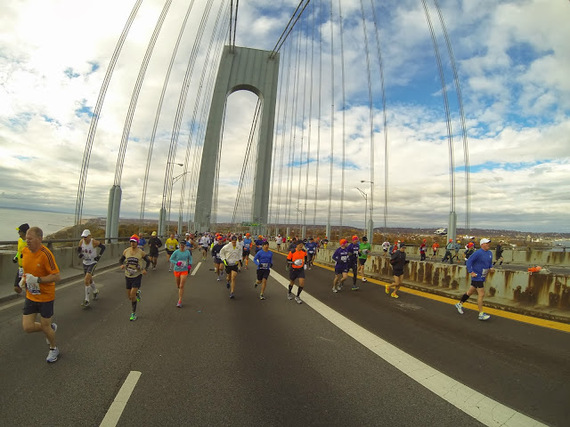 Once you make it past the start you're on the Verrazano Bridge - and make no mistake it's a hill, but it's also the start of the race so the chance of you noticing the hill is pretty slim. Hold your pace. Take it all in, look at the NYC skyline ahead of you. Watch the NYFD Fire Boat with water cannons going full blast saluting the start of your epic journey.
Brooklyn
And it's easy to go too fast here. Between the crowds and the fact that the course is practically flat the entire length of the borough means you need to keep a close eye on your pace.
You're on Fourth Avenue for miles four through eight. If you run with your name on your shirt (which I highly suggest you do) you'll get personal cheers and high fives from all the kids!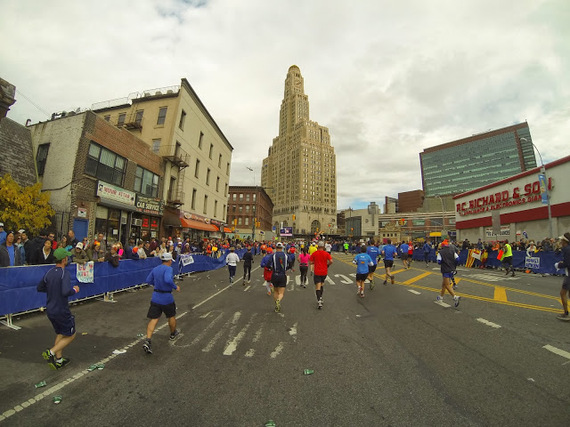 Further into Brooklyn you'll pass through South Williamsburg. Not only is it home to New York Hipsters but one of the largest concentrations of Orthodox Jews in the City. Sunday is a workday for this community (the Orthodox, not the Hipsters) and you'll likely see people darting back and forth across the course while you're running.
Queens
Brooklyn takes you to the halfway point where you cross over the Pulaski Bridge (the second of five bridges) and enter Queens. This is really the first rise of consequence. Just pace yourself. Throughout Queens, the course undulates between sea level and ~50 feet above.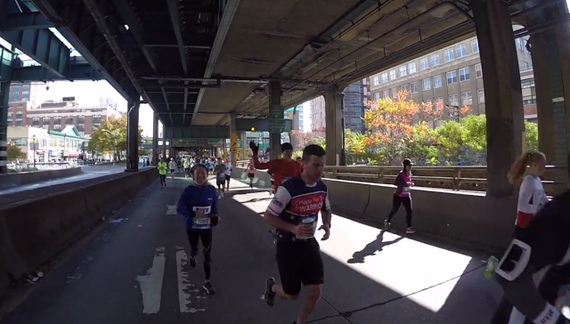 You then hit the 59th Street Bridge (three of five bridges). It's easy to get psyched out. Maybe you're starting to get tired and your legs are starting to complain a little. This really is a hill. To make it worse, no spectators are allowed on the bridge so it can get eerily silent. Trust your training, stay out of your head, eat a gel and maybe chat it up with another runner. It'll be over before you know and then you hit:
Manhattan
You've made it to First Avenue. The first thing you'll notice is that where the 59th Street Bridge was silent - First Avenue is like a wall of sound. Coming off the bridge you hit an indescribable rush of cheers that doesn't stop for the next three miles.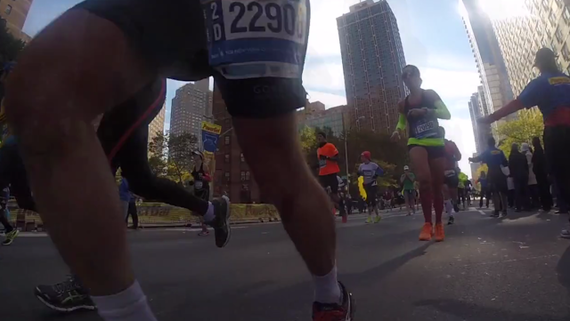 First Avenue is the hill that you'll never feel (because of all the spectators and cheering). Remember to pace yourself here. Six years ago I found myself doing a full minute per mile faster for the three miles up to the Bronx and put the back half of my race in jeopardy.
The crowds will carry you all the way up to the Willis Avenue Bridge (four of five bridges), which connects you to:
The Bronx
One of the most enthusiastic areas of the race, it's almost like the residents know that we're about to hit the wall. Again, keep your head (stay out of it), eat a gel, take in the musical entertainment, look for yourself on the giant video screen and remember to move your feet. You're almost in the home stretch.
The course takes us back over the Madison Avenue Bridge (five of five bridges!) and you find yourself on 5th Ave.
Manhattan and the Home Stretch
5th Avenue from 138th Street down to 110th Street is pretty benign. At this point in the race, I'm always just concentrating on getting into Central Park at 90th Street. It can be challenging. From 110th down to 90th is a gradual one-mile hill. You're climbing about 100 feet of elevation over one mile which give you an average grade of 1.8% - easy peasy, right?
At 90th you enter Central Park and hit a bit more undulation. And you can almost smell the finish line.
Shoot out of the Park and onto Central Park South where once again, the level of noise will be like the second coming of The Beatles. The crowds will carry you up the gradual incline to Columbus Circle.
Make sure your bib is visible at this point. If it's not, you run the risk if getting stopped by Bandit Spotters. You don't want someone to break your stride when you're so close to the finish line.
Enter the park, up a slight grade and relax, you're done.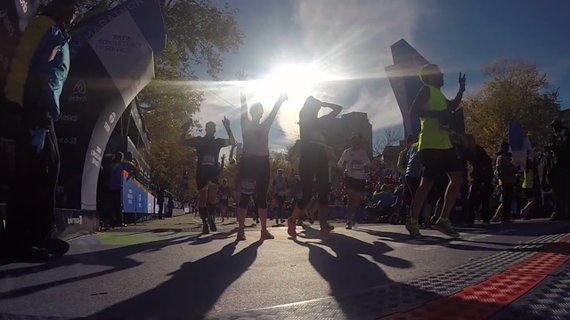 Post Race
Get your medal and take a heat sheet (in fact, take two, one for your shoulders and tie the other around your waist), grab a recovery bag. They usually have Gatorade recovery formula in there. I highly suggest you drink as much of that as you can (I find it too syrupy but try to choke down as much of it as I can). Regardless of what your hydration plan was on the course, I'm willing to bet you're going to be dehydrated.
If you chose the No Baggage option, you're in for a treat. Here's an excerpt from my 2013 race review which I think captures the essence of the treat we were subjected to as "no baggage" runners:
So, we're all trudging along, limping out of the park and make it up to Central Park West where they are handing out the ponchos. I reach the area and go to grab one from one of the many volunteers handing them out but a volunteer ever so gently pushes my hand away.
In a very soothing voice she says, "please, let me put this on your shoulders." After she draped it on me and secured the velcro, she asked if I wanted the hood up. It was all I could do to nod my head. I was mesmerized by this angel who was taking care of me like I was her child. I half expected her to kiss my forehead as she sent me on my way. There were literally thousands that opted for the ponchos and I only hope they were as well taken care of as I was. Whoever you were, thank you from the bottom of my still-sore toes.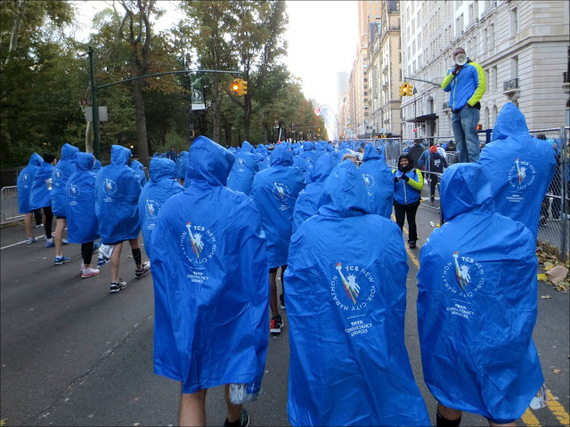 Photo courtesy LiveRunGrow.com

REAL LIFE. REAL NEWS. REAL VOICES.
Help us tell more of the stories that matter from voices that too often remain unheard.