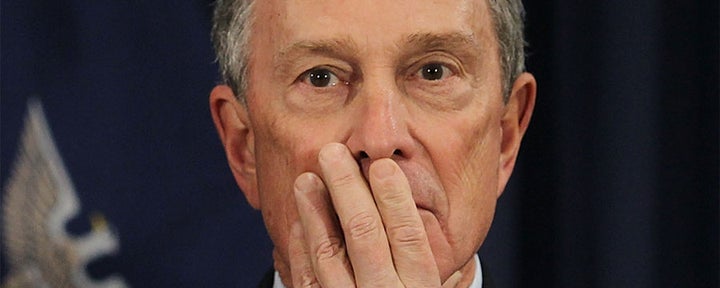 With his city still on edge over this weekend's attempted truck-bombing in Times Square, New York Mayor Michael R. Bloomberg heads to Capitol Hill on Wednesday to give Congress a piece of his mind on a closely related issue.
Bloomberg is upset about a federal loophole that, amazingly enough, allows people on the FBI's Terrorist Watchlist to legally buy guns and explosives.
Current federal law specifies only a limited number of reasons the government can cite to block the purchase of guns or explosives -- and being in the FBI's database of those "known or reasonably suspected of being involved in terrorist activity" isn't one of them.
Despite what would appear to be an easy vote, members of Congress, at least in part due to fear of the gun lobby, have consistently bucked requests from both the Bush and Obama administrations to close what Bloomberg calls the "terror gap."
"We need Congress to have our back on this issue, it's upsetting that, so far, they haven't," Bloomberg told the Huffington Post on Tuesday, through a spokesman.
"There is no silver bullet, but we have to give law enforcement every tool we can. New York City remains at the top of the terrorist target list, something we were reminded of this weekend."
Weapons sales to suspected terrorists are not hypothetical, either. According to new statistics compiled by the Government Accountability Office and exclusively obtained by the Huffington Post, individuals on the terrorist watchlist were involved in firearm or explosives background checks 1,228 times in the past six years -- and 1,119 of those transactions were allowed to proceed.
Less than 10 percent -- only 109 -- were denied.
Three of those matches involved the purchase of explosives, and all of those sales were allowed to proceed.
CNN reported that investigators found a 9 mm handgun with ammunition in the car that Faisal Shahzad, the suspect in the Times Square bomb plot, is believed to have driven to the airport. And Shahzad was on the watchlist. But it's not clear how long he had been on the list, and there's no word yet on how he obtained the gun.
Bloomberg will be testifying at a hearing Wednesday morning before the Senate's homeland security committee, alongside Senator Frank R. Lautenberg (D-N.J.) and Rep. Pete King (R-N.Y.), the Senate and House sponsors of legislation that would close the loophole. Their bill is H.R. 2159.
"The Bush Administration supported closing the terror gap, the Obama Administration supports it. Republican pollster Frank Luntz did a poll in December and found that 82% of NRA members support it. There is no good explanation of why Congress has failed to close this gap," Bloomberg said.
One explanation, good or not, is that the bill is strongly opposed by the National Rifle Association, which argues in a "fact sheet" from its lobbying arm: "Rather than being aimed at terrorists, H.R. 2159 is intended to give the executive branch arbitrary, unaccountable power to stop loyal Americans from acquiring firearms."
The NRA complains that the authorities given the attorney general are too vague, too non-transparent and too hard to appeal. "H.R. 2159 isn't about making America safe from terrorists; it's about giving the federal government new, arbitrary authority to prohibit loyal Americans from exercising their constitutionally-protected right to keep and bear arms. Cloaking it in terms of 'national security' doesn't change that fact."
Civil libertarians also have longstanding concerns about the accuracy of the FBI watchlist, which is now said to include well over a million names. The ACLU, for instance, points out that a May 2009 report from the Inspector General of the Justice Department "found that 35% of the nominations to the lists were outdated, many people were not removed in a timely manner, and tens of thousands of names were placed on the list without predicate."
The FBI in 2004 started running the names of individuals buying firearms or explosives against the terror watchlist, even though a match isn't automatically disqualifying. When there is a match, FBI agents have the opportunity to look for other potentially disqualifying factors, such as felony convictions or immigration status -- and can also put the individual under surveillance.
Lately, the NRA has had great success at the state level in liberalizing concealed carry laws, and ending a ban on guns in national parks.
But Bloomberg is hoping that, at least in this case, Congress will listen more to the mayors -- and to national security experts -- than to the gun lobby.
"This is not about the Second Amendment," he said. "Our founding fathers did not write the Second Amendment to empower people who wanted to bring down a free state; they wrote it to protect people who could defend the security of a free state. Today, the security of our free state is being tested by terrorists. Congress needs to take common sense steps to strengthen law enforcement -- including closing the terror gap -- and to protect the American people from more attacks."
*************************
Popular in the Community