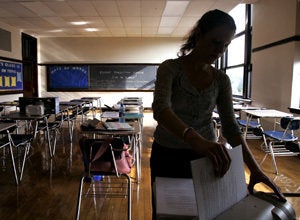 NEW YORK (AP) – Mayor Michael Bloomberg on Friday unveiled a shrinking budget that would cut corners throughout New York City — from classrooms, where public school children stand to lose one out of 12 teachers, to jails, where officials are saving pennies by cutting items like bread, pepper and ketchup from the menu.
The $65.72 billion budget, which is likely to change before it wins approval from the City Council, also calls for a 12 percent cut to the city's libraries, the closure of some city swimming pools and the loss of 20 fire companies — a step that the city's fire commissioner said would slow firefighters' response times.
Bloomberg placed the blame for the city's financial woes on cutbacks handed down by state and federal legislators, and on what he said was a national movement against funding government efforts. Business tax revenues have surpassed the level they were at before the collapse of the financial sector, he said.
"We are not an island. We are not immune to the reality in Albany and in Washington," said the Democrat-turned-Republican-turned-independent mayor. "Both places are keeping more of our tax dollars to close their own budget deficits."
The loss of 6,166 public school teacher jobs would include an anticipated 4,100 layoffs. It would be the first time the city's public school teachers would get pink slips since the 1970s. Some opponents had suggested the mayor was bluffing and that such layoffs are often threatened as a budgetary bargaining chip.
But city officials said Friday that calling off the layoffs would take $300 million. And hiring to replace the teachers expected to quit or retire would cost an additional $135 million. The state and federal budgets have already passed for the year, but the mayor said he would continue to press state legislators for rule changes that could bring the city hundreds of millions of dollars.
Combined with attrition over the last two years, the planned reduction would take roughly one in eight teachers out of the city's public schools, leaving the city with about 69,000 teachers for more than 1 million students.
Schools Chancellor Dennis Walcott said Friday that class sizes could grow by two or three children, and Bloomberg said elementary schools in poor neighborhoods would be affected the most.
The mayor said in his speech that he expected criticism, and the teachers' union promptly complied.
"Same smoke, same mirrors, same attempt to blame others for his decision to lay off thousands of teachers, despite increased state aid, hundreds of millions in new revenues and a surplus that has grown to more than $3.2 billion," United Federation of Teachers President Michael Mulgrew said in a statement.
City Council Speaker Christine Quinn and Finance Chair Domenic Recchia Jr. said in a statement that they have "grave concerns" about teacher layoffs and would recommend alternative cuts to those proposed by the mayor. Bloomberg and the council must agree on a balanced budget by June.
The council had raised concerns that more than 16,000 low-income children were set to be kicked out of subsidized child care because of more than $90 million in cuts. Bloomberg's new proposal would spend $40 million and adjust the subsidized child-care system so that none would be kicked out, but some advocates questioned how the changes would affect the system and said some providers would be forced to shut their doors.
While the mayor had previously said the police force would be sliced, the budget now calls for 1,400 police recruits to move onto the force this year — meaning that the department headcount, currently at 34,530, would drop by only about 100 uniformed officers.
After advocates fought back state budget cuts that would have shuttered more than one-third of the city's senior centers, the mayor's budget would build an additional 10 centers. The city's Department for the Aging stands to lose 30 percent — or $6.6 million — of its funds to link seniors with services such as meal delivery and at-home care. But agency Commissioner Lilliam Barrios-Paoli said there would be no loss of services.
The city's capital budget would be cut by 10 percent — a move that Bloomberg said wouldn't affect current projects but would delay future ones.
Tucked away in the budget was a possible new income stream: The city is exploring the possibility of charging churches, universities and nonprofit institutions for their garbage pickup, starting in 2013. Other increases in the plan include higher parking rates, doubled fees for local tennis players and another hit to city inmates: increased prices for phone calls and commissary items.
On Friday, Bloomberg warned of even tougher times ahead, saying that Gov. Andrew Cuomo plans an additional $500 million in education cuts next year. The state Financial Control Board has warned that unless the city curbs rising capital debt and growing pension and health care costs, residents can expect deep reductions to services for years to come.
Josh Vlasto, a Cuomo spokesman, responded by saying the governor looks forward to working with Bloomberg and adding that Cuomo had "passed a budget that included both tough choices and dramatic reforms to get the state's fiscal house in order."
While this year's proposed budget — for fiscal year 2012, which begins July 1 — is balanced, the mayor said the city faces projected budget gaps of about $4.8 billion next year and $5.3 billion in fiscal 2015.

Calling all HuffPost superfans!
Sign up for membership to become a founding member and help shape HuffPost's next chapter