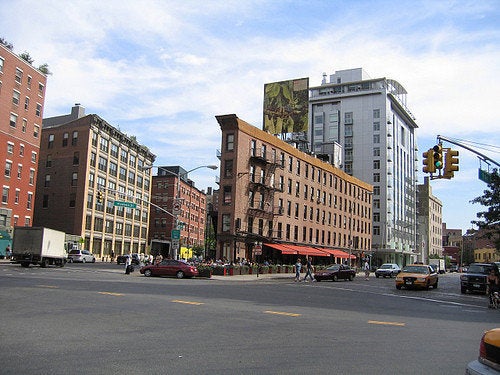 The Meatpacking District in New York is known for a few things -- beautiful old world cobblestone streets, high end shopping, and a red hot nightlife. While cobblestone streets look amazing, they are a challenge to walk on -- especially when wearing skyscraper heels. Combine high heels, difficult foot terrain and nightlife traffic (with partying) -- there are bound to be some falling women.
High heel falling injuries are real, and can be minor sprains to serious fractures requiring surgery. Check out the High Heel Foot Fracture. Most injuries involve the foot and ankle from twisting, but more global injuries may occur if one falls to the ground. Of course the disability that comes with any injury can be significant.
The problem with stilettos, in particular, is that the heel can get caught/stuck between the cobblestone blocks and precipitate a fall.
Should NYC pave over (or redo) the Meatpacking cobblestones to make it safer for high heeled women?
New York would not be the first to repave over cobblestones. Some cobblestone streets have been converted in Italy, for a variety of reasons -- from cost to replace to injury to people. Several high foot traffic areas in Rome are either being covered in asphalt or properly repaired. Recently, the New York Times reported on India's Dehli Khan Market, also connecting the dangers to high heeled women who shop on cobblestones. In Brooklyn (DUMBO), a reconstruction project is underway to repave the Belgian blocks, making them less hazardous.
What is clear is that cobblestones in the Meatpacking District are in shambles. The Meatpacking District is only getting busier with the Highline, and soon to be open Whitney Museum. The shopping and nightlife is not going to disappear anytime soon. While the cobblestone streets sure look nice, they are indeed a danger to stiletto-wearing women.
As a native New Yorker, I truly appreciate the aesthetics of the cobblestones streets. As a foot surgeon, practicing in Manhattan, I don't like seeing people getting hurt for simply walking on uneven terrain. As for the Meatpacking District, perhaps a significant effort needs to be underway to service these streets, so they risk of falling and injury in minimized?
Women, when it comes to cobblestones, walk slowly and be careful.
--Dr. Blitz
New York City
REAL LIFE. REAL NEWS. REAL VOICES.
Help us tell more of the stories that matter from voices that too often remain unheard.