NEW YORK CITY ― Three hundred medical professionals, about 200 of them medical students, gathered in front of the News Corp. building in Manhattan on Jan. 30 to protest Republicans' plans to repeal the Affordable Care Act, commonly known as Obamacare.
Following chants of "Everybody in, nobody out, that's what health care's all about," and "Patients, not profits," the protesters staged what's known as a die-in, lying down on the ground to simulate death. (Similar actions took place across the country that day.)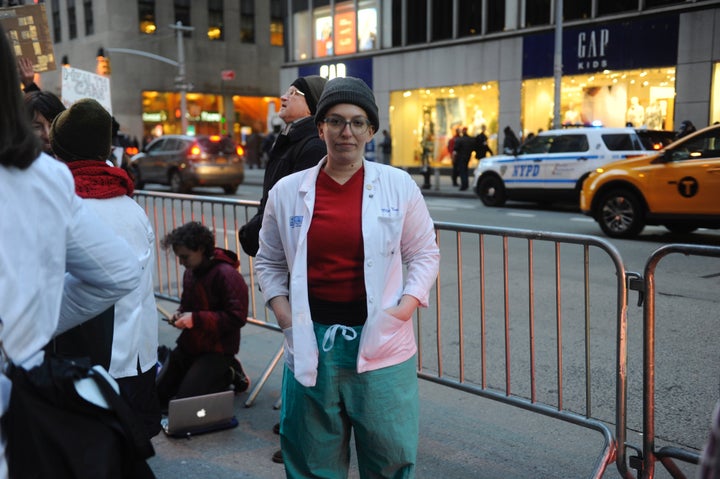 "As current and future health care providers, we see the repeal of the ACA ― although it is not a perfect piece of legislation ― as a direct threat to the health of our patients," Mollie Nisen, a third-year medical student at Albert Einstein College of Medicine, told The Huffington Post.
Indeed, the dangers of repealing Obamacare have become a common talking point for health care providers, particularly those who treat vulnerable populations.
Repealing the law could affect millions: The number of uninsured Americans would rise to 18 million the first year the ACA is repealed and to 32 million in 2026, after legislators eliminate the Medicaid expansion and insurance subsidies, according to the Congressional Budget Office.
"We couldn't stand by, because we took an oath to do no harm," Kamini Doobay, a fourth-year medical student at Mount Sinai Hospital and one of the organizers of the NYC die-in, told HuffPost. "As the next generation of health care providers, we are here united in our commitment to protect our patients."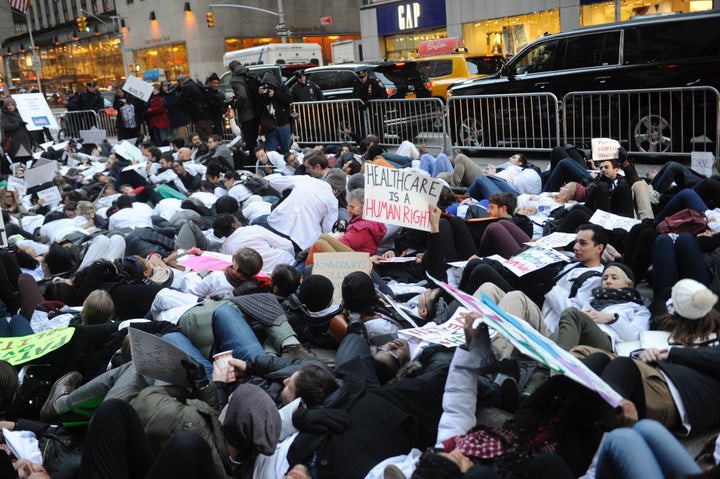 It's a sentiment policymakers would do well to heed over the next four years. While physicians remain divided about the nomination of Rep. Tom Price (R-Ga.) as head of the department of the Department of Health and Human Services, a small but vocal cohort, the newly formed Clinician Action Network, has vowed to advocate for patients beyond the exam room.
"We're going to be very responsive to legislation that is being introduced and voted on in Congress, both at the state level and the national level," Dr. Jane Zhu of the University of Pennsylvania, one of CAN's founders, told HuffPost in December. "This is the time for clinicians to take part actively in a process that's always been dominated by politicians."
Among the group's demands: barring insurance companies from discriminating against patients with disabilities, maintaining subsidies to keep health insurance affordable for vulnerable populations, expanding Medicaid coverage and ― at the top of CAN's to-do list ― maintaining essential health benefits, such as mental health services, treatment for opioid use disorder, prenatal and reproductive care and access to contraception.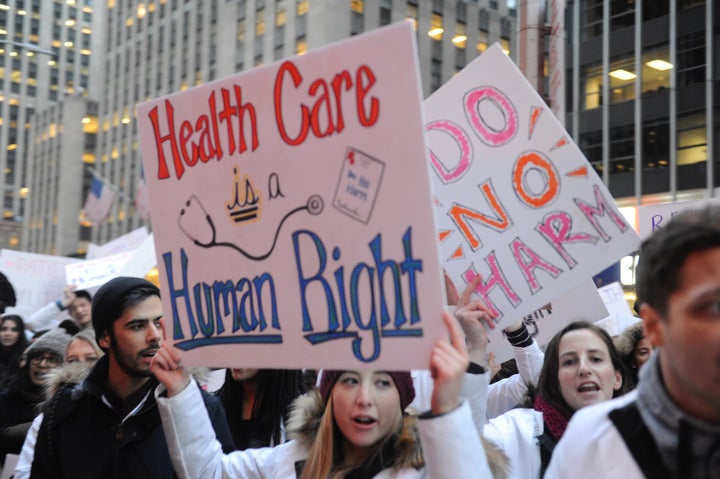 Regardless of their politics, health care providers want patients to know they support them.
"People need to know that we're not going to go away, we're not going to stop resisting. We're a loud voice, and we hold a lot of power as clinicians and we're here for the long haul," Nisen said.
"These people, these are the future of medicine," she said, referring to the protesters around her. "These are students and young doctors. That gives me hope."
How will Trump's first 100 days impact you? Sign up for our weekly newsletter and get breaking updates on Trump's presidency by messaging us here.