 In New York City, you wait till the midnight hour to see who might be killed -- that's when close to 40 percent of the homicides took place last year, a new report says.
The murders happened between the hours of 11 p.m. and 5 a.m., when drugs, alcohol and aggression can become a deadly mix, according to an analysis prepared last week by the NYPD.
While there were just 419 homicides in 2012, the lowest number of homicides in 50 years, killings still followed the historical nocturnal pattern of bloodshed.
In "Murder In New York City 2012," NYPD statisticians reported that while homicides might take place at any hour, they started rising after 5 p.m. and peaked between 11 p.m. and 1:30 a.m., trailing off around 5 a.m., the data showed.
Given that people who are active at night may be taking drugs or imbibing alcohol well into early morning hours, they are more likely to get into situations where homicides occur, said NYPD spokesman Paul Browne. Nighttime also provides more cover for killers, particularly since fewer vehicles are on the street, said one expert.
Joseph L. Giacalone, a retired NYPD detective sergeant and adjunct professor at John Jay College of Criminal Justice, said some victims put themselves at risk. He calls their deaths "victim precipitated" killings.
"Sometimes they run in circles they shouldn't be running in," said Giacalone. "Most of our victims are into something."
The NYPD study seems to bear out Giacalone's observation. Some 42 percent of the homicides last year involved a dispute or revenge element, while another 11 percent involved drugs and 9 percent was related to gang activity, said police.
Victims still were mostly black and Hispanic, a pattern that has existed for at least the past two decades. Some 60 percent of the homicide victims were black in 2012, compared to 27 percent Hispanic, 9 percent white and 4 percent Asian, according to NYPD statistics. Those killed were mostly men, accounting for 84 percent of all victims, compared to 16 percent for women.
Of the homicides in 2012, 57 percent involved shootings, 21 percent stabbings and 11 percent bludgeonings. Brooklyn was the leading borough for killings at 36 percent, followed by the Bronx at 27 percent, Queens 20 percent, Manhattan 15 percent and Staten Island with only 2 percent.
Browne noted that homicides were already down by 29.8 percent this year from 2012: 68 killings through April 4 compared to 97 in the same period last year. Victims this year have been 61 percent black and 27 percent Hispanic, he noted.
Weather is also a factor, said Giacalone, and the pace of killings is likely to increase with temperatures rising, a historical trend.
Murder in New York City 2012
The NYPD last year reported 419 people classified as homicide victims in New York City, a decline of 19 percent from 2011 and the lowest number in over 50 years. Here are some percentages related to city homicides in 2012.
1. Dispute/Revenge 42 percent
4. Robbery/Burglary 6 percent
5. Staten Island 2 percent
4. Physical force 6 percent
Source: "Murder in New York City 2012, NYPD ___
Distributed by MCT Information Services
Before You Go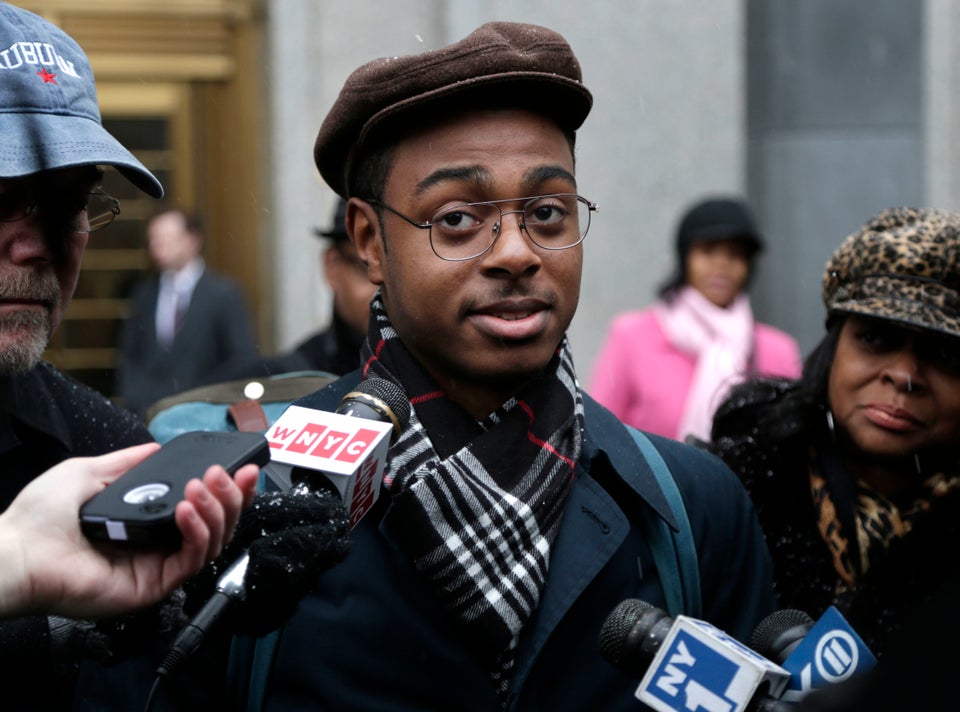 Stop And Frisk Goes On Trial In NYC
Popular in the Community