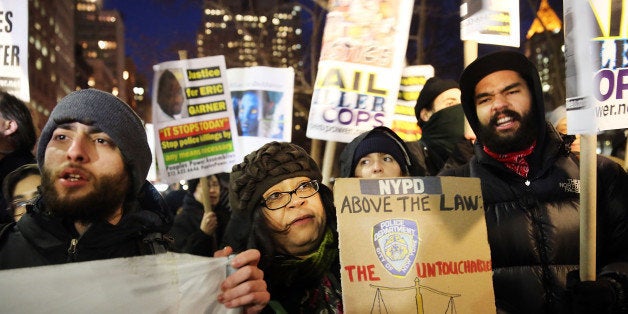 NEW YORK, Dec 19 (Reuters) - Scores of protesters denouncing police violence against non-whites rallied alongside dozens of supporters of New York City police officers on Friday in a tense standoff outside City Hall that comes amid weeks of mostly peaceful protests.
It was one of the first counter-rallies by police supporters since the chokehold death of Eric Garner, a black man killed when officers were attempting to arrest him in July. The killing set off a wave of protests against the treatment of minority groups by police.
On Friday about 100 pro-police demonstrators gathered on a sidewalk in lower Manhattan, separated from dozens of opposing protesters by a metal barricade. A contingent of uniformed officers cast a wary eye over the encounter. There was no violence.
Jim and Kathleen Hall, 52 and 56, joined the rally to show support for their sons, one of whom is a New York police officer while the other is attending the Police Academy.
"It's just a matter of respect," Kathleen Hall said. "Every walk of life there's good and bad."
Mike Staples, 59, said he thought it was wrong for the police to be demonized.
""Being cast as all bad is completely incorrect," he said. "I think it's important for everyone's voice to be heard."
Some protesters, their bodies pressed against the barricades, engaged in loud arguments with their counterparts.
"Respect the badge, respect the law," shouted a pro-police demonstrator, eliciting an opposing protester to reply: "It's easy to say when it's in your favor."
Protests proliferated earlier this month after two separate grand juries declined to indict Daniel Pantaleo, the officer who put Garner in a chokehold, and Darren Wilson, an officer who killed an unarmed black teenager in Ferguson, Missouri.
The protests, which have become less frequent in recent days, have forced Mayor Bill de Blasio to perform a delicate balancing act of reassuring the critics of police tactics who helped elect him last year without antagonizing the officers who work for him.
Nevertheless, the mayor's relationship with the city's largest police union, has become increasingly hostile.
Last week, Pat Lynch, president of the Patrolmen's Benevolent Association, urged police officers to request that the mayor stay away from their funeral should they die in the line of duty, saying de Blasio had refused "to show police officers the support and respect they deserve."
De Blasio called the move "just plain divisive and unacceptable," and has repeatedly said in recent weeks that he will not tolerate attacks on police officers.
Although the protests in Ferguson and on the West Coast have been marked by frequent outbursts of violence and property damage, the protests in New York City have generally been more restrained, although police say that two officers were assaulted by protesters on the Brooklyn Bridge on Saturday.
Police have arrested two suspects and are looking for four others, although they said they had a "person of interest" in custody on Friday. (Additional reporting by Jonathan Allen; Writing By Frank McGurty; editing by Andrew Hay)
REAL LIFE. REAL NEWS. REAL VOICES.
Help us tell more of the stories that matter from voices that too often remain unheard.