 Despite a rise in employment, nearly half of New York City's population is living near poverty levels -- a problem that is particularly striking in the city's Asian population, which has surpassed Hispanics as the city's poorest group, according to a new report conducted by the Center for Economic Opportunity.
The study revealed 45.6 percent of New Yorkers are barely making ends meet, even with more adults working full-time since the recession. A combination of low wages, rising rents, and a lack of benefits is largely to blame.
The annual study also showed significant shifts within racial and ethnic demographics. As the report indicates, the poverty rate of Asians and Hispanics were "statistically identical" in 2008, at 22.4 percent and 23.5 percent, respectively. But by 2012, the rate surged to 29 percent for Asians, more than 3 percent higher than Hispanics.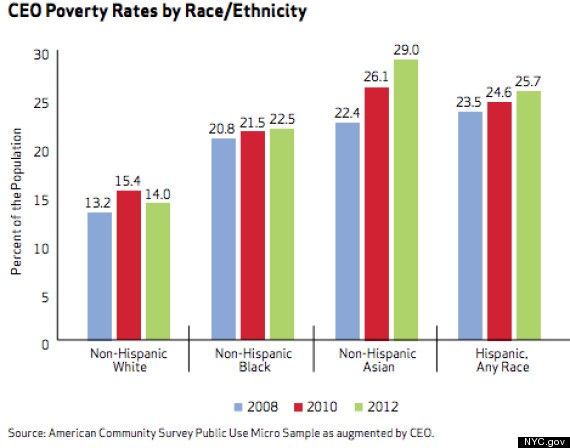 "Community monitoring of existing language access laws and policies in New York City show that speakers of Korean and South Asian languages suffer particularly poor language access at key City agencies," the report reads. "As a result, Asian communities are unable to access vital City services that can help them prevent or rise out of poverty."
More than half of the city's Asian community lives in Queens, which also did not fare well in Tuesday's report. The racially diverse borough experienced the highest jump in poverty in the city from 2008 to 2012 -- an increase that is only expected to worsen as more Brooklyn residents flock to Queens in search for cheaper rents.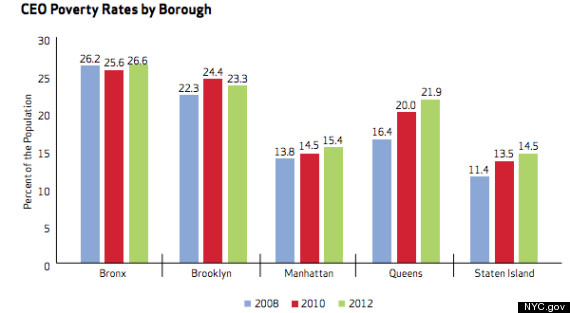 But the challenges facing Asians resonate nationally, particularly in urban areas.
Tuesday's report also comes ahead of a speech de Blasio is scheduled to give tomorrow detailing his affordable housing plan.
Related
Popular in the Community