Five years ago, Superstorm Sandy pummeled the New York metropolitan area, knocking out electricity and heat for 750,000 residents as temperatures plunged. When it was over, the effects of the mammoth weather system could be seen as far west as the Great Lakes. More than 8.5 million people in 21 states had no power, making it the worst storm in U.S. history in terms of outages (until Hurricane Maria hit Puerto Rico this October).
In the years since Sandy, there have been a few signs that New York City's grid is evolving, becoming cleaner and more resilient. But the threat of widespread outages remains.
The city relies on one giant power grid run by a single supplier, Con Edison, that provides electricity for nearly everyone in the metropolitan area. This centralized method of delivering power is common all over the country and is as old as the nation's energy infrastructure itself. But as we've seen with Maria and the recent hurricanes in Florida and Texas, this type of energy system is vulnerable to outages caused by extreme weather.
Climate scientists warn that we'll see harsher weather as the planet warms. And in New York, residents of areas with aboveground power lines ― like many people in Queens, Staten Island and Brooklyn ― are especially susceptible to outages, as winds take down trees and the lines with them. 
Energy experts say that clean, efficient, decentralized energy is key to alleviating the aftermath of potentially catastrophic power failures. Rooftop solar, coupled with battery storage, can keep the power on in single-family homes and small businesses. And microgrids ― energy systems that can function on their own in the event of damage to the larger grid ― can incorporate renewables and battery storage to do the same for larger buildings or even groups of buildings. 
But weaving clean, resilient energy systems into NYC's existing grid will take time, and we're still in the very early stages. It's a tricky thing, reimagining energy within the confines of an aging city with limited space, strict building safety regulations and 8.5 million people who need power.
"It's a bit like trying to build a bridge and drive across it at the same time," said Nilda Mesa of the Urban Design Lab at Columbia University, who previously served as the director of sustainability for the New York mayor's office.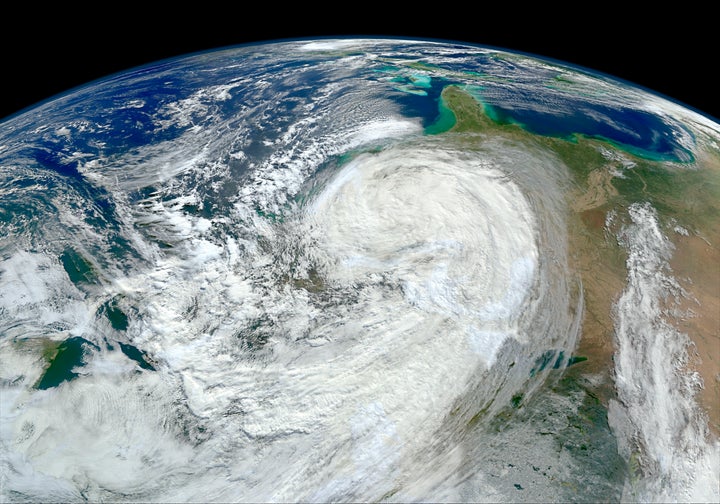 Still, this year in particular, progress has begun to pick up, with a number of renewable-based projects completed or in the works. A microgrid and a "virtual microgrid" are up and running in Brooklyn. Three more microgrid projects, including one at a hospital complex in the Bronx, are being tested. And the city is developing 15 solar-plus-battery-storage projects on city-owned buildings ― firehouses, schools, homeless shelters ― intended to provide essential services and shelter in flood-prone areas of the city's outer boroughs.
Keeping electricity on at hospitals and other health care facilities is especially crucial. Some of the most harrowing stories from Sandy and this year's hurricanes involve doctors and nurses carrying patients down dark flights of stairs or performing surgery by cellphone light. In Hollywood, Florida, eight residents at a nursing home died after a backup generator failed, leaving no air conditioning.
In the wake of Sandy, the city's public hospital system, the NYC Health and Hospitals Corporation, was forced to evacuate patients from its Bellevue and Coney Island facilities after diesel-fueled backup power failures. HHC is now a finalist in a state-funded renewables-based microgrid contest. Each of the 11 microgrid projects, including three in NYC, received $1 million earlier this year to do feasibility studies. Those that advance to the final round will vie for an additional $20 million in funding.  
"We want to have a form of energy that is reliable, clean, economical and not connected to the grid," said Cyril Toussaint, the director of energy management and sustainability for HHC.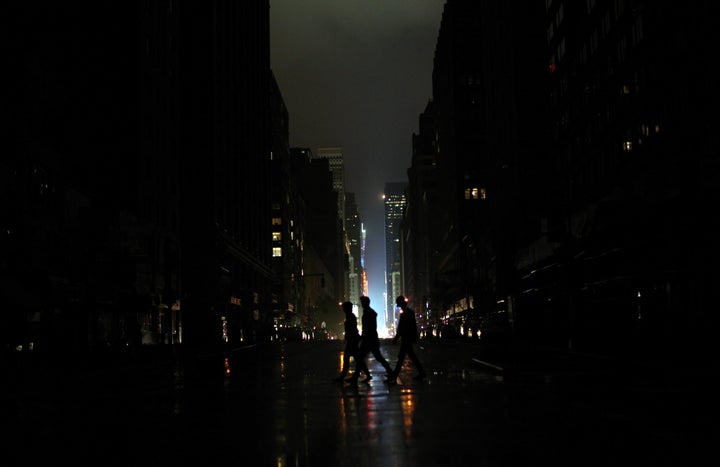 HHC's microgrid is designed to use solar power, battery storage and natural gas-fueled generation. Natural gas does emit carbon dioxide, but it's cleaner than the diesel fuel that hospital generators typically run on. And most microgrid projects still use it for at least part of their power. This is because generating enough onsite renewable energy for large projects takes a lot of space ― the kind of space required for a solar or wind farm ― whereas a natural gas generator doesn't. It's also cheap. And while the costs of both solar and battery storage have fallen considerably over the last few years, the amount of storage necessary to back up a solar farm still costs more than most microgrid owners want to pay.
Battery storage is key to the growth of renewables, experts say, because the intermittent nature of solar and wind means they need backup for power to stay constant. NYC recently announced a goal that would take the city from close to zero to 100 megawatt-hours of battery storage capacity by 2020.
Solar also has its limits in a dense urban environment. It gets especially challenging in the parts of Manhattan where skyscrapers cast long shadows.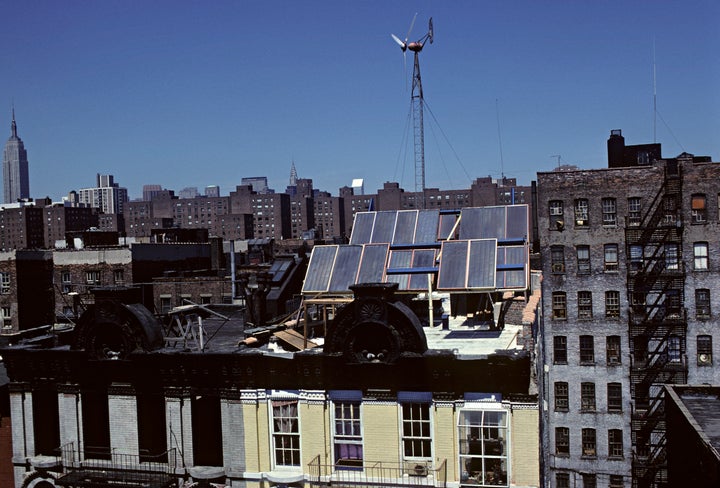 NYC owes much of its ability to make its energy systems greener and stronger to New York state, which regulates utilities through the Public Service Commission.
Immediately after Sandy, New York state gave Con Edison $900 million to fortify the existing grid ― doing things like building flood walls and hoisting equipment to higher ground ― and this work should go a long way toward preventing similar catastrophes. This is especially true for Manhattan, where the flooding of a single substation caused an explosion that knocked out power for just about everyone below 39th Street. (As for the aboveground power lines in the outer boroughs, moving them underground is especially expensive and tricky ― which is why it hasn't been done.)
The state then overhauled utility regulations and in 2014 launched Reforming the Energy Vision, which is lauded as the most progressive plan in the country in terms of rethinking how utilities do business. Its ultimate goal is to allow third-party businesses ― namely, providers of clean energy and related technologies ― to develop and operate renewable projects so utilities don't have to build new fossil fuel-based substations.
"That's really the reason that we're in New York," said Scott Kessler of LO3 Energy, the startup behind the high-tech virtual Brooklyn Microgrid, which involves dozens of rooftop solar systems in one of the borough's brownstone neighborhoods. "As far as reinventing the grid goes, I would say New York state is at the top of the list."
Still, Kessler acknowledges that progress can be slow. "The expectations have been for emerging technology to disrupt an industry in two to five years," he said. "But what folks are finding is that things take longer in the energy industry. You can't just come in and take a sledgehammer to the electric grid, the public won't accept that."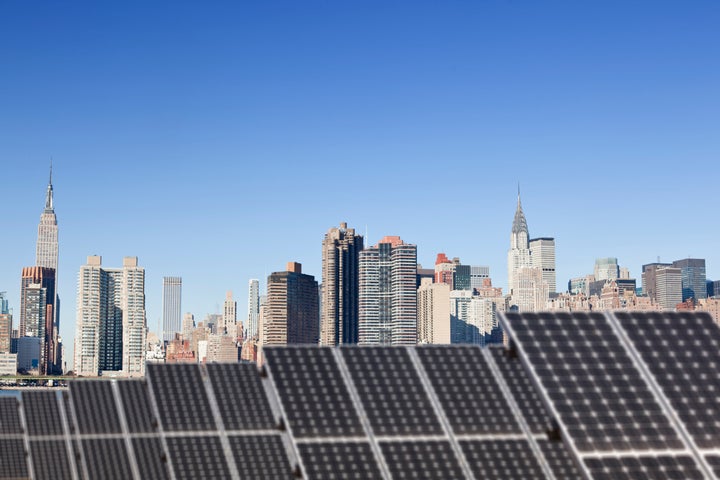 Brooklyn Microgrid is not yet a microgrid in the true sense of the word — it's a virtual solar power trading platform that allows the homeowners to buy and sell electricity credits among themselves. But LO3 does plan to build a physical microgrid, with battery storage, to maintain power in parts of the area.
Meanwhile, in June, the first renewables-based microgrid at an NYC affordable housing complex began churning out energy for the 625-unit Marcus Garvey Village in Brooklyn's Brownsville neighborhood. This microgrid ― a $4 million project financed with both private money and government funds and tax breaks ― uses rooftop solar, battery storage and a natural gas-powered fuel cell.
The project is part of an effort to help ease electricity demand in what has historically been a trouble spot for Con Edison. Reducing demand is an important part of avoiding blackouts and brownouts, which generally happen during heat waves, when everyone cranks their air conditioning at the same time. In fact, simply installing rooftop solar ― which is growing in New York City ― helps reduce demand for electricity.
Additionally, if a storm or other emergency knocks the grid out, the Marcus Garvey system can produce enough energy to keep the power on in the complex's main office, security office and community room.
"The idea is that you give the local community a place to come that has heat, a refrigerator to store medications, a place where they can charge their phones," said Doug Staker, co-founder of Demand Energy, the company that developed and operates the microgrid.
Calling all HuffPost superfans!
Sign up for membership to become a founding member and help shape HuffPost's next chapter
BEFORE YOU GO
PHOTO GALLERY
Puerto Rico Reeling After Hurricane Maria