Situated among the countless arts organizations in New York City are enclaves of passionate culture hounds who gather under the auspices of psychoanalytic training institutes. "There are approximately 38 (such institutes) in Manhattan alone," notes Alan Grossman, LCSW, director of the NY Counseling Center's Training Institute. Joan Erdheim, PhD, President of the Psychoanalytic Society of the Training Institute for Mental Health (TIMH) noted that along with their primary purpose of educating mental-health professionals in the techniques of psychoanalysis, "Ten to fifteen percent of such institutes provide a rich variety of cultural programming."
Thus the Institute for Psychoanalytic Training & Research's October conference: A Dialogue Between Psychoanalysis and Art, included among its presentations "Dante and Freud Meet Up in Purgatory and Talk About Art, Truth and Therapeutic Action," while downtown the Center for Modern Psychoanalytic Studies presented artist, actress, and theatre director Josie Oppenheim's essay "The Analyst Dreams: Joan of Arc Meets Andre Gregory," and TIMH under the direction of Dr. Erdheim recently hosted "A Memorable Evening with Jane McAdam Freud," an art exhibit, film screening, and lecture.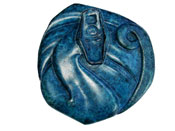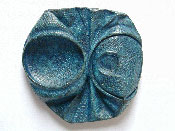 A passion for art that pairs ideas and objects was the inspiration for McAdam Freud's "Heads and Heads" from her series "Resonating." "Crushed metal morphs into a snake as it turns revealing a highly polished surface and compact imagery: can crushed and snake coiled. All of Jane's pieces are tempting invitations to feel the various surfaces and interact with them to make one's own interpretation," notes artist/curator Souhad Rafey.
McAdam Freud's Dead or Alive (included in the 2007 Florence Biennale among other prestigious venues) is itself an exquisite illustration of two key concepts in psychoanalysis: condensation, the fundamental mechanism of Freud's dream work (found in his seminal work, The Interpretation of Dreams), and sublimation, ranked at the top of a hierarchy of defense mechanisms augmented by Anna Freud. By juxtaposing and superimposing images from Freud's beloved sculptures with McAdam Freud's own artwork, the film brings together the ancient and the contemporary, pairs the Victorian psychoanalyst with a living artist, and unites great grandfather and great granddaughter. Across the generations, Freud and McAdam Freud share some uncommon tastes, among them an annoyance with music, a preference for sculpture over painting, and a passion for artwork that can be held, is highly symbolic, and is imbued with primordial meaning and wisdom.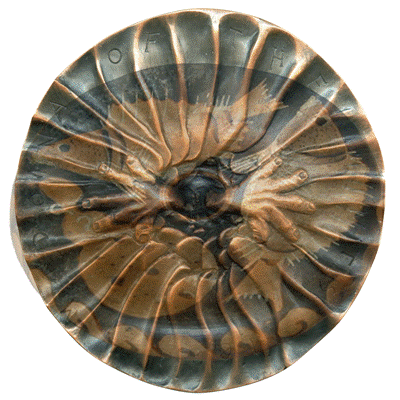 Condensation of the ancient and the contemporary, one of the many superimposed images from McAdam Freud's film Dead or Alive, which pairs her sculpture with the beloved ancient antiquities zealously collected by her great grandfather Sigmund Freud.
In matters of temperament, however, the two diverge. While Freud was famously critical, even vengeful, when the orthodoxy of his work was challenged, McAdam Freud displays a self-deprecating sense of humor. Rising after her 26-minute film to discuss slides that deconstructed the moving images, she quipped, "Well that film seems to last longer every time I see it." Her mastery of psychoanalytic concepts and their relevance to her work is as impressive as her effortless mingling with her audience. The list of museums that permanently display her art include the Victoria and Albert Museum, British Museum, National Gallery of Greece, Berlin State Museum, National Museum of Copenhagen, Carnegie Museum of Art, and National Museum of Ireland among others. She is an interesting amalgam of the dedicated intellectualism of her great aunt Anna Freud tempered with a warm wit reminiscent of the actress Emma Thompson and a physical grace that recalls screen legend Deborah Kerr.
Her conceptual approach manifest in the exhibit composed of medallic art was technically masterful and visually exquisite. The tradition of medallic art dates back thousands of years reaching its apex in the work of Augustus St. Gaudens and Daniel Chester French in the 19th century. Medallions can be simultaneously personal and universal, small enough to hold, yet express powerful themes fabricated as they are in silver, gold and, in McAdam Freud's work, bronze and everyday or found objects, such as coke cans. She playfully calls them "PUPS" (pick-up pieces).
The evening was attended by psychoanalysts and the New Yorkers with whom they surround themselves. It also summoned Souhad Rafey, curator of exhibits at The American Academy of Arts and Letters, who was notably impressed with the artist's contemporary take on an ancient practice: "Each piece is an elegant fetish of sorts, a true gem in every way," she said.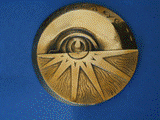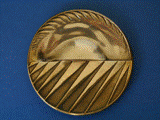 "Forked Eye," created in 1992 when the artist was the only female sculptor for U.K.'s Royal Mint. Adapting the Native American expression: white man speaking with "forked tongue" to a metaphor about male vs. female vision, curator Souhad Rafey notes that on the reverse, "the eye has closed, and a sculpted lid with stylized eyebrow is implied. Movement is felt as the piece is turned and the 'rays' of vision change direction or degrees of frequency."
To meet the artist and view her work is to reflect upon another Freudian concept: gratification. Contemporary psychoanalysts often search the past for answers to difficult questions and "talk" to Freud in much the way he "talked" to his statues from antiquity. McAdam Freud's intense study of her great grandfather, her 2006 residency at the Freud Museum, and her New York City visits satisfy a yearning local analysts have for a connection to the ultimate, elusive, and difficult to please father of psychoanalysis.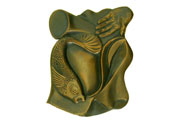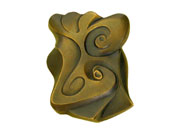 "Fish and Form" from a series created in the 80s through the early 90s. A variation from the circular form, "the theme celebrates creativity in its use of symbolic reference," according to the artist. Rafey added: "This mercurial work with its positive and negative space is loaded with iconography. It stands apart with its undulating surfaces and higher degree of relief giving this fluid creation great dimension."
As heir apparent to Sigmund Freud's legacy, Jane McAdam Freud is a study in gratification, projection, and identification. She was warmly received during her visit and, as a houseguest, was described by Dr. Erdheim, as "refreshing." Freud, by contrast, skipped New York on his only visit to America, heading instead to Worchester, MA, to lecture and receive an honorary degree from Clark University. Freud didn't much like Americans. He disapproved of what he considered their national obsession with money, and he had no regard for that American passion, the cinema. (He turned down a $100,000 consultation fee from movie studio head Samuel Goldwyn.) McAdam Freud bridges these disparities nicely. She is a filmmaker as well as a sculptor (a genre much preferred by Freud over painting).
McAdam Freud's work is a grand example of how the unconscious processes of sublimation and condensation lead to high art, guided, perhaps consciously, by what the artist calls "my moral obligation to enjoy life," (which also includes teaching, mentoring, and a happy marriage). The French call it joie d' vivre, and it was Sigmund's definition of success: "satisfaction in work and in love."
To view more of the art of Jane McAdam Freud and read what she has to say about art and politics, click here for an interview at WBAI. Part II: "Conversation with Jane McAdam Freud: Relevancy of Analytic Concepts in Art and Politics," which also discusses film documentarians Heddy Honigmann and Errol Morris as well as Picasso and Von Hagens, can be found on WBAI's site.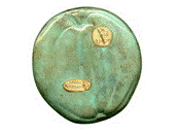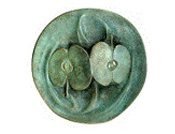 "US and Them," cast in bronze references the big apple, the United States, opposite Europe as half apples. The piece evokes notions of ownership regarding nature and is a nostalgic work commemorating pre-history, as in "The Garden of Eden," according to the artist's statement.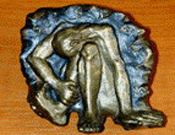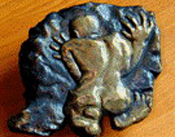 McAdam Freud's "Sisyphus," in which her looser style is reminiscent of the exposed, vulnerable and sometimes angst-ridden figures in the work of father Lucian. Rafey adds that the artist is "successful in conveying weight and mass to the boulder as well as strength and perseverance to Sisyphus."
Related
Popular in the Community