Way back in November 2005, French tire manufacturer Michelin introduced its famous Red Guide to high-end restaurants to the states for the first time at a glitzy party in the Guggeinheim Museum in New York. Culinary stars from Martha Stewart to Alain Ducasse drank champagne as the books, which highlight top-tier eateries with one, two and three stars, were delivered to guests on silver platters. Despite the high-profile launch, many New Yorkers were initially dubious of the guide. "We already have Zagat and the Times," they complained. "Why do we need some anonymous inspectors from France telling us where to eat?"
You could argue that that question has never been fully answered, but in an era when many newspapers are cutting restaurant review budgets, Michelin stars remain a mark of excellence for any restaurant. And their consistent standards across countries and years make them an useful benchmark for tracking changes in the culinary world.
Anyone who eats out in New York already knows that the restaurant scene in the city has changed tremendously since the Michelin Guide launched nine years ago. It's much more diverse, deep and exciting than ever before. But to get a sense of what that really looks like, and how exactly restaurants in the city have changed, I spent a little time crunching data from the Michelin Guides that have been released in New York so far. (Marc Shepard's excellent guide to the star ratings over time was a tremendous help in this process.) I then made the data into easy-to-digest graphs that, I think, illustrate some of the profound changes that have taken place in New York's restaurants since late 2005.
There are still many people who are dubious of the Michelin Guide's judgment, for many good reasons. And the charts below include only those restaurants that have been awarded stars, which reflect high-quality (and usually high prices). So there's plenty that's gone on in the past nine years that is not reflected at all in these charts. And, of course, the Michelin Guide is strictly subjective, so it's possible that the criteria used to award stars has changed at the same time that New York's restaurants have changed.
There Are A Lot More Michelin Stars In A Lot More Places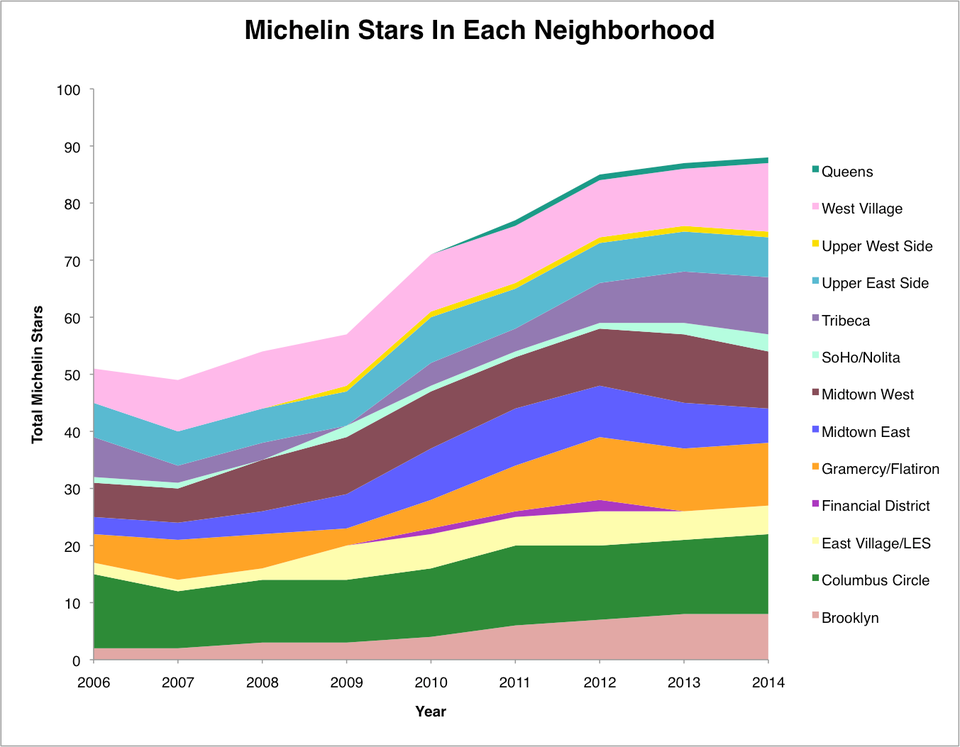 Joe Satran/The Huffington Post
Brooklyn, Gramercy And Tribeca Are On The Rise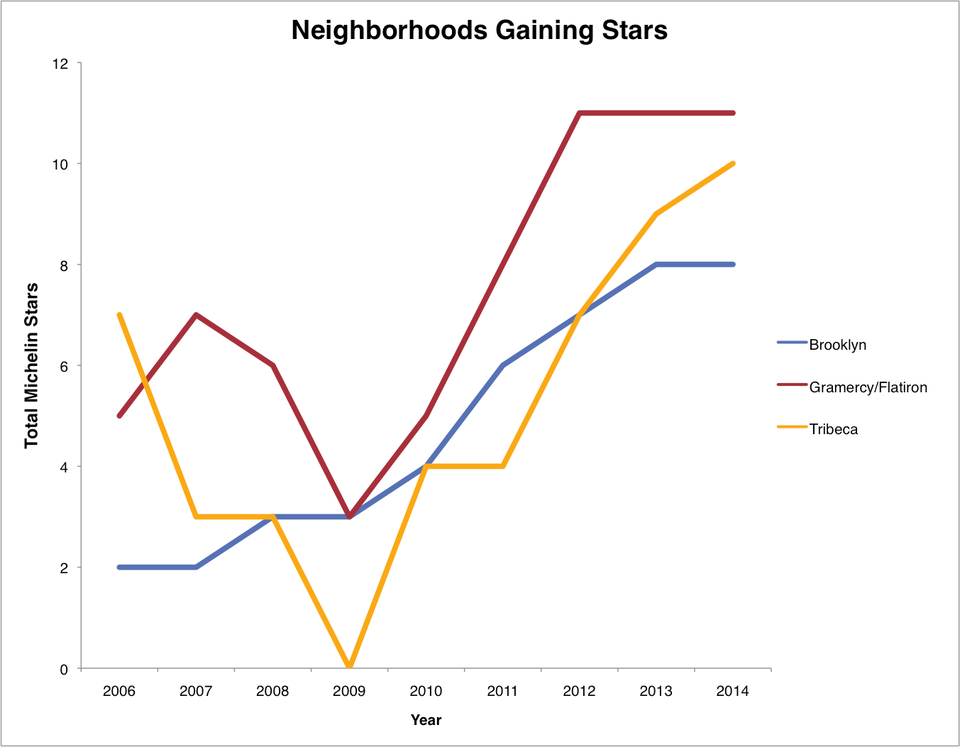 Joe Satran/The Huffington Post
Brooklyn & Downtown Gain On Midtown & Uptown
Joe Satran/The Huffington Post
New Cuisines Emerge As Contenders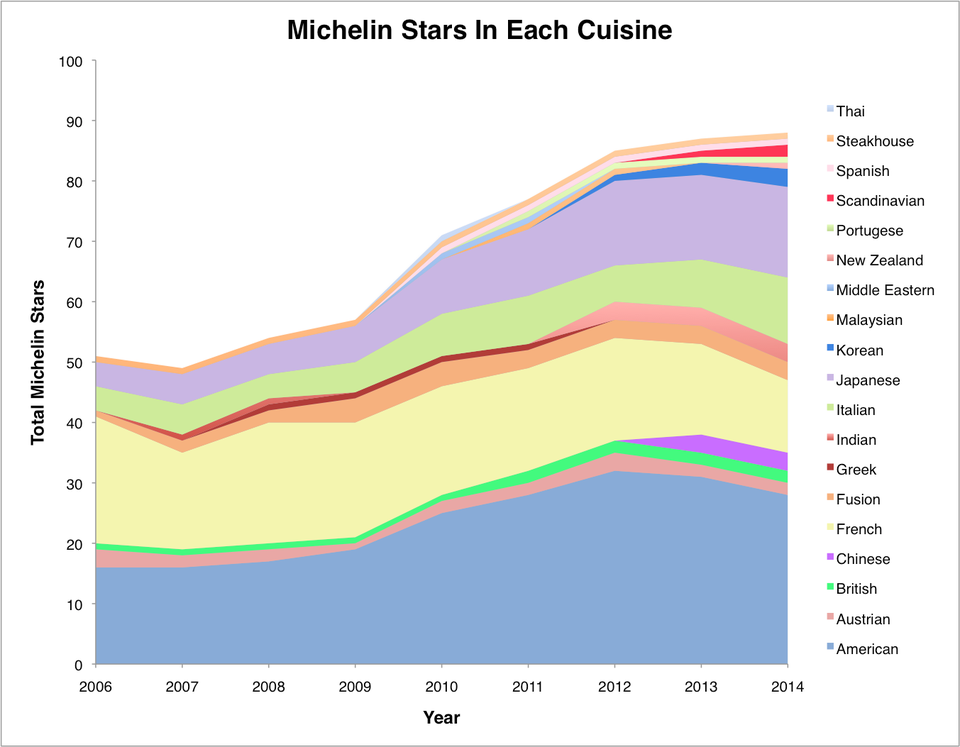 Joe Satran/The Huffington Post
French Food Declines While American, Japanese & Italian Food Surge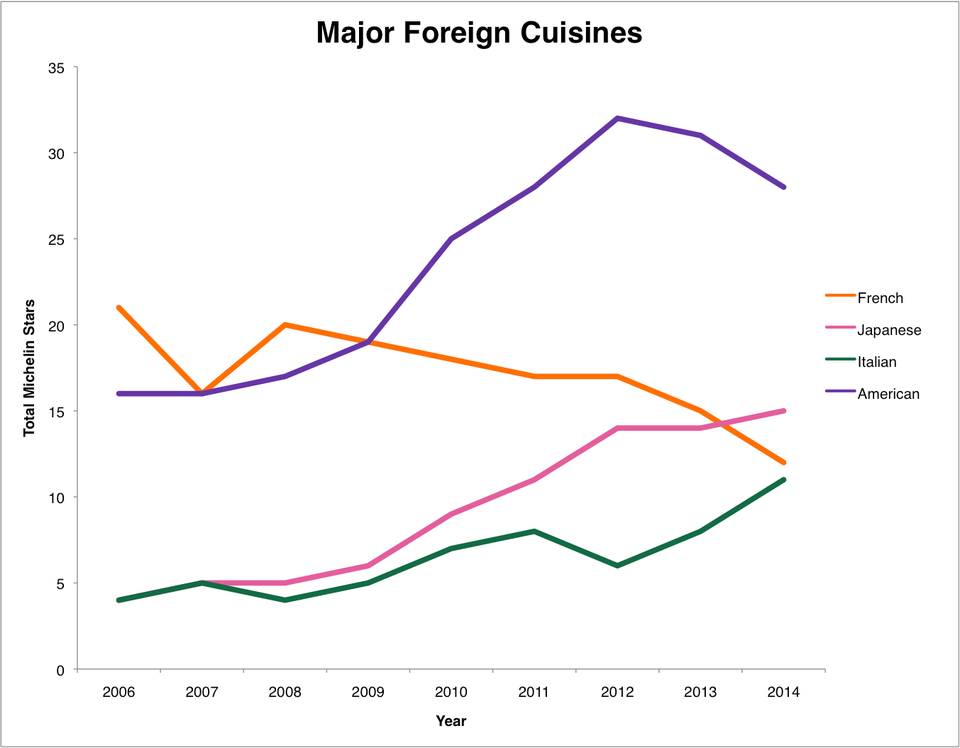 Joe Satran/The Huffington Post
Asian Food Has Been Booming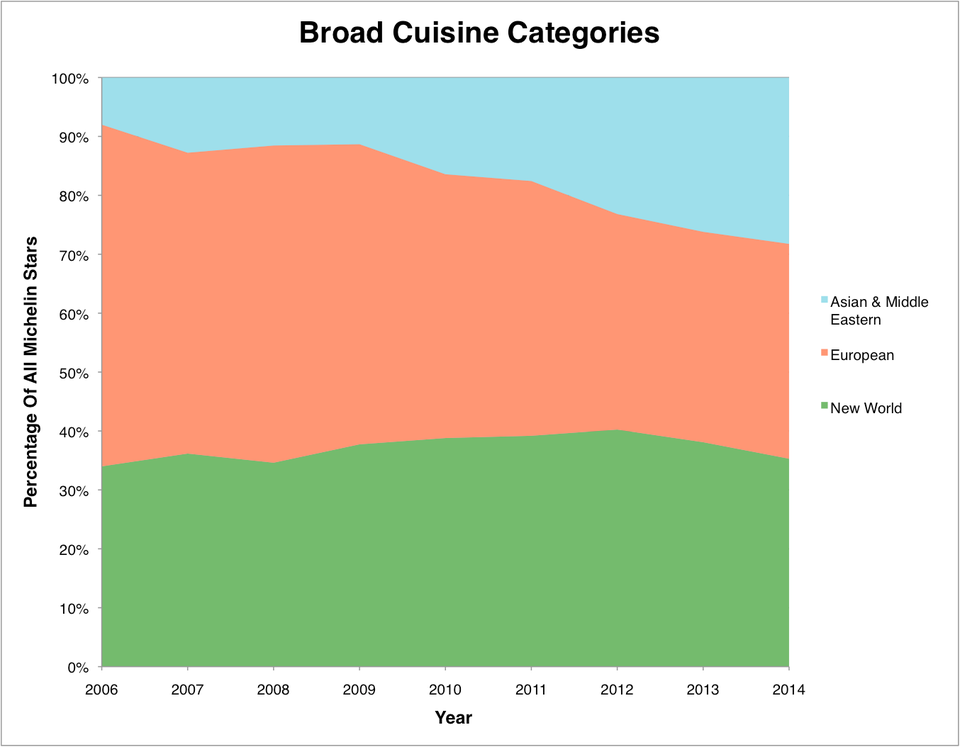 Joe Satran/The Huffington Post
Tasting Menus Dominate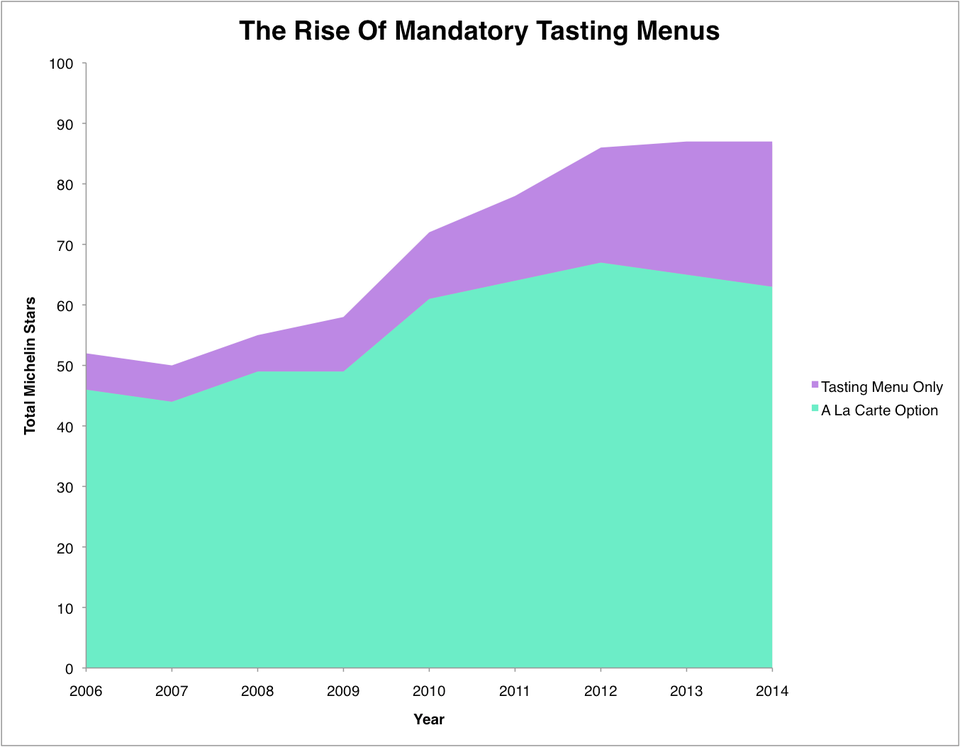 Joe Satran/The Huffington Post
Popular in the Community