It was AIDS activist and TAG (Treatment Action Group) alum James Krellenstein who brought this information to light in a white paper he published on his own private server, and then re-published on the ACT UP Alumni Facebook page . Krellenstein was researching the syphilis outbreak in New York City for TAG, and fighting the closing of Chelsea Clinic for ACT UP (AIDS Coalition To Unleash Power), when his work brought him face to face with DOHMH's STD data. He was right to take action when he brought it to the floor of ACT UP.
For New Yorkers, the consequences of drastic budget cuts and derailed sexual health services have been devastating. As Krellenstein's paper points out (Table 3)--and no one at DOHMH or the CDC have denied--there's been a 43 percent increase in gonorrhea in men. Women get diagnosed more frequently at their gynecologist, while men are more likely to be diagnosed at the STD clinic. We're also facing a 33 percent increase in syphilis, and a 17 percent increase in chlamydia since 2010.
On March 23, DOHMH closed Chelsea Clinic. Chelsea is ground zero for the AIDS epidemic, having the highest rate of HIV diagnosis in New York City--three times the city's average. Chelsea is also number one for syphilis--with six times the city's average, and three times the going rate for gonorrhea. Chelsea maintains the highest rate of syphilis, gonorrhea, and HIV in New York City, and Chelsea Clinic was the city's busiest sexual health center, representing 23 percent of the entire STD caseload (Table 3). Now--it's dark--and so are your chances to stop an epidemic in a community that depends on one clinic for their survival.
Statistically speaking, believe nothing you read about the AIDS epidemic in New York City and state. Until Mayor de Blasio's office restores financial support, and DOHMH improves the quality and quantity of their data--all stats are off. Dropping hundreds of thousands of HIV tests and eliminating tens of thousands of sexual health visits is a house of cards. You can only calculate where this epidemic is going if you don't fudge, obfuscate and decrease the number of tests and the number of clinical visits over time. But that's exactly what happened--services were denied, and data changed--as a a result, so did the STD caseload--it grew like a blister in the sun.
How do you end AIDS in New York when the epicenter of that epidemic--with 78 percent of all new HIV diagnosis (Table 1) --cuts funding, testing, and closes the largest STD clinic in the city? How do you end it when city council approves funding for pre-exposure prophylaxis (PrEP), and approves funding for a mobile testing unit to replace Chelsea Clinic, but Health Commissioner Mary Bassett turns it down? How do you end it when Mayor de Blasio allows a political rivalry with Governor Cuomo to thwart his commitment to public health? The answer is you don't. Numbers don't lie--and New York City's red hot STD epidemic is your proof.
Across the nation, on average, it's five long years before a person with HIV gets tested and knows their status. To close this gap, we must overcome huge obstacles: racism, classism, stigma, bigotry, fear, and a wide range of misinformation about the virus itself. The STD epidemic gripping New York City is the result of five years of DOHMH's failure to properly collect, comprehend, and disseminate their own data.
When you see the math in a city like New York, you begin to feel it in your gut--what do these numbers mean? Lives--destroyed by an epidemic of neglect. It's what I see when I look into the eyes of James Krellenstein--the horror he sees--young, gay, male--a member of a community still vulnerable to HIV. We have the tools to prevent transmission, and we have the science to halt the progression of this virus. The front lines to the war on AIDS have moved from science to socio-economics--to public health and personal action. But Mary Bassett and the DOHMH, and Mayor Bill de Blasio, haven't followed through with Governor Andrew Cuomo's commitment to end AIDS. From New York City, we need real numbers, transparency, action, direction--and baring a socio-economic revolution--restoring sexual health services to our public health system should be a major priority.
On September 1, 2015, ACT UP NY is sponsoring a town hall--go to the LGBT Center, at 208 W 13th Street, at 6:30 PM. Your life, the life of your friends and family, depends on what happens next.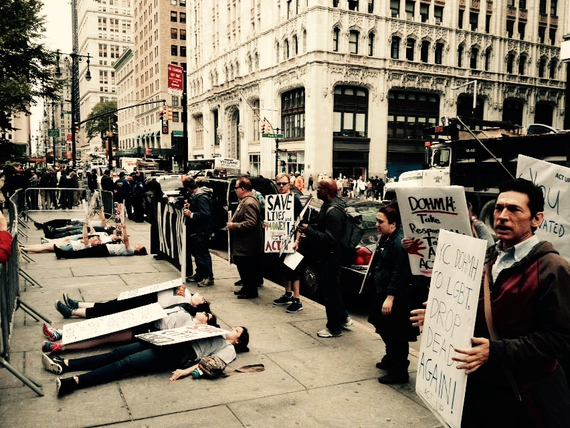 Related
Popular in the Community