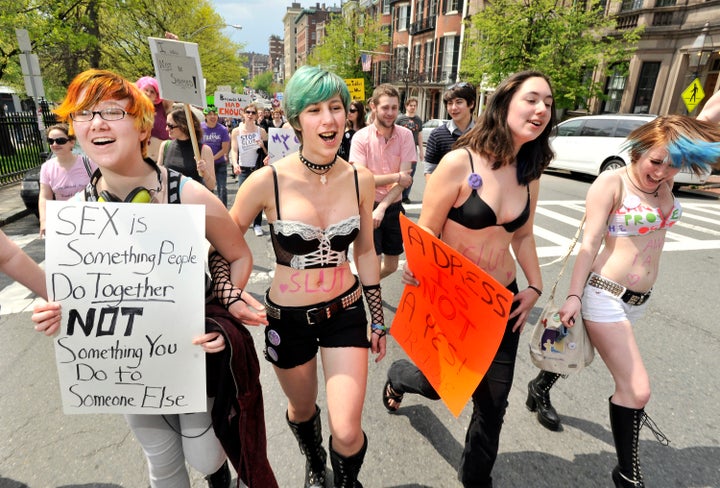 This Saturday activists will gather in Union Square for SlutWalk NYC, an international, anti-rape march that was formed earlier this year in response to a Toronto police constable who provoked outrage by saying women should avoid "dressing like sluts" in order to avoid being sexually assaulted.
Police officer Michael Sanguinetti's controversial statements started an international wave of marches beginning in Canada that brought together thousands of people, some dressed in normal attire and some in more provocative, revealing outfits, to stand up against Sanguinetti's stinging words. Subsequent gatherings have taken place in Boston, Denver, and New Delhi, India.
The walk comes at a crucial time in New York, as a string of sexual assaults have taken place in Brooklyn, specifically in Park Slope. Since the beginning of the summer, ten known attacks have been reported.
Also earlier this summer, many New Yorkers were outraged over the rape charge acquittal of two NYPD policemen.
However, New York's first SlutWalk this weekend has troubled some, specifically in the African-American community.
We are deeply concerned. As Black women and girls we find no space in SlutWalk, no space for participation and to unequivocally denounce rape and sexual assault as we have experienced it...As Black women, we do not have the privilege or the space to call ourselves "slut" without validating the already historically entrenched ideology and recurring messages about what and who the Black woman is. We don't have the privilege to play on destructive representations burned in our collective minds, on our bodies and souls for generations. Although we understand the valid impetus behind the use of the word "slut" as language to frame and brand an anti-rape movement, we are gravely concerned.
REAL LIFE. REAL NEWS. REAL VOICES.
Help us tell more of the stories that matter from voices that too often remain unheard.