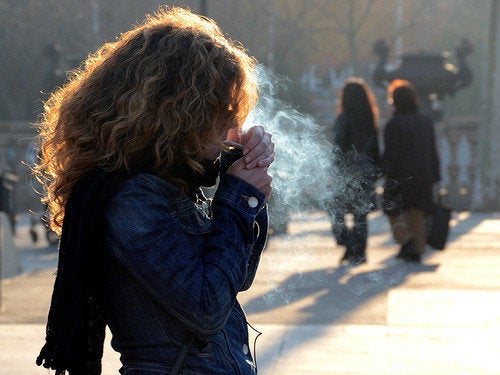 The city's controversial outdoor smoking ban starts Monday, with cigarettes now barred at city parks, beaches and pedestrian plazas, including Times Square. Violators will be met with $50 fines.
Critics say the law, which was passed earlier this year to minimize second-hand smoke exposure, takes Mayor Michael Bloomberg's war against cigarettes one step too far.
But others say they're looking forward to relaxing on Sheep Meadow or the beach this summer without inhaling others' fumes.
"It will be better for everybody," said long-time smoker Konstadinos Hijas, 48, a construction worker in Midtown, as he smoked one last cigarette Sunday night at a table in Greeley Square, near 34th Street.
Come morning, he said he'd be smoking outside the park's gates in the street -- a move he hoped might help him quit after 30 years of addiction.
"Cigarettes are no good," agreed long-time smoker and Midtown worker Tony Romeu, 53, as he exhaled a mouthful of smoke.
But others were less convinced the ban is necessary.
"I don't see the point," said non-smoker Sharon White, 41, visiting from England, who thinks the rule keeping smokers out of restaurants and bars is enough to protect those who want to steer clear of smoke.
"I think you've got to have some freedom," said White. "I think it's unfair."
Brooklyn smoker J. Leigh, 28, who declined to give her full name, said that smokers shouldn't be singled out, especially since taxes are so high.
"I think it's absolutely ridiculous," she said, and warned the law would drive smokers into their homes, forcing them to light up in much more confined spaces than city parks.
"I think it's counter-productive," she said.
Smoking will still be allowed on sidewalks, including those outside of parks and around plazas, as well as on pedestrian routes running through parks.
But whether the new ban will actually be enforced is another matter.
At a public hearing earlier this month, officials from the Department of Transportation testified they would not be enforcing the ban on pedestrian plazas, which they control.
"We expect that the new law will be enforced mostly by New Yorkers themselves, who will ask people to follow the law and stop smoking," reads a notice posted on the Parks Department website.
Parks Enforcement Officers do have the authority to issue summonses to those who break the rule, but "when possible will educate and advise before taking further action when overseeing compliance," a department spokesman said.
If a smoker refuses to comply, he or she can then be summonsed, the spokesman said.
But Audrey Silk, the founder of the smokers' rights group Citizens Lobbying Against Smoker Harassment, is advising smokers to ignore the ban. The group is also planning a public 'smoke-in' at Brighton Beach next Saturday.
"When the law is something with no justifiable reason behind it -- scientific or otherwise -- they leave us no other choice but to affect change with civil disobedience," she said, reiterating previous warnings that the ban will result in hostile confrontations.
"That will be the only harm that will come down to smoking," she said.
City Councilwoman and co-sponsor Gale Brewer has repeatedly dismissed threats of violence, saying she heard similar talk when the city introduced the smoking ban in bars and restaurants years ago, and that they never materialized.
But smoker Dara Adayte, 24, from the Bronx, said he doubts anyone will bother butting out unless they're explicitly told.
"This is New York. I don't think nobody's going to listen," he said.
Popular in the Community