This post is co-authored by Jesper Frant.
NYC startup growth between 2001 and 2011 outpaced all US competitor cities, including Silicon Valley, Los Angeles, Philadelphia and Boston.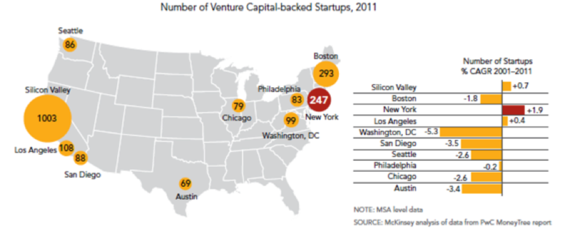 NYC also outpaces other US cities in terms of venture capital growth. In fact, NYC saw the largest increase of venture capital growth of any U.S. city over the past decade. Startups and venture capital has clearly become a driver for growth, but NYC's education system has failed to keep pace.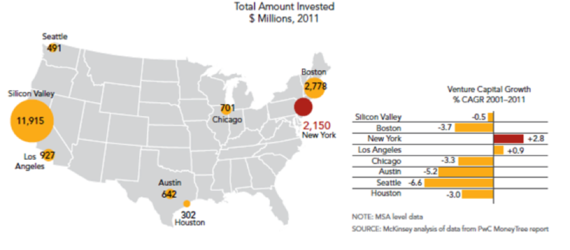 The number of degrees awarded in NYC schools in STEM within the same period grew at a much slower rate. Degrees in STEM education grew at only 1.1 percent, a low figure relative to other fields of study such as healthcare (5.9 percent) and social sciences (3.1 percent).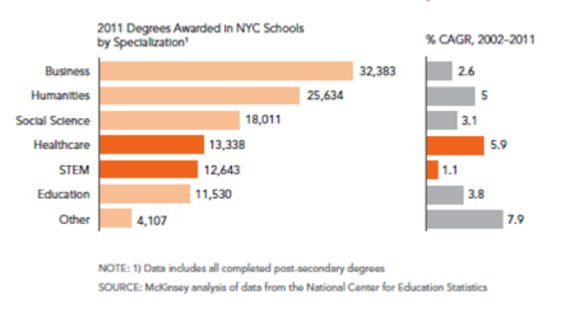 One solution outlined in a recent NYC Jobs Blueprint report by Partnership for New York City included appointing within the city a "Chief Talent Officer" responsible for workforce and career development functions. This CTO would be in charge of bridging the coordination gap between the private sector and the City's workforce development agencies and educational institutions so that programs are tailored in response to demand.
Coordination towards collective action should definitely be part of the solution. However, within a context of tremendous innovation and decentralized technological development happening in NYC, it's paradoxical that the proposed solution focuses on centralization and vertical organization.
Government-led solutions are not working! New data released by the Census Bureau shows that even though the recession has ended, the city's poverty rate continues to increase, and the gap between the rich and poor is on the rise.
Information and communication technology (ICT), however, offers signs of hope. ICT and community-led development projects could be used in a much more systemic way to bridge private and public interests and reduce socio-economic inequality.
Nothing brings inequality into focus quite like a natural disaster, as it was the case with Hurricane Sandy. The poor are overwhelmingly impacted by natural disasters and little has been done to improve their resiliency. Simply put, poorer communities lack the resources to evacuate and prepare for storms, and are more likely to be located in areas that are vulnerable to disaster.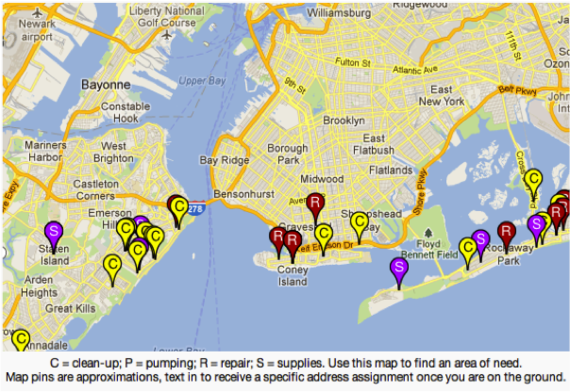 With Hurricane Sandy, community organizations, churches and even next-door neighbors rallied to fill gaps in the government response.
One of the most successful ICT enabled projects launched in the aftermath of Hurricane Sandy was a project supported by Occupy Sandy Recovery -- an offshoot of the inequality advocacy group Occupy Wall Street. The group developed a platform called "OccupySMS" to facilitate "mutual aid," by connecting people with a need to volunteers offering assistance in a specific area. The application utilized an existing platform called Mobile Commons, allowing users to request donations or assistance and matching those requests to nearby volunteers via SMS. The service was specifically intended to fill individual household needs that were not being met by government-operated aid distribution centers.
Occupy Sandy's efforts did not end with the recovery efforts. The organization followed through by creating an incubator of sorts to promote projects that address the long-term relief, recovery and resiliency of the communities affected by Hurricane Sandy.
The directory of projects includes both social and technological projects to improve coordination in the event of another natural disaster. FLO Solutions, for example, aims to help organizations implement free and open-source technology that will make it easier for them to share knowledge and data in a disaster situation. By networking non-profit, community and relief organizations together, the project facilitates the sharing of actionable information, such as requests for supplies and volunteers.
Occupy Sandy isn't the only organization in New York that is fostering creative and technology-based solutions to issues of development and inequality.
The NYC-based Nutri Ventures and the Partnership for a Healthier America (PHA) announced recently a commitment to bring "Nutri Ventures: The Quest for the 7 Kingdoms", one of the most popular digital-only kids' series, to over 60,000 elementary schools across America. Nutri Ventures is a multi media educative platform to change children's eating habits worldwide through entertainment. This will be PHA's first-ever partnership with an animated series emphasizing nutrition education and healthy eating choices for kids.
"Nutrition and obesity are among the most urgent concerns for parents, educators and for children themselves," said Rui Lima Miranda, co-founder and managing partner of Nutri Ventures Corp.
‪Inequality remains a huge problem in New York City, but with the help of civic organizations and ICT enabled solutions we can design networked governance systems to connect market driven solutions with public development issues and ensure that the most vulnerable members of our community are not forgotten.‬‬‬‬‬‬
Jesper Frant is a Master of Public Administration student at Columbia University's School of International Public Affairs and an expert in online communications.
Popular in the Community