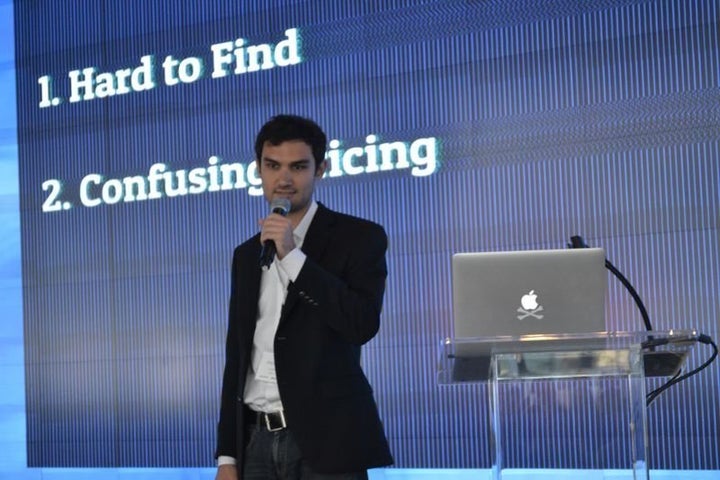 For Chris Collins, all the hours spent building a website, developing relationships with food vendors and rehearsing his pitch had come down to this: He had seven minutes to persuade a room filled with investors that his company will revolutionize the way people book caterers.
"Catering is broken!" Collins said on stage.
Wearing a black blazer, a white button-down shirt and jeans, Collins said CaterCow.com makes it easier to find caterers, compare prices and pay for their services. What's more, his company already has a steady source of revenue by taking a cut of every transaction.
"We have a business model that's working," he told the audience of 400 investors, many wearing suits. "We have a team in place to execute this. Now all we need is awesome people like you!"
Collins was one of several entrepreneurs on Friday to present their businesses to investors on "demo day" inside an office building in Manhattan's Chelsea neighborhood. The young companies had just graduated from the Entrepreneurs Roundtable Accelerator, a three-month boot camp for startups that gives entrepreneurs $25,000, office space in Times Square, and the chance to pitch their businesses to venture capitalists who could fund their startups and potentially make them wealthy.
The Entrepreneurs Roundtable Accelerator is one of at least a dozen accelerator programs for tech startups in New York City. There are dozens more across the country.
For young entrepreneurs, such programs are like training wheels. They receive advice from venture capitalists and successful startup founders who help refine their business models, their sales pitches and their plans for growth.
"It's like a combination of camp and graduate school," said Jason Shames, co-founder of Jetaport.com, which aims to simplify booking group travel and also presented on Friday. "We didn't have to make all the mistakes ourselves. They were able to steer us in the right direction through their experience."
For investors, startups that graduate from accelerator programs are attractive bets because they have developed promising businesses faster than most young companies, said Andrew Parker, principal at NextView Ventures.
"When you think about how old these companies are -- some were only founded three months ago -- the stage they are at now is a year ahead of where they would be otherwise," said Parker, who attended demo day.
The 10 startups that presented are hoping to find their niche in a variety of industries. Houdini wants to make it easier to outsource small repetitive tasks. Juniper & Trade wants to market custom-made furniture. HealthyChic wants to become a go-to destination for yoga products.
Still, they face long odds. Many startups fail. About three-quarters of venture-backed firms in the U.S. don't return the money they've borrowed from investors, according to recent research by Shikhar Ghosh, a senior lecturer at Harvard Business School.
During the presentations, many entrepreneurs wore t-shirts emblazoned with their startups' logos. They showed videos and PowerPoint presentations, explained untapped opportunities in the market and made bold proclamations about how they were going to disrupt entire industries.
"We are building America's political genome. This is a big deal. Fundraising will never be the same after us," Jesse Sandoval, founder of Angel Politics, told the audience. His startup uses data analytics to match political donors and candidates.
"We will be the new de-facto way to exchange documents online," Jonathon Ende, co-founder of Bizodo, said to investors. His startup wants to eliminate the need for paper within corporate HR departments.
At the end of each presentation, the entrepreneurs asked for money. Some were raising $500,000. Others were raising more than a $1 million.
For Collins, acceptance into the accelerator program represented a second chance. He and his co-founder, Carly Chamberlain, were among the first employees at Airbnb, a startup company that lets people offer short-term home or room rentals. They left the company more than a year ago and started a food company, Gusta.com.
But Gusta.com didn't work out well, Collins said. So they came up with CaterCow.com and applied for the accelerator program. At the time, CaterCow.com did not have a website and had not completed a single transaction. Now, the company offers more than 100 catering packages.
On Friday, Collins' presentation was smooth and well-rehearsed. He had practiced it more than 30 times. Still, he acknowledged having butterflies.
"The first time you present in front of 400 people, it's nerve-wracking," he said. "But once you get up there, you feed off the energy."
Afterward, he collected more than a dozen business cards from investors and stuffed them into the pocket of his blazer. Collins said he plans to present CaterCow.com to another large group of investors in San Francisco, another opportunity made possible because of the accelerator program.
"The great thing is we have a lot of options," he said. "There's no other way to meet 600 or 700 investors than being in a program like this."
Related
Popular in the Community