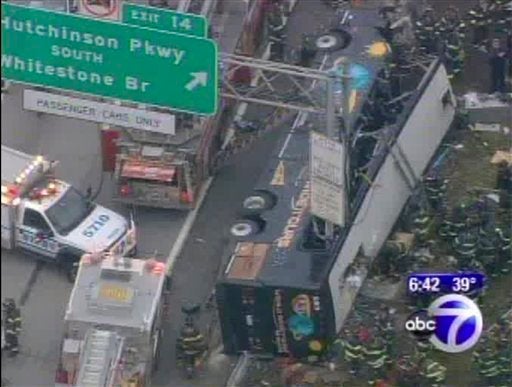 (AP) NEW YORK -- The death toll in a horrific bus accident on a New York highway has risen to 14.
Police Department spokesman Paul Browne says a passenger who had initially survived the 5:30 a.m. wreck in the Bronx died at a hospital Saturday afternoon.
Doctors were still working to save the lives of other, gravely injured passengers.
Authorities say there were about 32 people aboard the bus when it overturned on Interstate 95 as it returned from the Mohegan Sun casino in Connecticut.
As it toppled, the bus was sliced, end to end, by the support pole for a large sign.
Survivors described a scene of carnage.
Police were seeking a tractor trailer truck that may have been involved in the wreck.
THIS IS A BREAKING NEWS UPDATE. Check back soon for further information. AP's earlier story is below.
Thirteen people died and others were maimed Saturday when a bus returning to New York City from a casino overturned on a highway and was sliced, end to end, by the support pole for a large sign.
The driver, who survived, told police he lost control while trying to evade a swerving tractor trailer. Police began a hunt for the truck, which did not stop after the crash, New York Police Commissioner Raymond Kelly said. It was unclear whether the two vehicles made contact, he said.
The early morning wreck left a scene of carnage and closed the southbound side of Interstate-95 for hours while emergency workers attended to critically injured survivors and removed bodies.
The bus, operated by World Wide Tours, was headed to Manhattan's Chinatown neighborhood loaded with passengers returning from the Mohegan Sun casino in Uncasville, Conn.
According to the driver, the accident was triggered by a close encounter with a tractor trailer as the two vehicles were entering city limits from Westchester County at 5:35 a.m. The bus was in one lane. The truck was in the lane to its left.
"The truck either starts to swerve or perhaps even hits the bus," Kelly said. He said both vehicles were moving at "a significant rate of speed."
As the bus took evasive action, it hit a guard rail, scraped along it for 300 feet, toppled and crashed into the support post for a highway sign indicating the exit for the Hutchinson Parkway.
The pole entered through the front window, then sheared the bus from front to back along the window line, cutting like a knife through the seating area and peeling the roof off all the way to the back tires.
Police and fire officials say the bus was carrying at least 31 passengers. A majority were hurled to the front of the bus by the sudden impact with the pole, fire chief Edward Kilduff said.
In addition to the fatalities, eight passengers were critically hurt, Kelly said. As many as 20 were treated at area hospitals. Several were in surgery later Saturday.
Survivors described a scene of horror and severed limbs.
Chung Ninh, 59, told The New York Times and NY1 News that he had been asleep in his seat, then suddenly found himself hanging upside down from his seat belt, surrounded by the dead and screaming. One man bled from a severed arm.
He said when he tried to help one bloodied woman, the driver told him to stop, because she was dead. "Forget this one. Help another one," he said.
Ninh said he and other passengers who were able climbed out through a skylight.
Limo driver Homer Martinez, 56, of Danbury, Conn. happened on the scene just moments after the wreck and saw other drivers sprinting from their cars to assist the injured. He said they were horrified by what they found.
"People were saying, `Oh my God. Oh my God,' holding their hands on their heads," Martinez said. "I saw people telling other people not to go there, `You don't want to see this.'"
Firefighters and medics were on the scene quickly, running to the vehicle with bags and stretchers, he said.
"I see a lot of accidents. I've even seen accidents happen. But I've never seen anything like this," said Martinez.
The southbound lanes of I-95 were still closed Saturday afternoon. The wreck also closed the northbound side of the highway for a time, but those lanes were moving again by mid-morning.
Kelly said investigators had been given some numbers from the license plate of the tractor trailer, but hadn't identified or located a vehicle yet.
The National Transportation Safety Board said it was sending a team of investigators.
After the crash, firefighters took out seats and cut through the bus roof to reach a handful of passengers pinned in the wreckage. Kilduff called it "a very difficult operation."
Many of the passengers on the bus were residents of Manhattan's Chinatown. They ranged in age from 20 to 50, officials said.
Fifteen were being treated at Jacobi Medical Center in the Bronx. A hospital spokeswoman, Barbara DeIorio, said some of the injuries were serious, but she had no immediate information on how many were gravely hurt. Another five patients were taken to St. Barnabas Hospital, where two were on life support, breathing with the assistance of machines.
"We've had skull fractures, rib fractures ... internal bleeding, we've had lung contusions," said Dr. Ernest Patti, senior attending physician at St. Barnabas.
The bus driver was "awake and conscious," Patti said.
World Wide Travel said it in a statement that the company was "heartbroken."
"We are a family owned company and realize words cannot begin to express our sorrow to the families of those who lost their lives or were injured in this tragic accident. Our thoughts and prayers are with them," it said.
The company said it was cooperating with investigators.
The bus was one of scores that travel daily between Manhattan's Chinatown and the Foxwoods and Mohegan Sun casinos in northeastern Connecticut.
Mohegan Sun has estimated that a fifth of its business comes from Asian spending and caters to Chinese-American gamblers; its website has a Chinese-language section offering gaming and bus promotions.
Foxwoods is a major destination for Asian-American gamblers and has an Asian gaming room.
Related
Popular in the Community